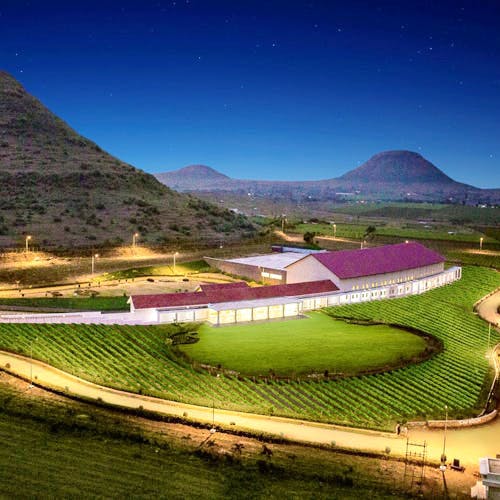 Been To Sula? Here Are 7 Wineries That Should Be On Your Radar Next
I don't think we realise how incredibly lucky we are to have a growing wine scene in our very own (faraway) backyard. If you have not yet visited the wineries in Nasik and Akluj in Maharashtra, folks, you're missing out. Head over to these spots over the weekend to go winery hopping, or sit back and relax at the ones that offer accommodation.
Fratelli Vineyards
This is the only winery in Akluj and a good six hours away from Mumbai via the Mumbai-Pune Expressway. Set in the middle of pretty much nowhere, this modern looking winery not only makes fantastic wines but also has luxurious rooms to stay in. Fratelli has a gorgeous look-out point on top of a hill in their vineyards. And you can sample wine here as the sun sets. Fratelli Vitae Tre, Sette and Sangiovese Bianco are our top favourites, and from their new range, you could try their Vitae Chardonnay.
Vallonné Vineyards
This is a small boutique winery in Igatpuri on the way to Nasik, about an hour before you get to Garware Circle in Nasik. They produce great wines, have four rustic rooms for you to spend your weekend at, and Pune's Malaka Spice has set up a restaurant there. This is a winery that takes enjoying nature, food and wine seriously; so there are no TVs or WiFi available in the rooms. Makes for a great #digitaldetox, no? With a view of the lake, curated outdoor activities and outstanding wine to sip on throughout your stay, we don't know what's left to want. They produce an outstanding Malbec and their dessert wine, Vin de Passerillage, is hands down one of the best in India. Another fabulous blend is the Rose and Reserve Merlot.
Grover Zampa Vineyards
A short distance away from Vallonné is Zampa Vineyards. While they don't offer stay, they do cellar tours and tastings, so don't miss those. Take a walk up the vineyard's hills for stunning views of the region. The Zampa Chene and Grover's La Reserve Blanc are two wines that you absolutely must get your hands on.
York Winery
Just ahead of Sula is York Winery. York has been consistent with their quality and is now considered at the forefront of the wine scene in India. They have a tasting room with a view of Gangapur Lake, flanked by hills. We recommend spending a chill afternoon drinking their award-winning wines, while enjoying all the views the space offers. The Tasting Room, York's inhouse restaurant, serves up lovely North Indian and local cuisine to go with their wines. Try their sparkling Rosé, their Chenin Blanc which has an oak influence and has revolutionized the way wines from this grape variety have been made in India. Also, try out their top end red called Arros, it is really something to die for.
Soma
Located near the backwaters of the Gangapur Dam, the Soma Winery and Resort boasts of stunning views. If you'd like to stay here, you've got loads of options - Rooms, Suites and Villas too! Wherever you choose to stay, though - the view's always great. Their wines are not yet freely available, but while you're here, try the Soma Rosé, the Sec Taie and the Dessert Chenin Blanc.
Chandon Winery
About an hour away in Dindori is the incredible Chandon Winery, which was launched by Moët Hennesy. They produce high quality sparkling wine, and the winery itself is gorgeous. Visitors can walk through the winery to know how they make their delicious sparkling wine.
Four Seasons Winery
Coming off as a palace of sorts from a distance, this massive property boasts of not just views, but also a fabulous rooftop pool and jacuzzi, where you can unwind with a glass of wine. While you're here, you've got to try the Four Seasons Blush, The Zinzi White, and the Barrique Reserve Cabernet Sauvignon. Make sure you take home a few of each. They're not easily available just yet.
Comments