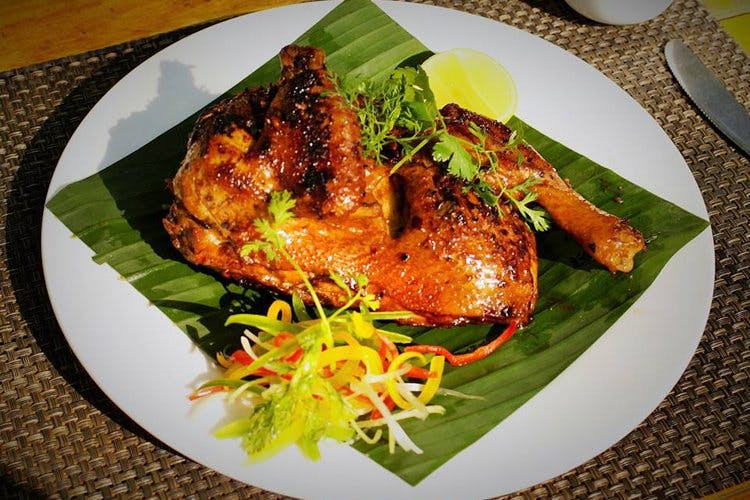 Enjoy A Panoramic View Of Nerul Creek And Soft Shell Crab At This Eatery In Goa
Shortcut
Offering a panoramic view of the Nerul Creek, Wok & Roll celebrates South East Asian flavours through and through. Come here for a lazy brunch or for a leisurely dinner with your gang of pals or your date.
Winning For
The scenic views it offers during the night and the groovy atmosphere when the sun sets. Also, they create delicious Asian flavours using authentic ingredients and, of course, their potent cocktails.
Lowdown On The Ambience
Located on the way to Fort Aguada, Wok & Roll is a large and laidback space. During the day, you can gaze at the Nerul Creek that flows just beyond the trees that enclose the space. In the night, you can expect mood lighting, and live music from time to time.
Asia On A Platter
The first thing to have your heart at Wok & Roll is the spinach and condiments platter they lay out in front of you when you've settled in. On the DIY platter are fresh spinach leaves accompanied by coconut shavings, chilli, tamarind sauce, roasted peanuts, and lime. You can mix and match these to create spinach parcels that burst with flavour in your mouth.
While King's Beer is a common choice here, cocktail fans have plenty to rejoice. Wok & Roll serves up classic cocktails with a twist of Asian flavours. The Asian Caiprioska, for example, makes for a refreshing drink that comes with the added zest of the kaffir lime.
Pair your drink with picks from their starters menu. Their Soft Shell Crabs, in particular, are a must have and come coated in a fiery roasted chilli paste. The tender meat of the crab cuts through the heat of the chilly making it a delight to eat. We also love their Pork Laotian Bong Sauce. The juicy meat is perfectly roasted and its meaty flavours enhanced by the herbs that accompany it. For the mains, their Singapore Seafood Laksa is a delicious choice.
So, We're Thinking…
If you love South East Asian food, this is one of the best places to have it in Goa. Vegetarians need not worry, the kitchen is more than happy to customise a dish to suit your needs. Also, they have a Sunday brunch that's worth signing up for.
Comments