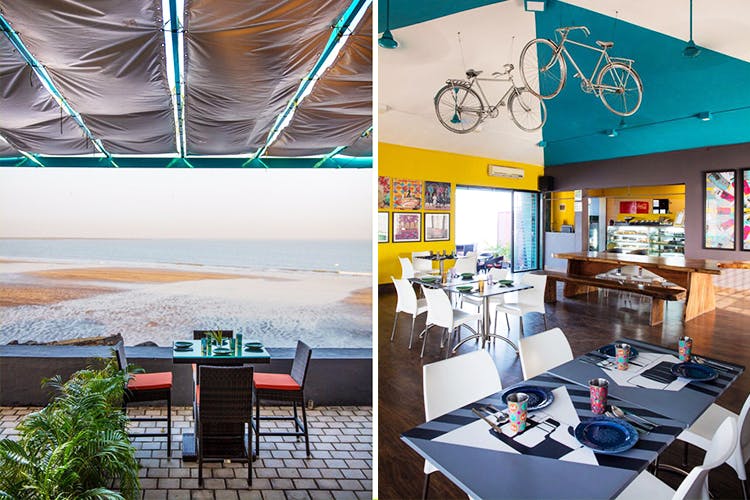 Delivery Available

Wi-Fi Available
A Cafe By The Sea Near Alibaug Is Perfect For Your Next Lazy Weekend
Shortcut
Kiki's, a cafe and deli will now call Alibaug its home and we explore why it could be worth the ferry ride.
What Is It?
A holiday dining cafe over looking the sea, Kiki seems to be one of the few cafes where you can hear the waves instead of clamour. Designed by Krsnaa Mehta, it aims to merge Mumbai and Alibaug by creating a warm, inviting and quirky space.
Hanging cycles, tiffin artworks, table graphics featuring all the aspects of your visit to Alibaug like the Gateway of India, rickshaws and cutting chai along with modern outdoor furniture and vibrant frameworks complete the look.
Chow Down
Think thin-crust pizzas with homemade sun-dried tomatoes, parmesan flat breads and slow-cooked Malvani kingfish curry on your plate when you visit. We found the idea of a dabeli sandwich to be exciting and a pulled chicken burger to be comforting. There's masala omelette and truffle oil scrambled eggs. If you're going for a quick bite they have an assorted crostini platter, a mezze platter, buffalo chicken wings and chicken satay with peanut sauce.
Sip On
Kiki's also got freak shakes and salted caramel tarts to satiate the sweet tooth.
So, We're Saying...
If you're a regular at Alibaug or are visiting for the first time, do give Kiki a visit for the view as well as food.
Comments
Delivery Available

Wi-Fi Available