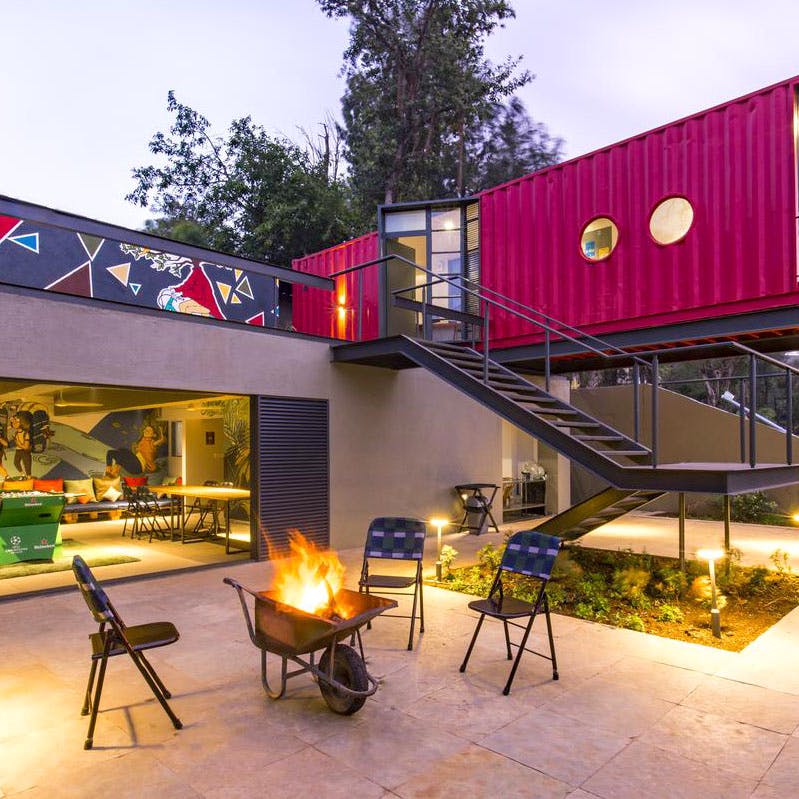 Box It Up: Panchgani's Zostel Is Made Entirely Out Of Shipping Containers
Shortcut
India's most popular chain of backpacker's hostels, Zostel, has a gorgeous property in Panchgani. Keeping the bright walls and quirk intact, the one thing that stands out in the Panchgani Zostel is that they have ditched the usual bricks-and-mortar philosophy to build the entire property using re-purposed shipping containers that resembles architecture from a sci-fi film. Expect rooms hanging in the middle of nowhere now!

What Makes It Awesome
The Panchgani Zostel is the most ambitious of their 32 hostels. Why, you ask? Because the entire property is built out of re-purposed shipping containers that have been decked up with wall art that narrate a story about Panchgani and its culture.
The hostel boasts of four types of living facilities: 6 Bed Mixed Container Dorms (INR 699 per night per person) which have three sets of bunk beds in a spacious container, 6 Bed Female Container Dorms, a Private Container Dorm for utmost privacy and comfort (INR 2,798 per night) and Deluxe Private Container Room with a valley view (INR 3,538 per night).
The property overlooks a gorgeous valley, and has a cafe that serves some delicious food. The in-house activities at Zostel Panchgani will keep you engaged throughout your stay. The property also boasts of high-speed WiFi, making it easy for you to document your stay on Instagram (and make your friends jealous!) You can drive down to Zostel Panchgani, because it isn't that far, and they offer parking as well.
Pro-Tip
The one wall that you must check out is the one with the legend of Peter Baba, the guy who got strawberries to Panchgani. It's quite a story! Also, don't let a weekend getaway dream burn a hole in your pocket. Instead, get your squad together and head to this hostel that will not only give you an interesting place to lodge, but also meet other travellers, thus making it a wholesome weekend.
Comments