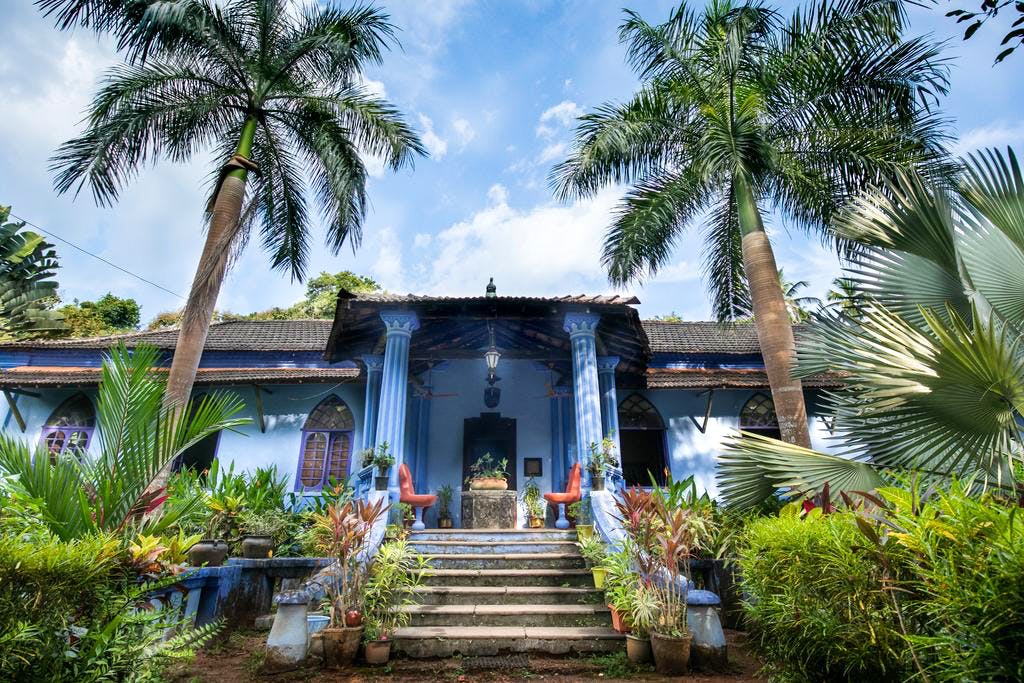 Luxury To Pocket-Friendly: 10 Great Stays In Goa You Need To Check Out
Packing in plenty of adventure, water sports, offbeat activities, history and culture, The Sunshine State has something for everyone. And, if you're looking for a great stay which can take your Goa holiday up a notch, we've got just the right options for you. From a luxe villa to a budget-friendly homestay, and a sweet lil' hostel to a family-run bnb, these 10 stays will sort out all your accommodation woes in Goa – no matter what your budget is.
Wander Villa
Wander Villa, located in Arpora, North Goa, is a perfect option if you're on a Goa vacay with your gang of friends. A three-storeyed structure sprawled across an expansive area, this villa is tucked away from the bustle of Goa. And yet, you're never too far from Calangute Beach and Baga Beach (roughly 3 km away). Featuring elements of traditional Portuguese architecture, modern influences and a distinct rustic touch, the place in itself is a delight! Plus, it's pet-friendly!
This luxe villa has four elegantly-furnished bedrooms, a living area and a kitchen along with common balconies. Another highlight of Wander Villa would be its swimming pool which has a lounge deck and an inbuilt jacuzzi. While food can be arranged at an additional cost, the caretaker who lives nearby is super helpful in catering to the guests' needs. What's more?You also have some of the Goa's best nightclubs and restaurants within a short distance from the villa.
The property can take up to 12 guests and the tariffs stay around 19k.
Casa Susegad
This quiet gem in Loutolim, South Goa is a treat for those looking to soak in the susegad life. With an amazing spread of local cuisine, the warmest, most well-informed hosts and a pool where you can lounge in all day, the experience here is one-of-a-kind. The house has been restored beautifully but still bears every mark of being an Indo-Portuguese mansion. It's got five gorgeously designed rooms and a distinct old-world charm. They even offer to take you along on local fishing tours and market visits and sometimes have yoga mornings. And for all this loveliness, their room tariffs start at INR 3.5k.
Jackies Daynite
Solo travellers, backpackers and anyone on the hunt for budget-friendly accommodation in Goa, Jackies Daynite is the answer you're looking for (tariffs start at INR 950 a night)! Located near Ozran Beach, a short distance away from Anjuna, a spacious courtyard and a little garden are what will greet you here. From its tiled roof to the earthy colours, this house proudly wears a quaint vibe.
Run by friendly hosts, the homestay offers air-conditioned and non-air-conditioned rooms. The restaurant and bar at the premises will sort you out for food and drinks. The hosts also run a souvenir store in the courtyard, so you won't have to worry about last-minute shopping for your family and friends.
Brisa Do Mar
Another pocket-friendly homestay in Vagator, Brisa Do Mar is a simple place featuring Goan-Portuguese architecture. With a courtyard and a garden surrounding it, the charming yellow structure exudes rustic vibes. While the interiors keep it simple with minimal decor, vibrant shades add a splash of colour to the space.
This homestay offers air-conditioned and non-air-conditioned rooms. These are well-maintained and come with cosy beds, basic furniture and modern amenities. Some of the rooms have balconies where you can sit back to enjoy the surroundings. Nature walks and adventure activities are on offer if you're looking for activities in Goa. For shopping enthusiasts, there's Anjuna Flea Market and Saturday Night Market where you can shop to your heart's content.
The rates here stay around INR 2k.
Farmagudi Residency
Located in the far corners of Ponda, this resort-residency lies close to several attractions such as spice farms, temples and Cobo De Rama Fort, yet far away from the usual tourist-y belt in Goa. Beautifully manicured lawns adorn the compound, while the hotel offers self-sufficient cottages with air-conditioning and room service. What's more, if you're travelling in your own vehicle you can also park here free of cost. The cottages open up to picturesque views of the mountains nearby. The rooms start at INR 1,200, and are ideal is you're looking for a no-frills experience that takes you back to nature.
Agonda Beach Huts
An offbeat stay along the less-crowded, palm fringed beaches of South Goa, these beach huts offer you the solace of a clean beach, without having to compromise on the style and luxury quotient. The huts offer three kinds of accommodation — standard, sea-view and deluxe, and start at INR 3,000 per night. You can curl up with a book in one of the many hammocks that line the compound, or take a sunset trip to the butterfly beach nearby. If nothing, you can simply wind down at their in-house restaurant and gaze into the clear blue waters of the ocean, while enjoying the cool breeze. Note that these shut down during the monsoon months only to reopen around October.
The Noname Guesthouse
A delight for the true-blue wanderlusting bunch, The No Name Guest House, is located in Arambol. The rooms are clean, well done up with all the basic amenities and start at INR 1,950 for single occupancy economy rooms. There is a home-style restaurant on the premises with many vegan and raw-food options — the restaurant even provides room service on request. Our favourite features? The rooftop co-working space with high speed wifi and the excellent local tips from the host. The co-living offers volunteering opportunities are are happy to host you in return for you helping with community activities at the hostel. Check their website for the kind of opportunities they have at any point.
Red Rooster Village Homestay
Want to experience some old-world Goan charm ? Head to Red Rooster Homestay situated in Majorda in South Goa. A quaint and rustic Goan house, this homestay is an extension of the Carvalho mansion, that was built as far back as 1789. This cosy and homely 1bhk set-up is run by a Goan family, and is barely a kilometer away from the beach. The stay includes all the basic amenities, including a cute kitchen and overlooks a sprawling garden. Best part? They have cycles that you can use to ride around the picturesque neighbourhood of Utorda. The rooms start at INR 1,837 during off season and go up during peak season.
Sri Cottages
Located amidst lush greenery, Sri, a popular garden restaurant on the Vagator cliff, has cute Portuguese cottages on the offer. The cottages are big and clean and done up with kitsch Goan aesthetics. The best part — the huge (pane-less) windows that look out into abundant gardens where you'll find everything from cherry tomato to clove to cashew plants blossoming. Every now and then you might even spot a peacock! The smaller cottages are priced at INR 1,000 during off season, and INR 1,500 for the bigger ones (one of them even has a bathtub) and go upwards of INR 2,000 during season.
IKRU
Hideaway
in Vagator is literally where all our loves come together. The coffee is great, the gigs are magical and the associated BnB, IKRU is a budget-accommodation that's as comfy and it's cute. Its minimal aesthetic with plants and tiny sit-outs make for additional incentives along with the air-conditioning, of course. Some of the cottages offer an attached kitchenette, making them a great deal for long-stay creative folks looking to work out of Goa. To add to this, they're close to Anjuna, Vagator and Assagao's cool hangouts. So, start your morning with a hearty breakfast at Hideaway, spend the day loafing around and about and call it a day in the beautifully-manicured garden; all of this starting at INR 1,500 a night. A steal, right?
Comments