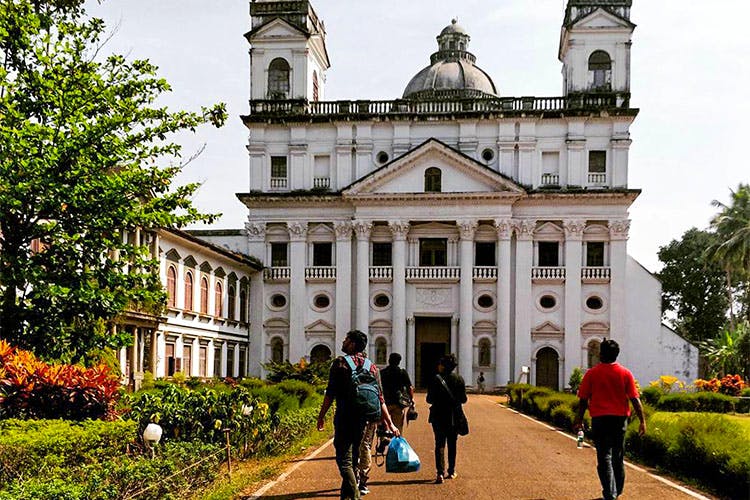 These Tour Guides Will Show You Goa's Quaint, Susegad Side
So you think you have been to Goa enough times to have seen it all? We say NOT, because every day we discover something new thanks to the fabulous tour guides in Goa. So we recommend that you definitely keep these guys on your speed dial if you wish to discover more than just the popular beaches.
Soul Travelling
Soul Travelling is the labour of love of Varun & Ramchandra who quit their cushy jobs to make exploring Goa their only mission. From fun pub crawls in Panjim with history and information thrown in, to heritage walks in Mapusa, Vasco and other cities, these guys show you these places in a whole new light. You could either join one of their regular organised walks, or ask them to do an exclusive one for you and your group.
Walk With History
Walk With History is another group started by local Goans comprising an engineer and a fashion designer. The duo is all about showing you Goa's history that goes even beyond the Portuguese rule. So, explore the Kadamba dynasty's capital (in case you didn't know they used to rule Goa way before the Portuguese even got here) or other historic caves and sights that are from way back 10CE or even earlier. They also take tourists for the usual Fontainhas walk every day and their heritage trail in Marmugao is fairly popular.
Assagaon Heritage Walks
Felly Gomes, under his NGO Live Happy, conducts the Assagao heritage walks and other activities in and around the village. Though only restricted to Assagao, this walk through a quaint village is totally worth exploring for the rich history it provides. For the uninitiated, this tiny village is now also home to some of the nicest cafes (hey, Gunpowder, hey, Gshot Coffee Roasters and hello, Mojigao) but what makes this walk with Felly super exciting is his knowledge of the local landmarks including monuments and oral traditions. So, you aren't just treated to the sight of beautiful houses in the area but also to a hearty meal at Felly's own casa followed by energetic folk songs. Doesn't get more real than this, right?
The Local Beat
The guys at The Local Beat have some of the most fascinating curated tours around Goa. If you believe in exploring like a true blue traveller, at a slow, cycle pace, these are the folks to count on. They enjoy a magical access to the most hidden villages and local Goans, who are a delight to hang out with. That said, call them if hiking, riding a bicycle, crab fishing in Chikol, eating local snacks, finding forgotten chapels and markets, or drinking homemade toddy, is your idea of a holiday. Know that no trips of theirs look the same because they don't work with rigid itineraries. They throw in some surprise elements with every walk and their local speak and understanding of the community's history helps enjoy the 'local' in every sense.
Uday Mandrekar of Chorao Island
Everyone knows that if you want to explore the island of Chorao, then calling Uday Mandrekar is a smart choice. Not to mention, the famous Salim Ali Bird Sanctuary which is on this island and which this gentleman knows like the back of his hand. He is a private boatman who will take you deep into the mangroves and waterways of the island, and show you interesting sights as well as birds and other fauna. A simple man who has lived his whole life there, he has formidable knowledge that will leave you with you great memories.
He can be reached on +91 98225 83127.
Make It Happen
With a passionate bunch of people at the helm, they curate a wide variety of walks through North and South Goa. We signed up for the Fontainhas heritage walk and came back with such a good understanding of the local culture, history, landmarks and architecture. The walk ended with Fado music and wine at a 300-year-old local home and this, was the best part of our walk. If Fontainhas is too mainstream for you, check out Divar Island walk or Campal Grounds walk or their sunset cruise. If you're interested, they've tied up with e-bikes for eco-friendly tours and even host special walks to help tourists enjoy local Goan festivals like Bonderam.
Comments