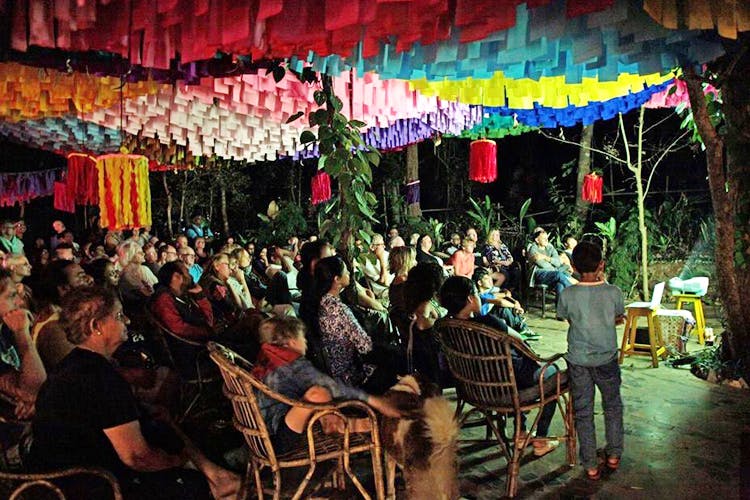 6 Assagaon Where Art, Activism, Audiences THUS Meet
Shortcut
You have probably been to 6 Assagaon the address a few times, either to eat at the well-known Gunpowder restaurant or shop at the People Tree store. Both of these are housed in this beautiful old Indo Portuguese home, whose address is 6 Assagaon. But come Mondays, the restaurant & the store are shut, THUS takes the space over for some amazing art & cultural experiences.
What Makes It Awesome?
'THUS' is an attempt by Nilankur Das to develop and curate interdisciplinary art practices for social campaigns and to foster critical thinking. So come Monday evenings, head on to 6 Assagaon, which is the address of the century old Cursino Villa which belongs to the Castellino family.
It seems there have been many famous people who have lived in it in the past and now it hosts talks, discussions, and performances by some famous and some not so famous people. In the past there have been talks by Rana Ayub, Rahul Alvares, theatre performances, poetry nights, the Kashmir Oral History Project and lots more. And they have some exciting new talks and workshops coming up like the history of the famous Azulejo Tiles, talk on the River Nationalization project, a documentary appreciation workshop and more. THUS we say head on down any Monday there.
Pro-Tip
Nilankur not only wants you to inculcate critical thinking, he also wants it to be an enjoyable experience. So there is always some awesome homemade North East Indian food and drinks available on these Monday evenings. And do donate generously as these are community funded initiatives.
Comments