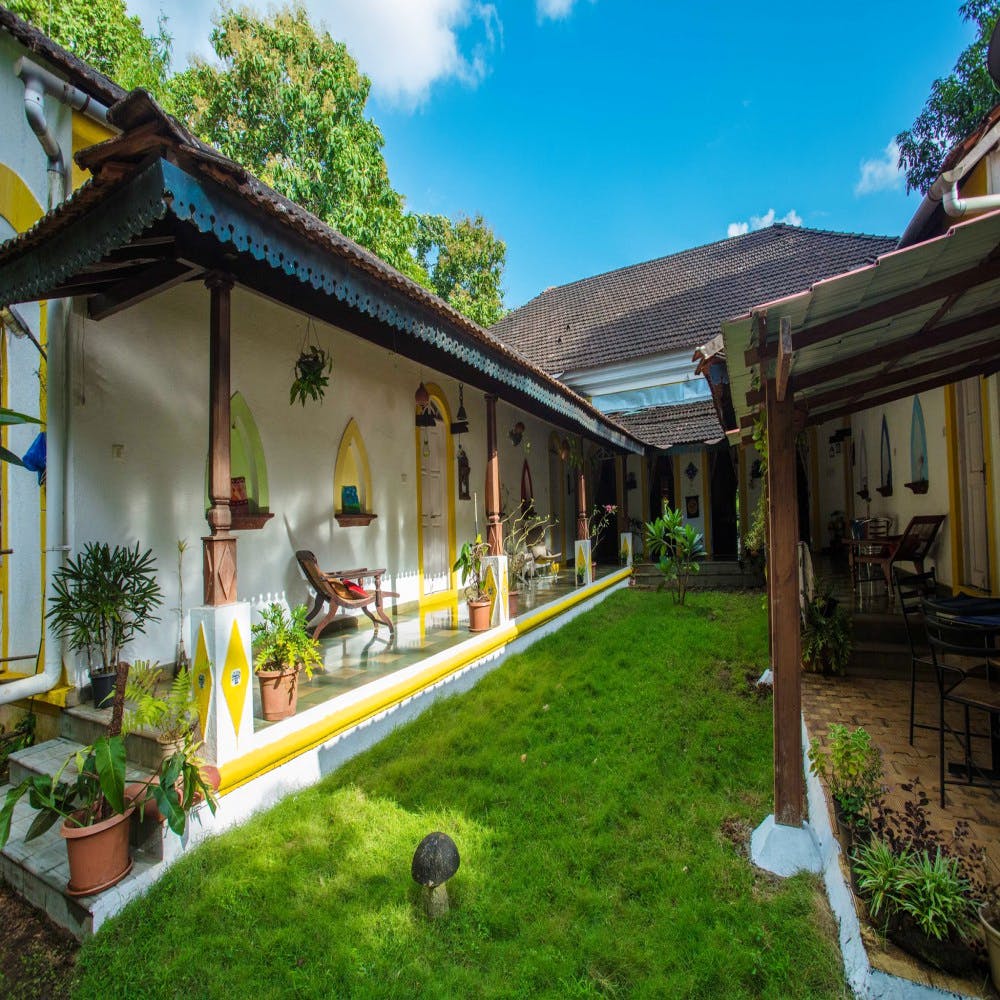 Goodbye Hotels: Your Next Goa Vacay Should Be At These Gorgeous Homestays
A lot of Goans have now opened up their homes to host visitors and share their family heritage. We have found a few special homestays that'll make you see a whole new side of Goa. After all, the kind of stories, food and cultural insights you'll enjoy just by sharing living space with these amazing hosts, can never happen even with the best of hotels.
The Secret Garden
The Secret Garden is the most charming and serene secret you will discover amongst the beautiful village of Saligao. This warm, idyllic and immaculately kept 200-year-old ancestral home of Derrick and Helene Menezes is a lovingly restored tropical paradise. Their 3 rooms have handpicked curios and artifacts, a private swimming pool amidst a beautiful garden and adorable and well-behaved dogs all adding to the experience. Start your day with an amazing breakfast, with Helene's special omelette or freshly baked breads or even fresh vegan options. The warmth and attention to detail shows in every aspect of this homestay, and you can book it for rates starting from INR 6k.
The Only Olive
A restored heritage villa in the sleepy village of Aldona, this one is as picturesque as they come. With three bedrooms, it gives you an option of booking an individual room or the whole villa. The philosophy of this home is to give you the true flavour of what the local life in a fishing village looks like. You can grab Feni at the village bar, sneak in siesta time in the hammock, go fishing, chat up neighbours who make the best choriz and just be. The rates start at INR 5,200 but it's probably the best investment you'll make in your happiness and Goa vacation.
Casa Menezes
Casa Menezes is 300-year-old home of the Menezes family. Located close to Old Goa, in the susegad-loving village of Batim, the bungalow sits majestically on a sprawling property. It has stately rooms with vintage four poster beds, traditional arched windows and balconies that wrap around the house. The homestay and a restaurant across the road are all managed beautifully by the hosts David and Pamela. Take one of their cycles to visit the nearby church of Our Lady of Guardalupe or the Batim Lake which is again a hot spot for birds. Or try your hand at salt harvesting at the local salt pans nearby. This is Goa like you have never experienced and rates start from INR 5k.
Vivenda Dos Palhaços
The British brother sister duo, Simon and Charlotte, are your hosts at this charming 100-year-old property in South Goa consisting of multiple homes. As soon as you walk in, their 3 furry friends will welcome you in to the Haywards' (of the famous Haywards Beer) family home. Lavishly decorated, with each room having a theme and a gorgeous pool that they have nicknamed Simon's Folly, this property also does some amazing meals. Cycles or, even better a quirkily customised tuk tuk that is kept exclusively for guests who want to visit the beach, Vivenda Dos Palhacos is a revelation in more ways than one. The rates here start from INR 4,700.
Caravela Homestay
Caravela Homestay is tucked away in the Fontainhas. These narrow streets, colourful buildings and storefronts are on view from this Portuguese mansion that celebrates a 15th century Portuguese ship. Just a hop away from the Mandovi River, this is a good budget option if you are looking to stay in Panjim, the central point to everything you may want to explore across Goa. A café that serves delicious Indo Portuguese food is an added bonus. Rates start from INR 1,500 for a single room.
Arco Iris
This lovely Portuguese manor in Curtorim is home to a family of four including Beni, Gani and their two daughters. Not to mention, their adorable doggos, one of who is constantly hungry for attention. While here, you can choose between AC and non AC rooms and tariffs will depend on the one you pick (varying between INR 4k and 8k). In keeping with the chilled-out vibe, they recommend their guests to bask in the gifts of slow travel that include fishing trips, eating at a local bakery, indulging in long meal-time conversations with the host family, going on heritage walks, picnicking at a spice plantation, going cycling and the likes. Sounds idyllic, right? It is.
Quinta Da Graca
If you're looking for a mix of quiet and buzzing, this Indo-Portuguese house in Saligao is perfect. Savio and Audrey are around to make sure you can plan your Goan vacation well no matter what you have in mind. Mellow village sunsets or the groovy bars in Candolim or Calangute, this stay gives perfect access to both. Anjuna, Vagator and Assagao are a 20-minute drive as well. The five rooms on the property are tastefully done up and it's a delight to laze in their tropical garden. Breakfast, wifi and housekeeping also make sure you have close to hotel-like comforts in a cosy, home-like setting. The tariffs start at INR 3k.
Comments