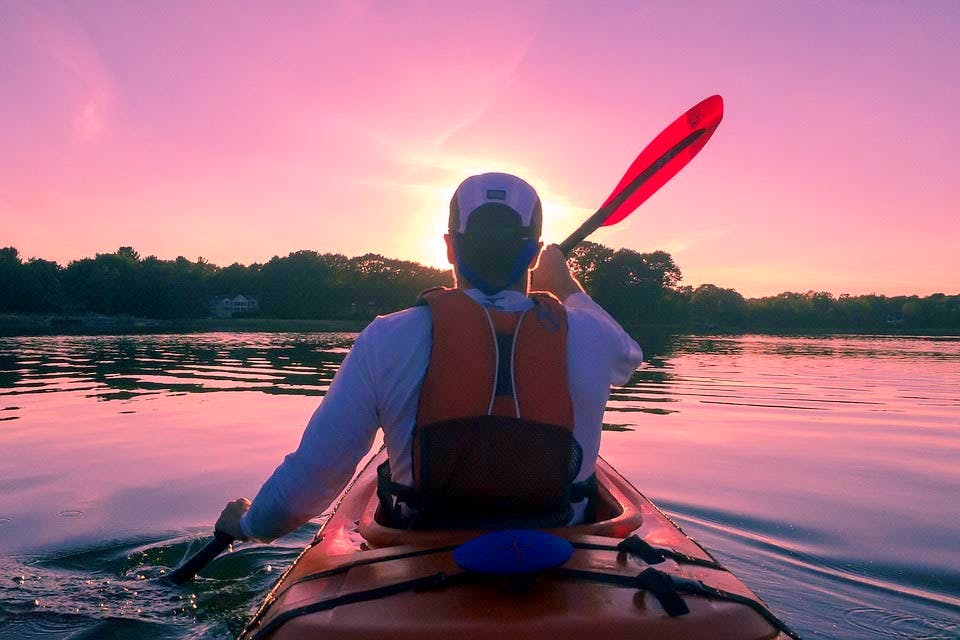 Rafting To Herbal Dyeing, Here Are 10 Activities To Try In The Goa Monsoons
Life in Goa assumes a different character in the monsoons. The skies are beautifully overcast and at the peak of monsoons it's raining incessantly for days. Most restaurants and beach shacks shut down, parties stop and life in the villages retreats into its own li'l cocoons. If this kind of quiet respite is what you're looking for, Goa might be the perfect monsoon travel plan. Here's a comprehensive guide to activities that run through the rains, and are worth stepping out for.
Aerial Yoga By Studio Naach
Studio Naach — run by Deboshree a professional dancer and aerialist — is an eclectic yoga studio, based in Nagoa. It combines a rare mix of yoga and movement, and will (literally) have you hanging in mid-air. She mixes her knowledge of dance, aerial and yoga to make a curriculum that will not only strengthen your core body and make for a full-body workout, but will do so while your weight is supported mid-air by hammocks tied to the ceiling (thinking of those gorgeous pictures already?!). If nothing, head here to try something new. The classes are a little over an hour long and on through the monsoons. They are priced at INR 500 for drop-in classes and INR 4,200 for 12 classes for a month. Hanging for more?
Off-roading With Dirty Riders
Would you like a half-day adventure or a full day one? Take your pick and Dirty Riders will customise an adventure package for you through some of the raddest off-roading trails in Goa. With modified dirt bikes and professional protection gear, Dirty Riders take the adrenaline rush very seriously. Obviously it's an extreme sport, so isn't suited for everyone, but if you have the stomach for it all, all you will need is a valid bike driving license and experience with geared bikes. Amram Hen, the founder and rider-in-chief, has been dirt-biking and racing for years, and will be personally there to allay any last-minute fears. Their packages are at INR 4,500 and INR 7,000 for half day and full day respectively. Post July 5, you can call them a day ahead to book.
Cycling Through Forests & Villages With Terra Conscious
Organised by award winning eco-tourism organisation, Terra Conscious, these bicycling tours will take you through either a private forest trail and its neighbouring villages, or through hills and plateau of one of Goa's most beautiful heritage villages with a gorgeous canopy of trees and indigenous plants. You can opt to do a walking or bicycle trip through this trails while the co-founder Roshan, takes you through a guided tour of the forest and village ecosystem - this might just be your chance to see a #differentGoa. They are open to everyone above 8+ years, and if you're worried about your cycling skills, just sound them off and they'll help curate the trip based on your level of expertise. The trips start early and are priced at Rs 2000 per person. The trails reconnect you with the abundance of Nature that adorns Goa, and you might have a chance to spot hornbills, kingfishers, magpie robins and many indigenous plants and you'll end the trip with some lovely, homemade food.
Wildlife Walks & Talks By Khoj-aao! Adventures
Khoj-aao! Adventures, run by a bunch of seasoned nature enthusiasts and adventurers, promotes the exploration of backyard biodiversity through customised outdoor experiences. During monsoons, when the surroundings are especially lush, the Goan backyards become home to an array of plant and animal species. Khoj-aao aims to help the nature enthusiasts discover these joys, but in a sustainable manner. They organise Interactive Wildlife Walks & Talks, which explores reptiles and amphibians that are aplenty in the monsoons and also have an indoor interactive session on the 'Birds of Goa' for young learners. These apart, they do River Walks & Waterfall Hikes in and around Bhagwan Mahaveer Wildlife Sanctuary. While these tours are ideal for groups of 4–8, if you are less or more in number, reach out to them and they will sure customise a plan that's best suited to you.
Kayaking Through The Backwaters With Terra Conscious
Amongst our favourites are kayaking trips organised by Terra Conscious, through beautiful mangrove ecosystem of Nerul backwaters. During this 2-hour kayaking trip, their co-founder and trained scuba instructor, Roshan will take you through a guided tour of the backwaters while also educating you about the wonderful bird and fish life the mangrove ecosystem protects and provides refuge for. The level of difficulty is decided based on the participant's experience. The trips are priced at Rs. 2000 per person, which includes a portion of healthy munchies and will leave you feeling a lot more in sync with the nature.
Herbal Dyeing With Colorashram
What better in the monsoons than playing with colours while it pours incessantly? Head to Colorashram, in South Goa to indulge your inner child in a cosmos of natural colours. Run by Namrata and Arun, who hold a patent for the herbal dyeing process, you can book yourself a customised workshop, or participate in one of their curated workshops to learn hands-on dyeing, various tie-dye techniques or block printing and screen printing. You can even give your old clothes a new lease on (dyed) life! The dyes are non-toxic and sourced from all organic matter like turmeric, onion peels, tamarinds etc. . Infact every dye carries a traceable QR code that can reveal the dye and maker source of a fabric dyed by his dyes. Drop them a Whatsapp a day ahead and colour yourself a riot.
Rafting With GoaRafting
If adventure sports is your thing, this might be the perfect monsoon activity in Goa. June to October is the time to ride the waves of the gorgeously moody Mhadei River in Goa. At GoaRafting, they have two perfectly timed rafting trips, one at 9:30am, and another at 2:30pm for the late risers. Both run for a stretch of 10kms, along some of the most gorgeous jungle sceneries of the river. These 3-hour trips are a great rush and fit for anyone above 12 years of age. Better still? Once you're through with your gut-wrenching adventure, some authentic Goan delicacies await you!
Relaxing With Aarti's Music Therapy
Looking to disconnect from the din of the outside world and reconnect with your soul? A music therapy session might be up your alley. Aarti is a certified music therapist, based out the lovely neighbourhood of Moira, who has been working in the field of mental health for over 9 years now. Her sessions, typically 2-hours-long are a sojourn of self exploration with music as the catalyst. The sessions are interactive incorporated with art, movement and dance, writing and drama along with music. Best part you don't at all need to already be a musician - since the goal is ultimately therapy, the idea of these sessions is to let the music in you manifest.
Learning To Jive With Conrad
Remember the time you said that you've two left feet and chickened out of dancing? Yes, you don't have that excuse anymore. Conrad D'Costa will give you a 3-hour crash course and will teach you the basics of Jive. Oh, and he'll build you the confidence to walk up to a person and ask them for a dance! And what better place than, here in Goa, where everyone seems to be in good spirit. Conrad is a self-taught artist, and for a mere INR 1,000, he promises to turn your socially awkward self in a club, into a social butterfly.
Getting A #MondayFix With THUS
If you thought that you think, think again! #mondayfix will teach you how. Every Monday evening, Gunpowder turns into this melting pot of critical thought and thinkers (the restaurant being shut on Mondays). Under the sharp curatorial eye of Nilankur, Thus. programs talks, book readings, film screenings, poetry and protest music evenings, where no topic worth its salt - from the mining catastrophe in Goa, to the prevalent meme culture - is off limits. If you have the appetite for politics, poetry and debate, a dose of #mondayfix might just be your respite.
Comments