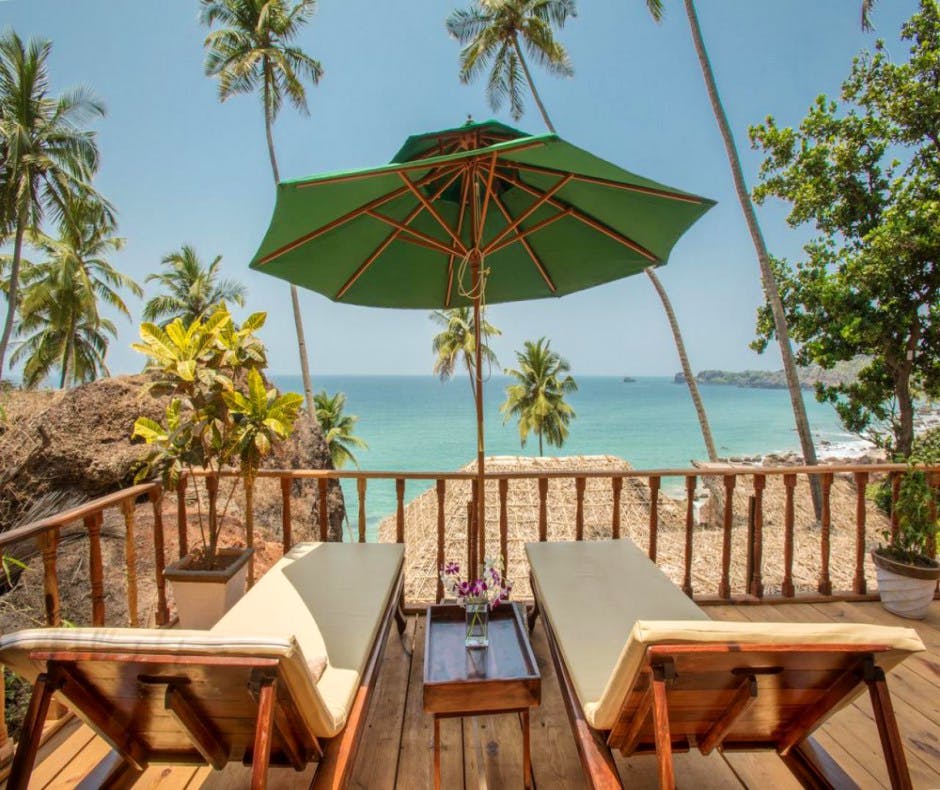 Beautiful Sunsets & A Lazy Vibe: Here Are 6 Of Our Favourite Beaches In South Goa
If you have never made the effort to go and check out the beaches in South Goa, or maybe just been to the popular ones like Colva, Palolem or Benaulim, then it's time to plan another trip. The chosen ones on this list are quiet, clean and relatively undiscovered. So, if you're up for an offbeat adventure, get yourself behind a wheel and drive/ride away.
Cabo De Rama Beach
Cabo De Rama beach is the southernmost beach of Goa and rarely visited by anyone except a few locals. So it's perfect for that dip all by yourself, and you could even make a day picnic of it. Once here, Cabo De Rama Fort can be seen up on the hill behind (and you should go and check it out). This beach is a bit rocky (the rocks appear and disappear with the tide), but still pretty good for a swim. All in all, you will feel like Robinson Crusoe on your own private beach throughout the year.
P.S. Looking to stay a night? The Cape Goa has beautiful, luxurious and oh-so-romantic cottages.
Cola Beach
Cola Beach is another serene spot along the coastline that needs to be on your watch. Be prepared, though, for a small hike through the jungle by the cliff-side. Definitely not for the faint-hearted, but totally worth it as once you clear the jungle, you can see the beach starting to emerge and the sight's extraordinary. Not to mention, the beautiful lagoon that adds to the attraction, making you want to pitch a tent and spend your days here. There are two premium resorts here if you want a more luxurious accommodation. Dwarka Beach Resort is our favourite. Or, there are luxury tents that you could stay at for fresh food and stunning sunsets.
Note: Avoid this beach in the monsoons.
Butterfly Beach
The Butterfly Beach is another beach with absolutely no infrastructure, making it again a beautiful, private space. On the mainland, it is only accessible by boat from Palolem or Agonda beaches, making it a secret spot to have that overnight camping trip or a cosy private picnic. Nestled between two hills with a thick jungle, this beach is like a cove with golden sands and the sunsets from here are just magnificent. They even do secret parties here occasionally. And of course, there are loads of butterflies here, hence the name.
Disclaimer: This beach is not accessible during the rains.
Galgibaga Beach
The Galgibaga beach is a pristine, white sand beach, and is also one of the best places to watch the Oliver Ridley Turtles come to nest. So do not disturb their nesting period, but just watch the beauty of mother nature unfold. Be warned that the forest authorities have someone here to ensure that their habitat is not disturbed. This one also has a lagoon along with multiple staying and eating options, so you can definitely stay a weekend or more. It also helps that the beach is open to everyone through the year. Cassoi By Ciarins and La Mangrove are stunning properties to stay.
Just doing a day-long road trip? Grab lunch at Holy Turtle cafe on the beach.
Agonda Beach
Agonda Beach isn't a secret anymore but is a beautiful, clean beach nonetheless. This is the perfect mix of quiet and lively with its string of shops, eateries and resorts. A great option to stay at for days, this one has enough for the children as well. Live music, hip bars, chic boutiques, vegan cafes... The whole vibe here is touristy but it helps that its still not as commercial as its neighbour, Palolem. Our favourite places to stay here include Indah Desa, Simrose, Agonda White Sand and H2O when we're feeling a little indulgent. When bank account's crying, we check into Zest's eco huts, Fatima and Maria Paulo guest house, all of which are clean and relatively affordable. When here, do check out Zest, Kopi Desa and Jaali cafe and boutique.
Remember that all the beach resorts/stays are pricey, and a lot of the smaller places to hang and stay shut during monsoons.
Majorda Beach
Majorda again, is a good beach to hit up if you aren't ready for a rustic, secluded beach experience but want white sands anyway. With enough resorts to pick from (hey, Alila Diwa) and gorgeous homestays (hello, Vivenda Dos Palhacos), you can easily spend a couple of days here with bae/fam. Water sports abound with banana rides and dolphin spotting and shacks line the beach to ensure there's never a dull moment. We also suggest grabbing a nice Italian dinner at Salute nearby.
P.S. One evening, if you have the time, hit up this local bakery for fresh poi and pick up a Feni to get a taste of real Goa.
Pro-Tip
All of these beaches are pristine and a few of them have no garbage collection or such infrastructure. So if you carry any refreshments, please do remember to carry the garbage back with you.

Ask Nupura a question