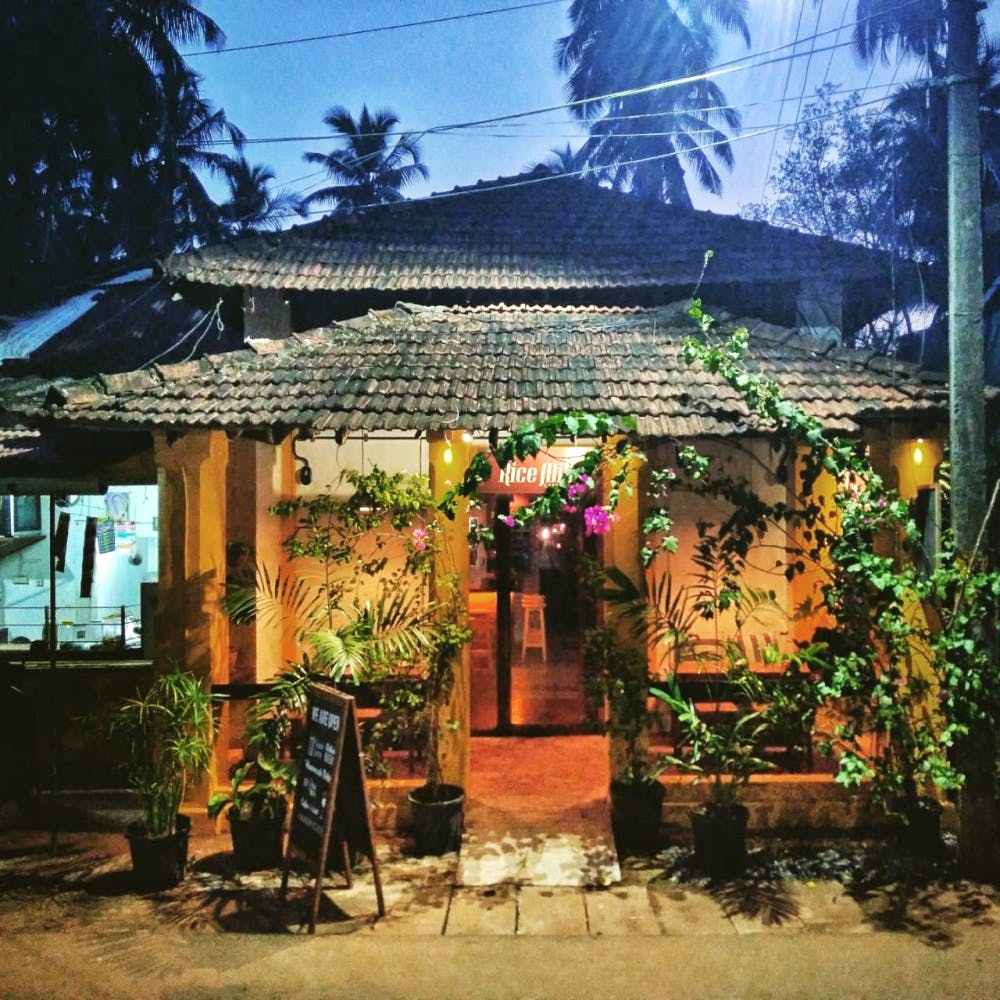 Need A Pasta & Coffee Break? Here's Your List Of The 15 Best Cafes In Goa
Prana Cafe
If you're a fan of health food, fresh ingredients and smoothies that can cure the worst of hangovers, look no further than Prana Cafe. Tucked away right at the mouth of Vaayu Waterman's Village in Ashwem, it lets you enjoy a panoramic view of white sands and clear blue waters, while sipping on your smoothie or that perfect cup of Sunday morning coffee. Their fresh juices, salads, locally sourced pasta and sandwiches make for a filling, soul-satiating meal. We love their quinoa avocado stack, homemade lemonade and cous cous hummus salad. The cafe also has an in-house art gallery which displays art from local artists, books and there are board games to make it the perfect spot to spend an afternoon with friends.
Cafe Cotinga
Soothing music and banoffee pie, charming birdcages and fairylights make Cafe Cotinga is one of the cosiest, most romantic cafes you'll come across in North Goa. Though it's primarily loved for its desserts, the grilled prawns in lemon garlic sauce and honey chicken are definitely worth the mention. Their banoffee pie is an absolutely amazing combination of banana and toffee put together — into this soft and yummy pastry, which is the best thing to satiate your palette. The other all time favourite is their cheesecake, and the live music nights that the cafe often hosts, which add to the vibrant atmosphere of the space.
Eva Cafe
A beautiful vegetarian cafe overlooking Anjuna beach, that feels like a slice of Greece right in the heart of North Goa, Eva Cafe is perfect for a breakfast bowl or an evening date with some wine and that warm sunset glow. Thanks to its location, it even allows you to walk down to the rocks below and dip your toes in sea water. Dressed in all-white, with lots of crochet, wooden furniture, deck chairs and an all-out boho vibe, it's an Instagram delight. We love to grab the chairs that overlook the beach and sip coffee for hours. Their menu is no-frills with a variety of sandwiches, pasta, juices, crepes, museli, eggs, salads and more.
Mojigao
A hidden gem of a cafe that almost convinces you that you're in the hills, Mojigao has some of the best coffee in town. The cafe has refreshing fresh juices, as well as a delicious homemade cheese platter. Surrounded by giant trees, chirping birds and a large open space where you can relax with your sandwiches or a plate of hummus and homemade pita, Mojigao despite being one of the newer spaces easily is amongst the best breakfast joints in North Goa. With a bookshelf housing books by Murakami, Wodehouse along with Hardy Boys, all one needs is a cup of cortado and all the time in the world!
Literati Bookshop & Cafe
Located in an old Goan house, with walls that are stacked with piles of books, it's almost impossible to be sad here. A quaint bookstore and cafe, there are wooden shelves everywhere you look, with books from different parts of the world — new arrivals, bestsellers, fiction, non-fiction, so if you are looking for a laid back evening, you know where to go. The bookshop also has a cafe alongside, where you can get yourself a cup of hot coffee and snacks to read along with those books.
Royal Enfield Garage Cafe
A biker's paradise, Royal Enfield garage Cafe is a cool cafe that is the meeting point for bikers, travellers, foodies, history buffs or people who simply want to learn something new about travel or biking. Pick up some cool biking gear, browse through RE memorabilia, listen to some of the finest live bands, down some chilled craft beer… This garage cafe has it all. They've got both: an al-fresco seating and an air-conditioned indoor space for when it pours (or gets unbearably hot) but you want a relaxing cuppa and a pizza or some fresh salad.
Cantina Bodega
Althino hilltop houses The Sunapranta Centre For Arts, which has one of the loveliest cafe-cum-restaurants in Goa — Cafe Al Fresco by Cantina Bodega. An eatery adorned with beautiful Al Fresco dining in a Portugese villa courtyard, where you can have a hearty breakfast surrounded by greenery and art. Try their kombucha (a variety of fermented, lightly effervescent sweetened black or green tea, that is a favourite local summer drink) or one of their delicious bakes and enjoy a perfect summer evening. Another plus are their hearty portions. You can order a plate of mushroom garlic pasta and cheese fries and be done for the day. While you're there, look out for the attached art gallery, they always have some art on display.
Cafe Chocollati
Snuggled into a tiny gate on the footpath on Candolim Road, Café Chocolatti is a cute little cafe, that also harbours a huge open green space and some of the best breakfast in town. The whole space has a distinct European feel to it — the architechture a mix of English and Portugese styles — a villa with extended rooms that have been converted into the bakery and kitchens, lush green lawns, white and black tiled floors, and pebbled pathways in the garden. The crepes are interesting, and to die for! Their service is warm and quick. The staff is knowledgeable. The entire experience feels homely- as if you're sitting in your own backyard and enjoying a royal meal.
Carpe Diem
A cafe that combines skill-building opportunities alongside a cafe that feeds you waffles, sandwiches and shakes, Carpe Diem hosts a range of activities and workshops from dance to pottery, yoga to theatre, art exhibitions to book readings. Located in Majorda, in South Goa this cafe becomes the hub of activity — they've also got tonnes of paintings and artworks for you to enjoy and take home. In fact, it's a good place to pick up souvenirs for folks back home.
Hideaway
At this cafe in Vagator, music fills the air, alongside a shelf full of books, a batch of fresh Kerala pickles up for grabs and there are occasional visits from the neighbouring peacocks. With pasta, sandwiches and a few Goan staples, they promise you the perfect cuppa (or a glass of fresh smoothie) to wash everything down. Think everything from flat white to dark chocolate mint mocha. If coffee isn't your jam, get yourself a pot of Kerala Vanilla or Mango Storm. And come evening, you have to switch to their fresh Urak cocktails that come in Mango and Vimto (a local berry juice) flavours.
Zest
Healthy vegetarian and vegan food at its best, Cafe Zest creates an utterly relaxing and unbelievably uplifting experience. They add a special zing to the food that easily takes takes the boring out of the vegetarian — everything from the pastas, coffee, smoothies, salads, wraps and sourdough toasts, are delicious, though their scrambled eggs with goat cheese deserve a special mention, as does their chia seed pudding. While on your way out you can also check out the collection of chic indie clothes, bags and home decor at their in-house store Bunti.
Jaali Boutique & Cafe
Jaali Boutique & Cafe has been one of Patnem's most gorgeous garden restaurants. Their food here, made from the freshest ingredients, is a mix of Mediterranean, Middle-Eastern and European. The in-house shop curates treasures from all over India and is a true delight to browse. In true mezze style, the Jaali peeps encourage sharing plates and their serving size ensures that there's enough room for you to try more than one thing on the menu. Our favourites include: Martinis, cauliflowers in tahini, seafood dishes and messy eggs.
The Rice Mill
A quaint bar and cafe in Morjim, The Rice Mill derives its name from the building it's housed in — what used to be a local rice mill back in 1955, is now a chic cafe that has a rather diligently put-together tea and coffee menu. True to the cafe style, Rice Mill is the ideal haunt if you're feeling peckish, or even for breakfast — you'll find pasta, sandwiches, quiche and the likes along with breakfast bowls, smoothies, and a wide range of cookies. Its interiors though much unlike most of the Goa hippy vibes features exposed bulbs and pipes, red brick walls, minimal furniture and dim lighting. Thanks to this, it has a character of its own.
Gshot Coffee Roastery
This community-run cafe-meets-roastery offers specialty coffee like no one else, has a gourmet menu with dishes made from the freshest ingredients and a chill, music-filled vibe that lets you disconnect in the true sense. The care that goes into visiting coffee estates across the country, sampling their beans, roasting, tasting and the process of finalising the beans that'll be crushed and roasted to make your cuppa, is mind blowing. The Cortado, Espresso and Iced Latte we had were the best we've had in a long time — and the same kind of attention goes into the food... They actually, handpick the salad leaves that make it to your plate! The pizzas are yum and so are the summer salads.
Baba Au Rhum
Combining the best of both worlds, Baba Au Rhum is a part traditional French cafe, part Goan fusion food. Run by two French locals, their croissants, fruit salads and pizzas are very popular with the local French community. Tucked away from the main road, the cafe overlooks lush paddy fields and is one of the best breakfast/brunch places around. And if you're a steak person, they offer some of the best medium to medium-rare steaks you'll find in Goa!
Ask Aishwarya a question