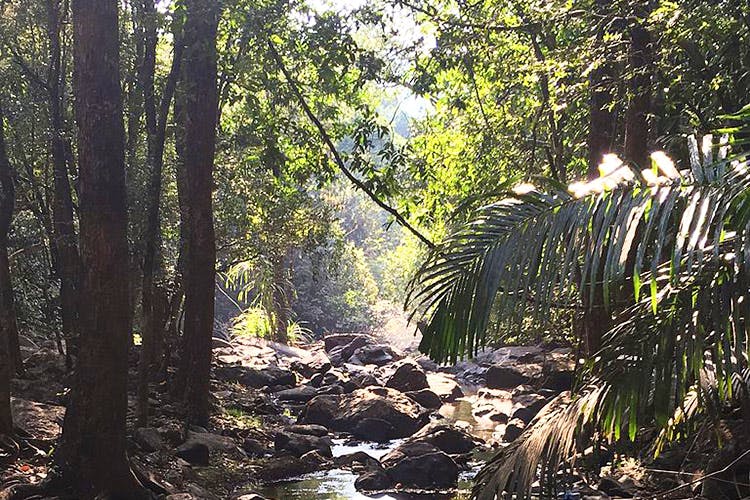 Waterfalls, Wildlife, And Treks: Here's Why Tambdi Surla Should Be On Your South Goa Itinerary
Shortcut
Sitting on the border of Goa and Karnataka, the Bhagwan Mahaveer Wildlife Sanctuary, near Tambdi Surla, promises many thrills to the adventure enthusiasts. A trek to Dudhsagar or the Tambdi waterfalls is a must here!
What Makes It Awesome
A protected area in the Western Ghats, Bhagwan Mahaveer Sanctuary, located near the villages of Tambdi Surla and Mollem, is Goa's largest wildlife reserve. After you snap up an entry ticket, it is possible to take private vehicles into the sanctuary (there's a road for about 7 kms), however, the best way to explore the lush foliage is to hit the hiking trails. As you wander about the forest, you'll spot plenty of avian life, including, Goa's state bird — the yellow-throated bulbul. Grey Hornbills, Paradise Flycatchers, Olive-Backed Pipits, and Jungle Owlets are also part of the ecosphere. So are deer, tigers, jungle cats and giant flying squirrels.
The highlight of your trek here will be your visit to the falls. There's Dudhsagar, the more famous and tourist-heavy, of the two. Between October and May is the best time to visit and this is the season when the road to the base of the waterfalls is open (although we recommend you check with your guide or tour operator before signing on). The lesser known Tambdi Falls sits deep in the forests so you'll take a walk through the serene jungle and catch its many sights on this trek. But it can get very tough in places so make sure you have the strength and stamina to complete the trek.

National Parks & Wildlife Sanctuaries
Pro-Tip
To make the most of your trek, we recommend you take a guide along. There are local adventure companies that will take you around or if you are staying at Nature's Nest, they conduct bird watching and jeep safaris at the sanctuary.

Comments