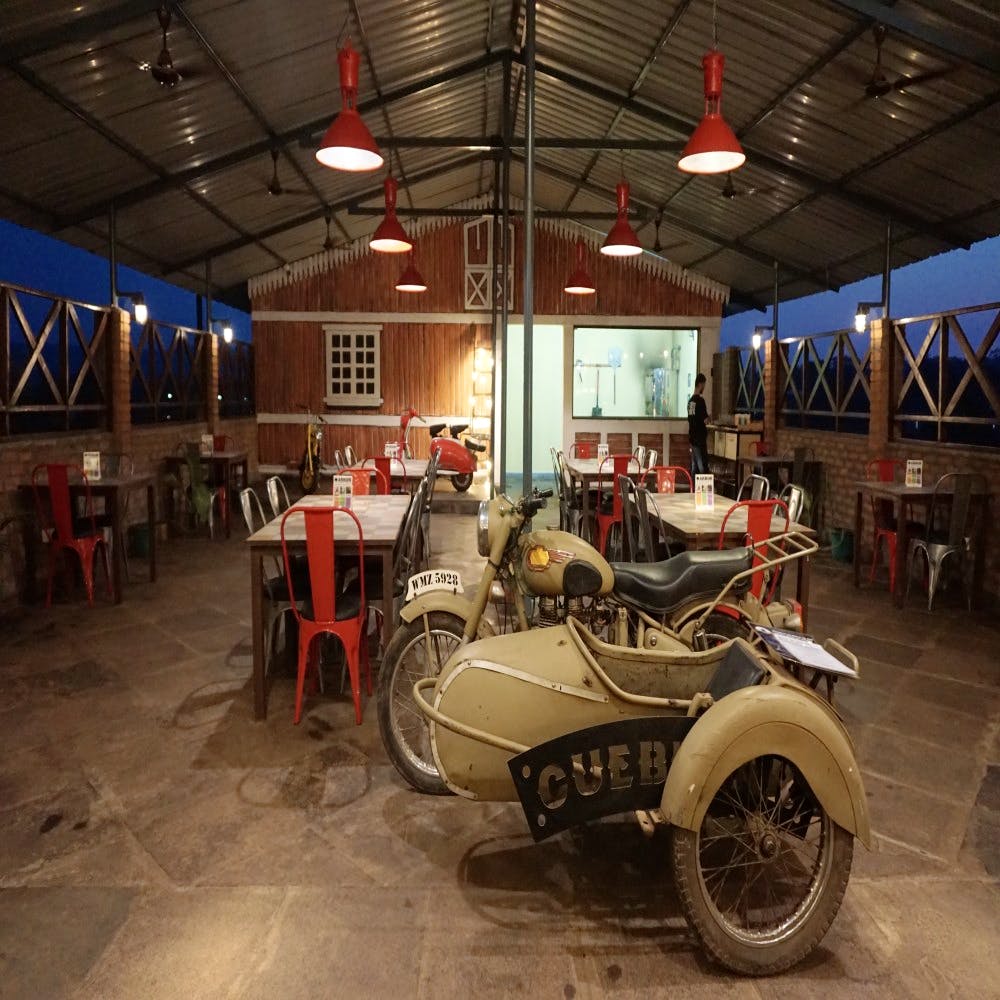 Bikes, Games & Mean Burgers: This New Smokehouse In Goa Is Totally Badass
Shortcut
With neighbours like Soro and Escobar it aint easy to be the new kid on the block. Cuebebar doesn't need to worry though because the vibe, food and the typical smokehouse set-up are totally on-point – their meats and veggies are smoked for a minimum of six hours. We were probably sold at this.
What Makes It Awesome
It's kind of hard to miss Cuebebar. With a grungy, garage-like feel, they're out there hoping to dish out the most original messy burgers in Goa. Arjun, the chief man here, was working at Marriott in Texas before he came to Goa and when we found out about this, everything seemed to fall into place. His love for barbecues also echoed with a school friend who's a bartender here and now gets some really kickass cocktails to wash down those grilled pork chops and hamburgers.
Their obsession with the grills is so intense that they actually created their own smoker from an old water tank. That thing, is smoking hot. After we saw it in action, we knew we were going to jump straight on to their smoked beef sandwich which was a massive, filling portion with tender, lightly charred beef. The dressing complemented the patty instead of overpowering it; that's quite a win for a sandwich purist like us. For the meat eaters, the 10-hour smoked pork shoulder sandwich should be another must-try. Now wait, everything on the menu is made from scratch and please don't judge us, but we might be back for their home cut chips which are spiced with a secret sprinkle of their in-house masala. So glad they accompany all sandwiches and burgers.
Vegetarians, they've been thoughtful in adding a few ingenious options for you to try. Their hummus and pita is buttered and comes with a side salad that provides a nice citrusy bent to this classic. We also liked the smoked beetroot and mushroom burger that was a new taste for our palate and such a good change at that. Since the devil is in the details, we have to admit that the homemade mango and chilli dips were quite intriguing too.
Through all this gluttony, we cherished the company of Ankush's brilliantly mixed cocktails. Our faves? I Sage with gin, anise, lime juice, cucumber and PomeGrenade with rum, mint and fresh pomegranate juice. It was good to know that they use no sugar or artificial syrups and flavours for these concoctions. They've got cocktails made with rum, tequila, vodka, wine and whisky so you're always hanging out with your favourite poison.
To round off the meal, get their grilled pineapple with caramel sauce and vanilla ice cream and homemade coffee liqueur (this is so good, we can't even).
All this eating left you tired? Get up, challenge fellow burger eaters to a game of dart, perhaps? They're also working on getting more games organised inside Cuebebar.
What Could Be Better
We wish they were doing lunch.
Pro-Tip
They're currently only doing dinner so post 6pm is a good time to go. They're shut Tuesdays. Oh, and they host a bunch of cool events like gigs, stand-ups, movie nights and more, so follow them on social media.
Parking is ample here and they home deliver to nearby places.
Comments