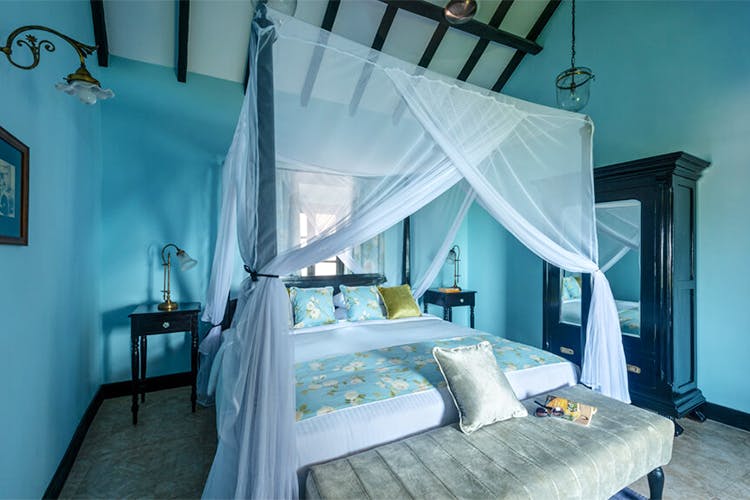 Dolphin Watching & Sundowners: Stay At This Fort In Goa
Shortcut
A lot of forts around the country have been restored and turned into beautiful heritage properties. Goa also has a beautifully restored fort, which is now a boutique hotel overlooking the Arabian Sea welcoming the river.
What Makes It Awesome?
Perched atop the hill, with its few rooms and a lovely terrace restaurant, this hotel is a great place for those romantic weekends, or even just a sundowner. This hotel is certainly for those looking for a serene and tranquil holiday, away from the partying and crowds on the main belt. The beaches of Arambol and Keri are very close, and they both offer clean waters, few tourists or shacks and sandy beaches to laze the day away.
All the rooms of this hotel overlook the Arabian Sea, with a few having tiny little balconies. With rooms named after every day of the week, and furnished with every imaginable luxury, this boutique property offers all the comforts but with a dash of history. So take a walk on the walls of the fort, and get a sense of how the soldiers used to keep watch on the Sea as well as the river inland during their days. Though not massive, the fort also houses a small church, which is not open on weekdays.
Their restaurant on the terrace has a limited menu but with really great food, curated by Chef Salim of Sublime & Elevar fame. So even if you are not staying there, it is a great place to visit for a lazy lunch whilst you get lucky and catch sight of dolphins. Or have that romantic date when you are ready to pop the question with a bottle of the bubbly.
Pro-Tip
Every Sunday the little chapel is opened and has a morning mass in Konkani, if you would like to attend and see the interiors of the Church. It is the last outpost of the Goan state and one actually cuts through a bit of Maharashtra to get to it via road. Of course you can take your car or bike across the river on the river ferry, a short 10-minute ferry ride, but the river breeze and flowing waters just add to the excitement of getting there
Also On Fort Tiracol Heritage Hotel
Comments