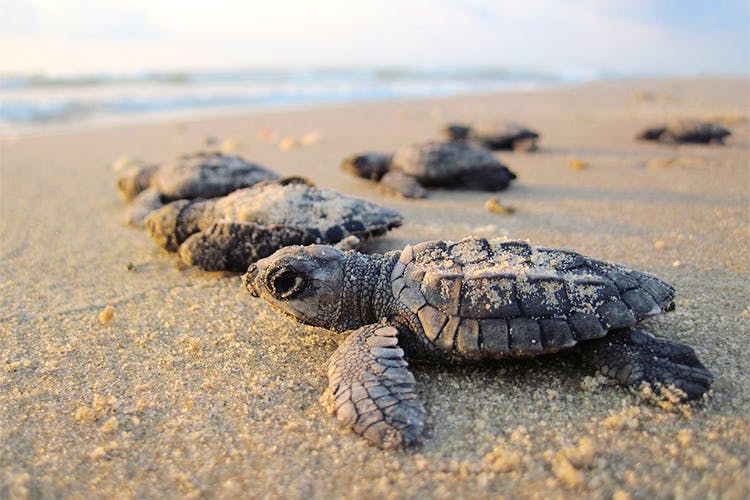 Did You Know? These Beaches In Goa Turn Into Turtle Nesting Sites Every Year
Shortcut
Some beaches in Goa are popular and protected turtle nesting sites. Here's where you can spot the famous Oliver Ridley Turtle Hatchlings. And it does not matter if you are in North or South of Goa, as there are beaches on both sides where the mama turtles come in every year to lay their eggs.
What Makes It Awesome
The Oliver Ridley Turtle is a small sea turtle species, where an adult one grows to approximately 60 to 70 cm carapace in length. The shell or carapace, is usually heart shaped and they are the cutest turtles to watch.
The most famous nesting site is, of course, the Galgibag Beach in the South along with Agonda Beach. Morjim, Mandrem and Ashvem Beaches in the north. Nesting season usually starts in the month of September though in the recent past it has now shifted to January and ends by about March or April. This change in the start of the nesting season is attributed to climate change. Even tourist inflows and noisy surroundings are affecting and endangering this species, so a lot of times the eggs are shifted by the forest department to the Interpretation Centre so that they are protected during the incubation period.
Due to the nest protection offered on the beaches and at the centre from 1997-2012, the Forest Department has managed to protect some 139 nests and release 12,244 hatchlings safely in to the sea with a 67% success rate. So, do go and see the measures that the Forest Department and NGOs are initiating to keep these cute little things safe. Also, do your bit to protect these little creatures.
Pro-Tip
These sites on the beaches are also under the protection of the Forest Department and clearly marked with signboards; so do follow their rules and regulations so as to not disturb their natural habitat.

Comments