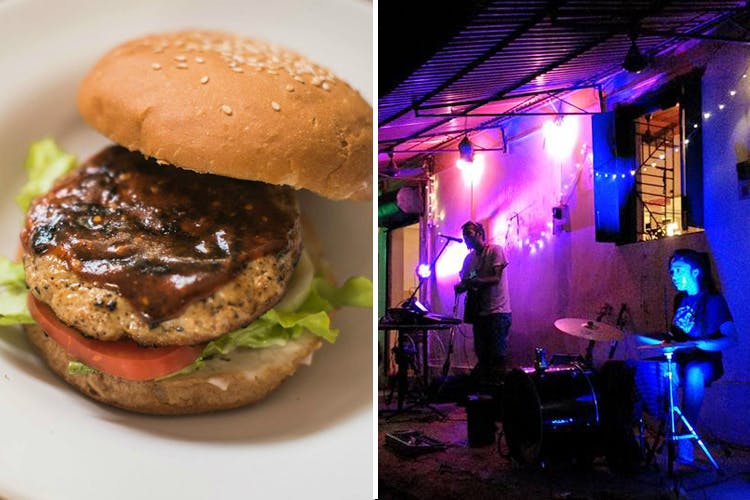 This Joint In Vagator Is Serving Up Some Of The Juiciest Beef Burgers In Goa!
Shortcut
Hidden away in Vagator lies Rocket Burger, a small, cozy shack in a quiet lane with a lovely outdoor seating under a majestic banyan tree. Krish the Rocket Man along with his space cadets Shambhu & Mangal, serve up some of the most amazing burgers here. Beef, chicken or vegetarian, they have it all.  
Tell Us More
Other than their Rocket Sauce, they also have juicy beef burgers with names like Space Cadet which comes with gherkins, roasted peppers, and onions; as well as the regular Hans Solo classic. Each of their burgers is a must try. They have chicken burgers too, like Ziggy Stardust which has parmesan, peppers, onion and a spicy mayo, onions, bacon burger called Chewbaka for the bacon lovers.  You could also accompany it with salads like the Martian Green or Potato Propulsion. The prices are super affordable starting at INR 240 for a burger with fries or salads starting at INR 120. The best part is the Rocket Sauce if you like things hot! Not to mention their freshly made thick fries flavoured just perfectly. And when the Rocketman's mother is around, they even do some amazing Sunday thali lunches with Bengali food. This joint has also become a great place to catch some eclectic live music. With an open mic night on Wednesdays, bands performing on Fridays and the occasional impromptu jam sessions every other night. And once the rains are over, that banyan tree makes for a majestic backdrop for these bands. Krish is also an enthusiastic musician, writer and has been known to occasionally even help our aspiring poets and musicians.
#LBBTip
It is open only in the evenings post 7pm as of now.
Comments