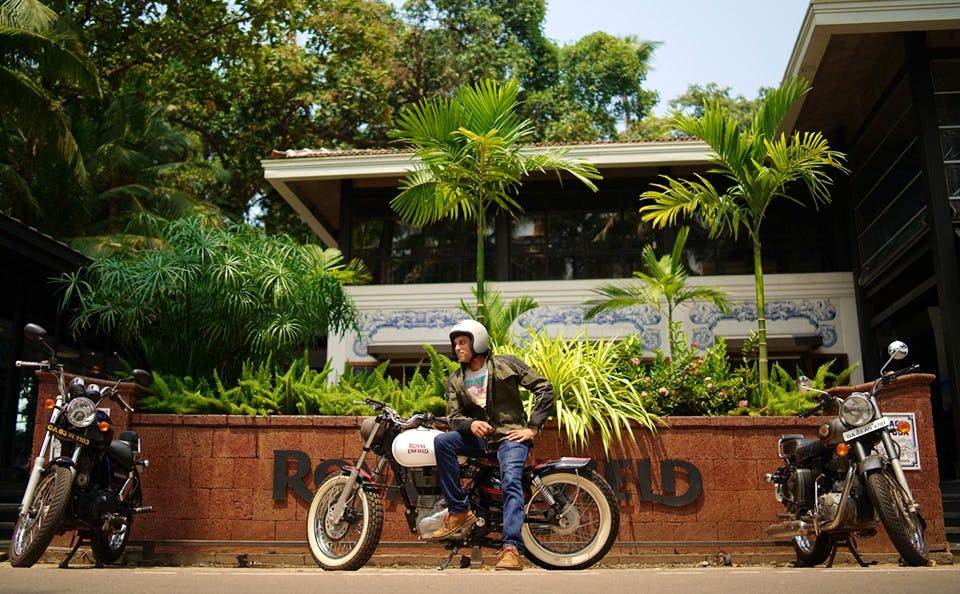 Wheelie Good! The Royal Enfield Garage Café In Goa Is A Biker's Dream
Shortcut
Whether you are a biker, a traveller, a foodie, a history buff or simply want to spend a lazy day by the creek, Goa's Royal Enfield Garage Café is just the perfect spot for you. With some chilled beer and a combination of vintage and latest bikes for company, the cafe has loads to offer for everyone!
What's So Unique About It?
The first thing you notice when you've just reached the cafe, is this beautiful beast — a customised Royal Enfield motorcycle parked outside. This garage-cum-cafe space looks quite funky with elements like metal bike miniatures, headlamps styled into lights and old bike spare parts turned into ashtrays, that pepper the decor. The cafe itself is spread over a sprawling area, overlooking the Baga river, so now with your dose of biker fandom, you can have some cool breeze too.
The cafe has some vintage bikes on display, some of them dating as long back as World War II. Head over to their large al-fresco café downstairs, or the air-conditioned cafe space upstairs and wind down with a bottle of chilled beer. The food here is excellent but the thin crusted pizzas, fresh salads, pastas, and the aloo tikki burgers are amongst our favourites. What we loved the most though, was our Panacotta dessert- it's possibly one of the best we have had in Goa.
While there are a variety of options when it comes to the food and drinks, what also stands out here is the affordable and clean space you get where you can customise or get some basic maintenance work done on your Royal Enfield. The venue has a full-fledged garage and an expert on site and promise to charge a nominal fee for any work that you get done there. So, instead of investing in fancy tools, all you need to do is head to RE Garage Cafe and get started.
To add to their cool quotient, they also have an RE store — so you could totally walk out with a helmet, jackets, accessories or even a brand new bike! They offer multiple guided and curated bike rides along with bike rentals for those that want to really explore around.
Anything Else?
They regularly host music gigs and if you have anything to do with travel, they offer an exhibition space as well. In case you'd like to screen a travel film or host a chat about your travel experiences at the reading centre, that too is in the works. Oh, and they host music gigs pretty regularly, so you might want to follow them on social media pronto.
Comments