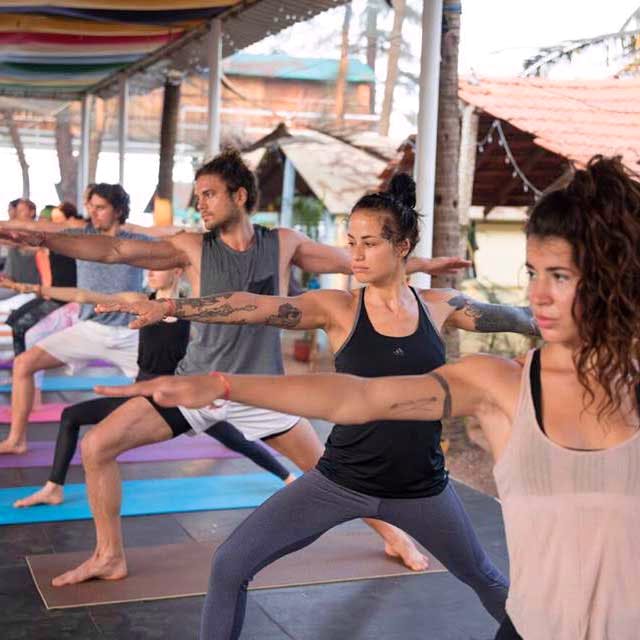 Feeling Healthy? These Yoga Classes In Goa Will Let You Drop In For A Class
There is no doubt that Goa is a haven for beach and nature lovers. Over the years, its unique mix of the West and the East has propelled Goa's popularity as a yoga destination where a relaxed holiday amidst the bounties of nature, is combined with a rejuvenating yoga courses. Teachers from various parts of the world, come settle, teach and often develop their own styles of practice. And while yoga retreats might be apt for more serious practitioners, if you are amongst one of us who've been sitting on the fence on this one, one of these drop-in classes, could well change your life.
YogVed Shala
Shraddha Vora, the founder of Yog Ved Shala, is a certified Sivananda Yog teacher, with more than ten years of experience at the Iyengar School of Yoga. She has trained under BKS Iyengar himself and her classes follow the traditional yoga forms that along with asana practice also focus on theory and self-healing. Her classes therefore help you to get into a self-practice module, and run every day from 8:30–10am. They are priced at INR 500 for drop-ins.
Aumyoga Studio & Healing Centre
Located at the heart of Anjuna, Aum is a yoga studio run by Om, who brings with him more than 15 years of experience in the Iyengar style of yoga. He teaches a comfortable multi-style yoga, ideal for self-starters. The classes run in two batches — 8:30–9:50am are the Hatha yoga classes, while classes from 10:30–11:45am are restorative Iyengar classes that focus on alignment. The classes run from Monday to Friday and are priced at INR 500 per class, or INR 3,500 if you're signing up for 10 classes.
Sharanya's Yoga Classes
Sharanya is a yoga artist and teacher based out of Siolim, who brings with her decades of experience as a gymnast, dancer as well as a yoga student and instructor. Her classes of Hatha yoga, are therefore slow and intense, and focus on alignment using the Iyengar props. Sharanya's classes are priced at INR 500 a session and usually have students across age groups, given that her classes are usually about getting back to the basics. She conducts two batches of classes every day from Monday to Friday. The first one from 8:30 to 10am is out of her beautiful homeshala, overlooking the Siolim river, while these classes are geared towards more serious practitioners, the next batch from 10:30–noon at Mojigao, are ideal if you want to wear off some of the partying from the previous night, and give your body a fresh burst of energy.
Naach
If the traditional yoga modules do not excite you much, and you're looking to instead just have a fun light class, consider an aerial yoga class. At Nagoa, based out of her home studio, Deboshree, a professional dancer and aerialist combines her knowledge of dance, movement and yoga, to create a module that will give you a full body workout. Her classes focus towards increasing core body strength and flexibility where your weight is supported mid-air by hammocks tied to the ceiling. If nothing, you'll have some stunning photos by the end of the session. Her drop-in classes are prices at INR 500 and happen every morning at 10.
KyoSpaces
Founded and curated by Meghna, a creative entrepreneur who brings her design and market expertise and combines it with her passion for yoga, KyoSpaces curates yoga retreats, as well as organises daily classes at their Blue Lotus Homestay cum co-working space in the sleepy village of Ucassaim. Their off-the-grid yoga retreats are quite popular where yoga teachers and practitioners come together for an immersive yoga experience that helps people reconnect and rebalance their inner rhythms. Their daily drop in classes at Blue Lotus, are geared towards helping you get into a self-practise mode and are priced starting from INR 350 a class.
Ruban Yoga School
Located in Palolem, Ruban Yoga School is founded and run by Ruben — a traditional Hatha yoga teacher, with more than 11 years of experience. He himself is a post-graduate in yoga, and also practices traditional Ayurvedic medicine. The Ruban Yoga School hosts teachers and students, from around the world — both for long courses as well as for daily drop-in classes. The drop in classes run from 8-11:30 in the morning and from 5 to 7:30 in the evening, and each is about 90-minutes long. The classes are priced at INR 500 per class and are conducted by world-renowned teachers. This yoga school however remains shut during the monsoons and is usually open from mid September to mid March.
Bhakti Kutir
This is the yoga shala that is located in Bhakti Kutir, a property that's a beautiful assemblage of natural and rustic cottages in Canacona in the South. Sunita Singh, the in-house yoga teacher there has decades of experience, and has been practising and teaching since 1992. She teaches Hatha Yoga, which is geared towards therapeutic healing of the body. Yoga of the subtle body, as it is also called is based on dynamic movements and focuses on breathing. She also teaches Kundalini yoga and the classes are about 2-hours long. During the off season the timings are slightly flexible depending on the weather and begin at around 10, while during season the classes begin around 8. They have daily drop in classes, as well as breathing, meditation and pranayam classes, which are mostly evening sessions that begin around 4. The classes are priced at INR 500, for drop ins.
Sampoorna Yoga
A Yoga Alliance certified yoga school in South Goa, Sampoorna Yoga is a traditional yoga school that's based out of Agonda. At this yoga school, along with traditional style of yoga based asanas, yoga meditation and philosophy is also taught. While Sudhir and Beena are the resident teachers, renowned teachers and yoga experts from around the globe frequent the school to train students in the basics of Ashtanga and Vinayasa Flow. Their classes are held between 8:30 and 10 in the morning, and again from 4:00 to 5:30 in the evening. There's also a special Yin Yoga class from 5:30 to 6:30, and drop in classes are priced at INR 500, though discounts apply if one is opting for passes.
Kranti Yoga
Located in Patnem, Kranti Yoga is another dedicated yoga school in the South. This yoga school is founded and run by Tarun who studied yoga from a very early age at the Sivananda Kutir Yoga Ashram and was trained there in several different styles of yoga: Ashtanga, Vinayasa Flow, Sivananda, Kundalini and Raja. He is also trained in Ayurveda and started teaching as early as 14. His co-trainer and manager at Kranti Yoga, Julia teaches Vinyasa Flow in a way that encourages an exploration of strength and flexibility. The yoga school is housed within a beach village resort, overlooking scenic beach views and is a great place for yoga holidays. They're open to walk-ins who want to kick start their morning surrounded by nature and good energy.
Comments