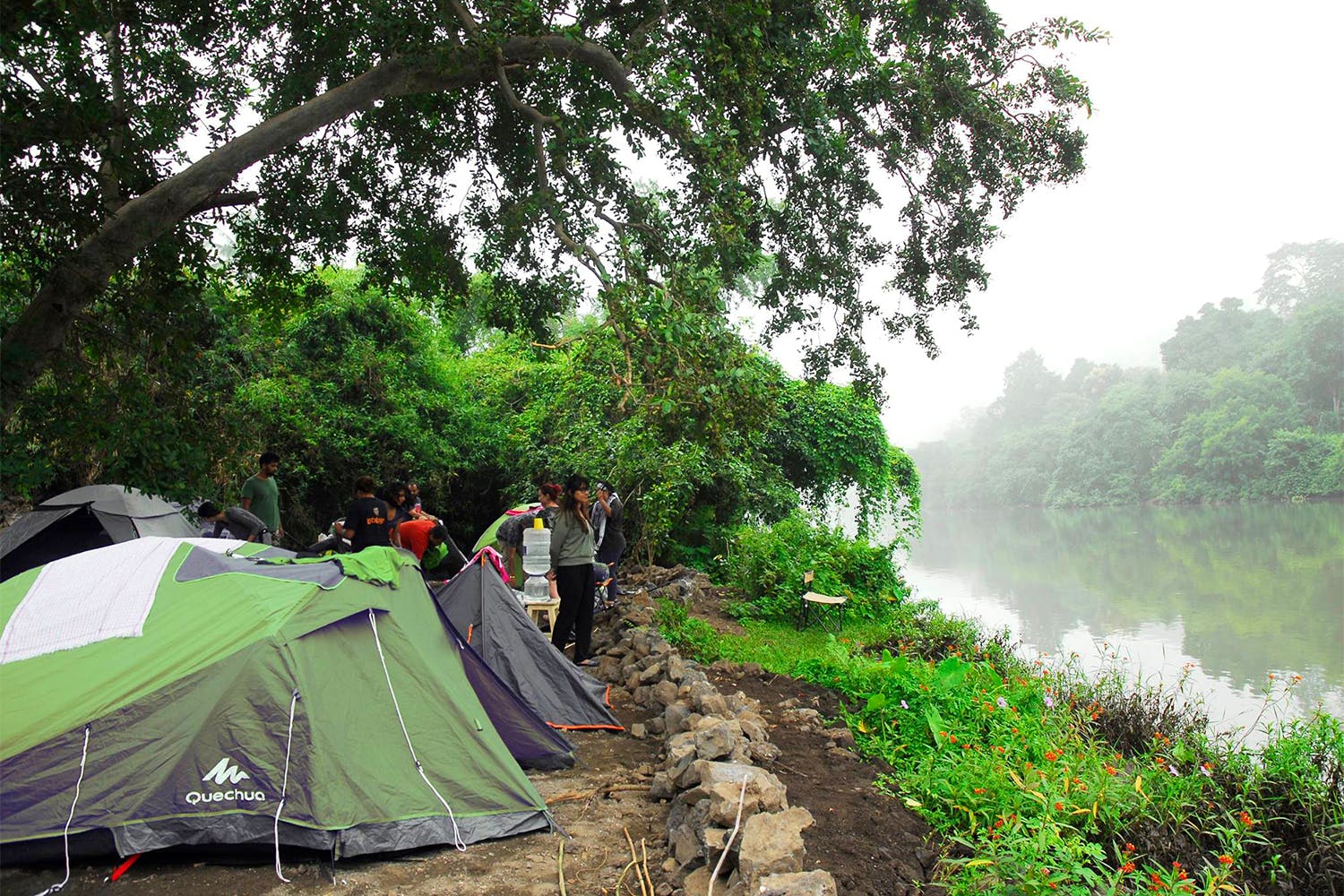 Camping, Glamping, Fishing & More: Check Out This Jungle Retreat Near Goa!
Shortcut
Through thick forests, winding roads & flowing streams, this beautiful drive will take you to a 200 plus acres private property that is now not just a Homestay, but so much more.
Tell Us More
If you are looking for a weekend getaway or even just a change of scenery from your Goa vacation, then a stop at Exalt is definitely the ticket. Just some 3 hours away from Panjim, Goa lies this gorgeous homestay in Dandeli. But, unlike all the crowded hotels that lie along the riverbanks of the Kali River, at Exalt there is nothing but peace and tranquility and a huge forest as your playground. Not to mention that it is a 5-minute walk from the river and the house also has a private pool.
What Else?
A badminton court, mountain bikes, fishing, a cricket & football ground, darts are just a few of the things on offer here. And all are included in the double room rate, which we think, is a steal. And because the hosts are so nice, they will even make a campfire for you in the evenings, or take you for a trek in to the forest. Not that you need to step too far out to see the forest, as the views from the bungalow itself are magnificent. We had Deers visiting us in the mornings and have even been lucky to see some other wildlife in the nights right on the property since it adjoins the famous Kali Tiger Reserve. Malabar Squirrels and Hornbills along with a host of other bird varieties are another very common sight right from the home. They charge extra for a bird watching session in the forest, but it was totally worth it. And for the real adrenalin junkies they have a package that includes all of the above as well as a Boating & Zorbing trip nearby. Add to this, you will be served yummy home cooked meals made with fresh ingredients from their kitchen garden, which means you won't even need to step out of the property for anything.
Feeling Adventurous Yet?
They even let you bring your own camping equipment and camp on their property at a special rate. Which means, you get the campsite with drinking water, firewood, washroom facilities and one bird watching session. So if you are feeling really adventurous then maybe you can go fishing and cook your own meal. Or then ask nicely and at an additional charge you can enjoy those home cooked meals too. And if like us you love their meat curries, ask to buy their special homemade Dandeli Masala or even the fresh wild organic honey that they collect from the hives in their forest.
Tarzan Boy Here We Come!!
They can arrange a rafting trip on the Kali River & Coracle boat rides for Crocodile sighting, for an additional charge. And did we mention that there used to be a Ferro Alloy factory on the property some time ago?? Fortunately for us, the owners have now opened this place up for us city folks to explore this factory and take us on a guided tour, which is again complimentary. Learning, adventure, interesting conversations, silence, and nature is what Exalt is all about! Rates start from Rs: 2000 per person depending on the package and accomodation option you choose.
#LBBTip
The best room to book is the one on the first floor and the only one with a balcony attached to sit out and enjoy the sun, rise over the forest with a hot cup of tea.