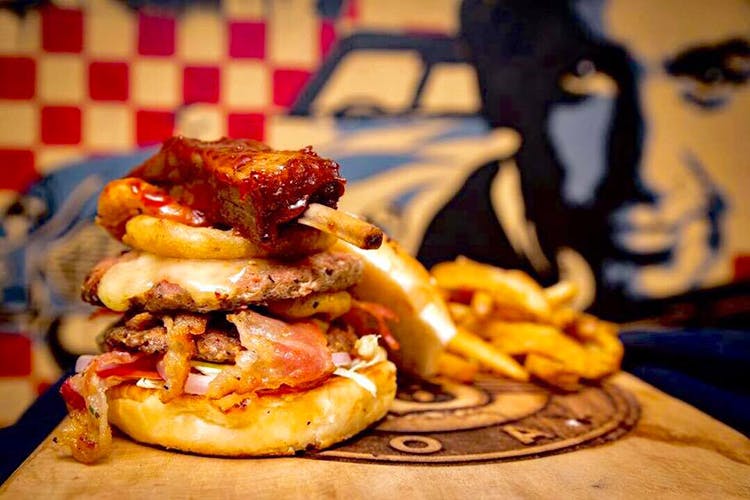 Delivery Available

Wi-Fi Available
Our Favourite Burger Joint In Goa Has Opened In A New Location!
Shortcut
If you love burgers & steaks, then you must have been to Route 66 at some point. And if you haven't, then it is time to correct that mistake, we say. So get on that bike and head there to enjoy an American diner experience.
Tell Us More!!
Route 66 in it's previous avatar was a small little eatery, hidden away on the first floor of an old building up creaking stairs. The new one is smack dab on the main road, with huge glass bay windows in the busy Latin Quarter area of Fontainhas in Panjim. Serving the juiciest of burgers and steaks, this has been a go to favourite for all burger lovers in Goa. Chef Xavs who owns this place also owns the popular Tintin Restaurant in Vagator and is an avid biker himself. Hence the name Route 66, after the popular American highway favoured by bikers for long rides, and good diners along the way.
What Did We Like!
We loved the new interiors of the place, from the battle-axe or hammer as handles on the doors, to the specially designed lamps hanging from the ceilings. The place is a lot larger, nicely air-conditioned and now has 2 clean separate loos for men and women. The large American Diner style couches and tables just add to the look of the place. They even have a small smoking balcao or balcony outside to take your beer out and watch the humdrum of daily Panjim life.
The bar is well stocked, and thankfully the menu is unchanged, as what we always went here for was the food. The starters like their Cheesy Fries, Onion Rings, Nachos always are a great start to the meal along with some cold beer on Tap or in bottles. The steaks took a fair bit of time, but arrived cooked to perfection and not to forget the soft, creamy mashed potatoes that came along in these cute little glass jars. The steaks were served with style, each one on a sizzling platter that was doused with whiskey and flamed right on the table giving one aromas that had us digging in as soon as the flames were off. They even have a dessert counter, that are made by his wife who is an expert baker. So go ahead and indulge your sweet tooth too.
And now they even have space for live music for some nights, so we are definitely looking forward to that.
What Could Be Better?
We must admit, the burgers were a bit of a disappointment from earlier. They were quite dry and even the new buns seemed to lack the earlier taste. They had just opened 3 days back when we visited, so we are hoping that these are just teething troubles. And knowing Chef Xavs, he will rectify and have us eating the juiciest and most flavourful burgers in Goa pretty soon.
#LBBTip
Take a walk in Fontainhas and explore the old and colourful  buildings there while you build up your appetite.
Comments
Delivery Available

Wi-Fi Available