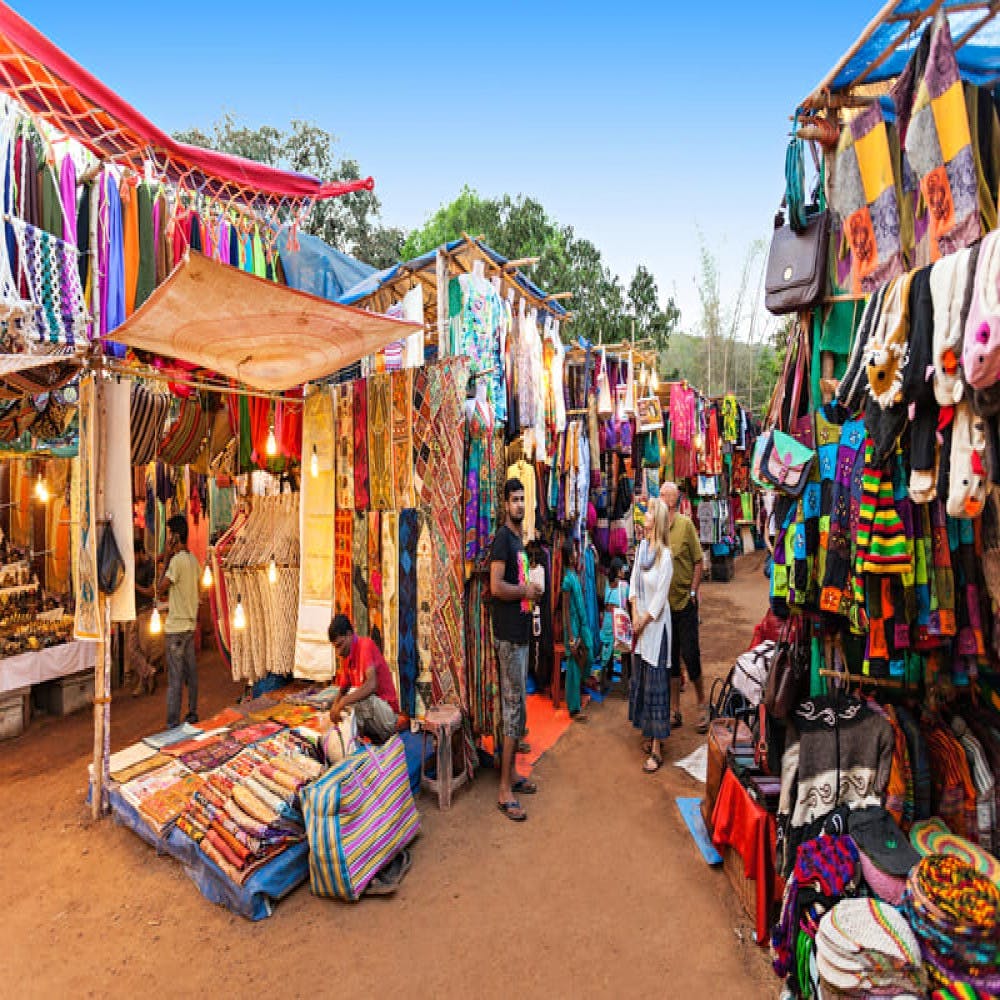 Shopping Bags Out: Here's Your Guide To Goa's Many Flea Markets
Think shopping in Goa and the association with flea markets is inevitable. The hippie ones in Arpora, the local Friday bazaar in Mapusa or the new curated flea in Vagator, we've got all of them covered!
Ingo's Night Market
One of the oldest flea markets in Goa, Ingo's Saturday Night market is a crowd favourite. The market starting up every season, is almost the unofficial announcement that season is here in Goa. Located at Arpora (not to be confused with the new night market that has started at Baga), Ingo's is a total hippie paradise with fire dancers, live music, hot dog stalls, vintage artifacts and a thousand stalls dressed to the nines. So, bring out your party shoes and get ready to shop all the way up till 3am. You'll find clothes, accessories, bed linen, dreamcatchers, jewellery, hammocks, beer, local spices, art and lots more. While you shop, make sure you also bring your bargaining A game to the market.
Wednesday Afternoon Market, Anjuna
A market that in Goa's prime started off as a marketplace where hippies could exchange and barter goods, the Anjuna Wednesday afternoon market is a time-tested market selling eclectic trinkets, souvenirs, handmade goods and clothes. The market is held by the Anjuna beachfront, the sea-breeze being the perfect accompaniment for your afternoon shopping indulgence. The market wraps up with sunset, when live music at Cafe Looda on the beachfront, and later at Sea-Breeze takes the night a notch higher. So, if you're a day person, do check it out before it shuts for the season (usually March end/April).
The Goa Collective Bazaar
The Goa Collective Bazaar at HillTop, Vagator is the new kid on the block. With 100 stalls, live music, a bar, a kids area and food, this flea market is hosted every Friday night. It's a unique set-up that comes with the promise of 'everything curated with love'. Trippy tees, handmade jewellery, a sassy new haircut under the tree, gorgeous accessories, mouth harps, shell anklets, yoga mats, natural skincare… This freewheeling market is full of amazing knick knacks! And well, since it's Goa, no market is complete without a bar. So, yes, grab a beer or a fruity cocktail at Luna's cocktail bar while the children have fun making masks or other DIY art stuff.
Bohemian Market Behind La Plage
Located on the Ashwem beach, this marketplace is a collection of stalls housed in pristine white tents. The market brands itself as India's first luxury marketplace and remains open both during season and off-season. This open air beachside bazaar has both local and international designers, and while prices are on the higher side compared to most of the other flea markets, the designer stuff displayed effortlessly on beachside tents is difficult to turn away from!
Mapusa Friday Market
Though not the classic flea market, the Friday Mapusa market is a vibrant and bustling market, with an abundance of antiques and Goan pottery to handicrafts, textiles, clothing, spices, fruits, vegetables, meats, jewellery. While on most days the market is a regular market frequented by locals, on Fridays, vendors from many nearby districts throng the market to sell the produce directly to the consumers. It is a great place to find fresh local food products like pickles, dried fish, Goan chorizo and spiced and marinated pork sausages. It's also a great place to look for bargains on hand-woven kunbi sarees, towels, pottery, antique items and wooden furniture. Find yourself eyeing the lovely ashtrays and candle stands in hotels? This is where you can find them.
Saturday Night Bazaar
A diluted version of Ingo's night market, the new Saturday Night Market is located close to Baga and is almost a replica of the Ingo's night market. The market is however smaller in size, but teeming with stalls that sell clothes, shoes, jewellery, local spices, art, antiques etc. To be honest, this market is not exactly our favourite — you'll find most of the Baga tourist crowd thronging to this market, and if you had to choose we'd recommend Ingo's. But if you are in the area, with time to while away, walk around to get a sense of how the freewheeling spirit of the typical flea market is watered down to cater to a more budget tourist, and who knows you might even end up finding a good bargain.
Comments