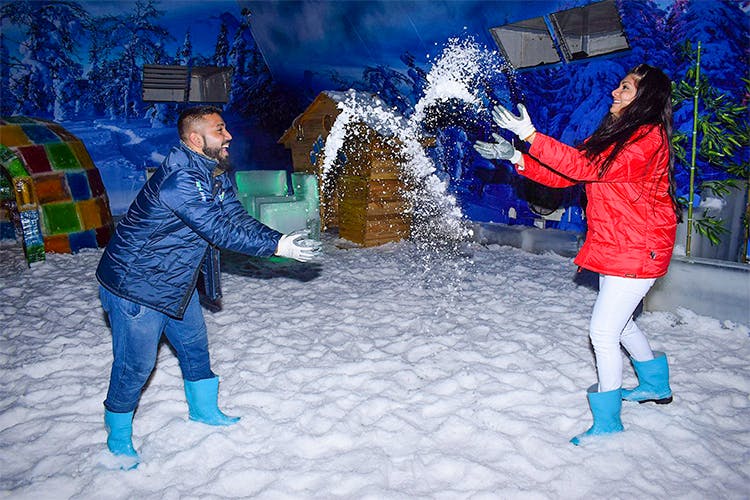 Wanna Experience Snow Instead Of Sand In Goa? Here's Where You Can Go
Shortcut
Sun, Sand & Surf is the usual state of mind when one thinks of Goa. But for the rest of Indian holidaymakers, who may have never seen snow, Goa now offers the opportunity to become a Kashmir Ki Kali.
What Is It?
Located smack dab in the heart of Baga, right next to the Tito's lane is Snow Park. It is open 365 days of the year and a place for children, parents, grandparents and pretty much anyone else you can think of. So if you are done with the beaches, or just plain bored or have always wanted to see snow, a holiday in Goa can now offer both Snow or Sand.
Spread across some 5000 square feet, the snow here is all natural they claim. What this means is that it is all made of water and no chemicals which is great to know, especially if you see your kid chewing on some. Kept at a very chilled -5 degrees temperature, you will definitely need those thermal wear clothes that they offer as part of your admission ticket which also includes all the rides.
What Else?
So basically they have multiple activities like sledging cars, snow caves, sliding on ice. Then there are igloos, ice sculptures and snowmen for photo ops as well as snowfalls for you to imagine yourself in Lapland. Or just get in to a good old-fashioned snowball fight, which as we learned is great fun and quite tiring. And while the kids are doing their stuff, you can head to their Ice Bar where they offer you a drink in Ice glasses.
And if you get too cold then head to their Dance floor whilst the DJ belts out his tunes, to match the laser lighting and thunder effect that is sure to transport you in to a snowstorm. Other than the Northern lights, Reindeers or Santa Claus, they pretty much offer everything else.
#LBBTip
Food, drinks & photography is charged extra.
Comments