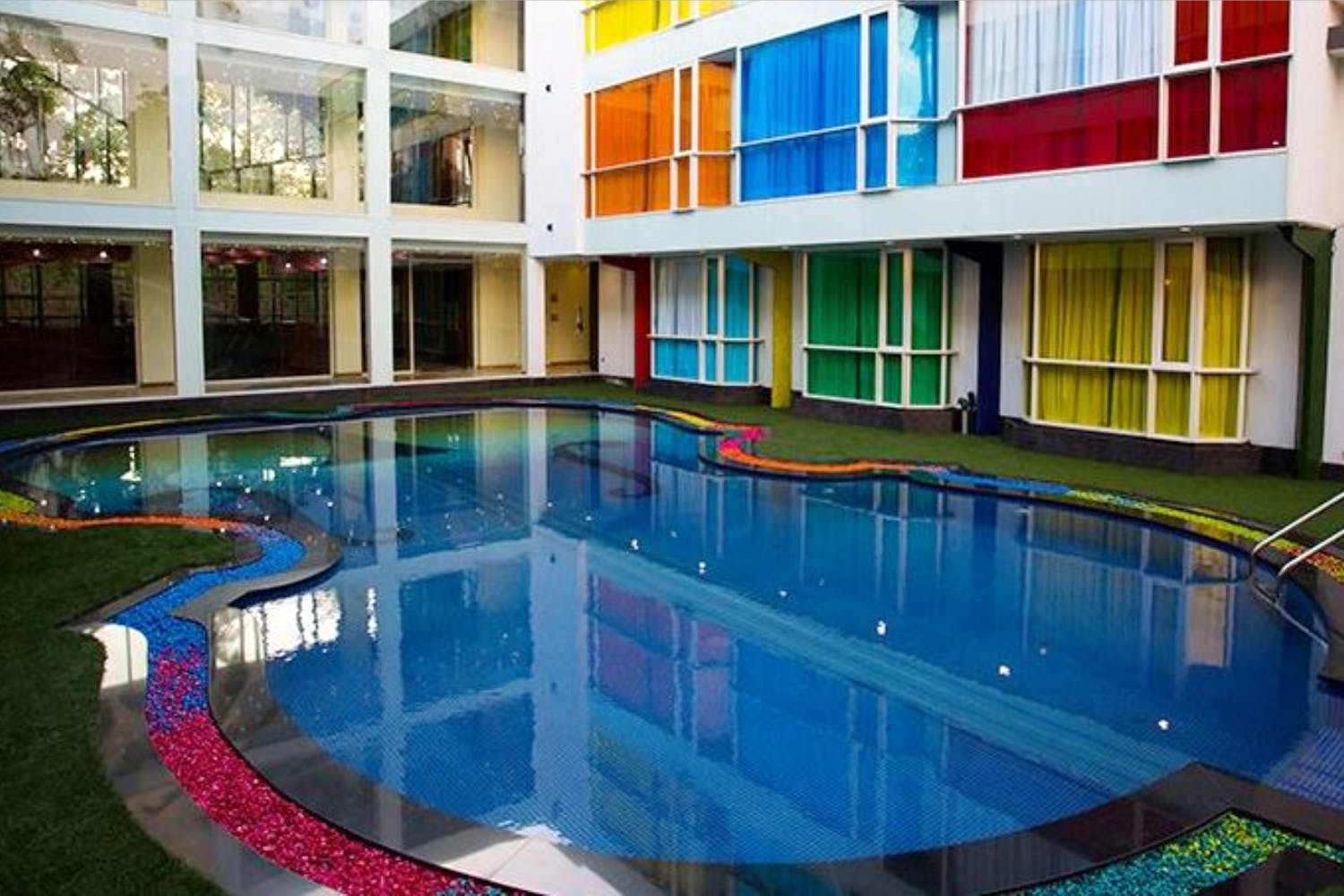 There's A 70s Style Hotel That Screams Of Austin Powers And We Know Where It Is
Shortcut
Smack dab on a small crossroad is a multicoloured building with a car hung on its façade, that makes you stop and check it out. Which is what we did and discovered that maybe Austin Powers might have had a hand in designing this psychedelic hotel.
Head Into Funky Town
The owner of the newly opened I Love Bell Bottoms Resort in Anjuna, seems to love the 70s. This hotel breathes it from every corner, wall, pool, nightclub and even the water well.And if that is not enough, this glass floor is part of their in-house nightclub, which is only for resident guests. So you can take your phone, plug it into their music system and be DJ for the night, or let them take over with some good 'ol retro favourites.The main dance floor is 70s disco style with multicoloured lights in it, so you can channel your inner John Travolta or Mithun, depending on your taste. Walk out and there is a spa that, for some reason looks like a rainforest, and an American diner-style restaurant with a full-fledged bar and a Jukebox.If you're hungry, they have a number of options from burgers to sandwiches and even Indian food. What we loved though, was the pool, in the shape of a violin, with colourful tiles and a cute replica of a Volkswagen bus as their poolside bar.
Night Fever Can Be Good
We decided to see if this retro theme had really taken over the place and walked up to check out their funky rooms. We found their conference room that could be converted to a fun gaming or movie room.Every corner along the corridors has a reading nook, with these statues holding a few books when you are heading to the rooms. Not to mention that all the stairs are, you guessed it right…multicoloured and lit up at night.When you enter the rooms, they could all be Shaggadelic as Austin Powers would say, with their art deco style lounge chairs, the old dial-up phones, the coloured curtains, or even the flat screen televisions that are encased in a replica of a 70s-era television.
So, We're Saying...
If you love the 70s, or maybe just want to check out what the craze was all about, then check out the I Love Bell Bottoms resort. We promise you'll have a ball of a time!
Comments