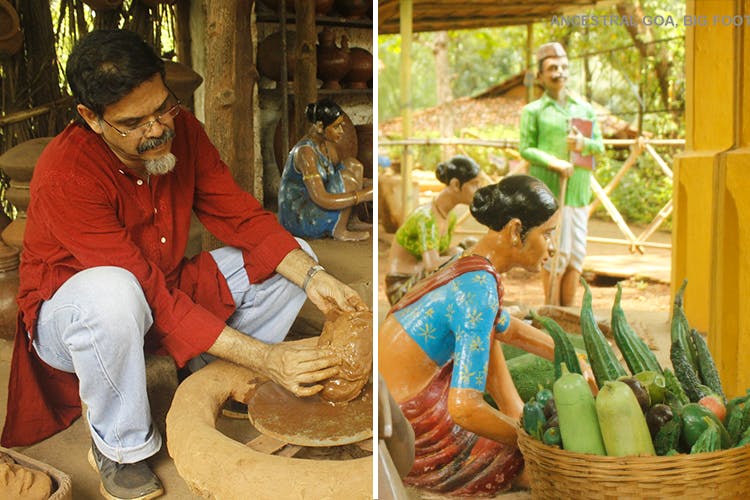 Wondered What A Goan Village Looked Like 100 Years Ago? Head To Ancestral Goa
Shortcut
Ancestral Goa is an outdoor cultural museum featuring a recreated ancient Goa village, with pottery making and dancing. Here's why you must check it out on your next trip!
Why Big Foot?
This place also has the popularly known Big Foot Museum, which is an education centre for the preservation and promotion of the art, culture and environment of Goa. Located in Loutolim, it is the personal passion of the founder, owner and artist Maendra Jocelino Araujo Alvares.
That is due to the Legend of Big Foot, which you can hear all about and even see the Big Foot when you visit it. One enters the Big Foot Museum through an Old Portuguese house entrance and is then transported to this open-air village, depicting various villagers, traders, farmers and their daily life. There is also India's Longest Laterite Sculpture of Sant Mirabai, which was carved out in 30 days by the Maendra himself and made it to the Limca Book of Records.
What Else?
Loutolim is a beautiful village and definitely a must visit when you are in Goa. And Ancestral Goa gives one a beautiful insight in to what a village and villagers looked like and did in the olden days. Post the visit to the museum, you can also visit the 250-year-old ancestral house of the founder, the Casa Araujo Alvares that is preserved beautifully.
#LBBTip
Check out the leak-proof magic oil lamps, only available at their gift shop.