The information in this post might be outdated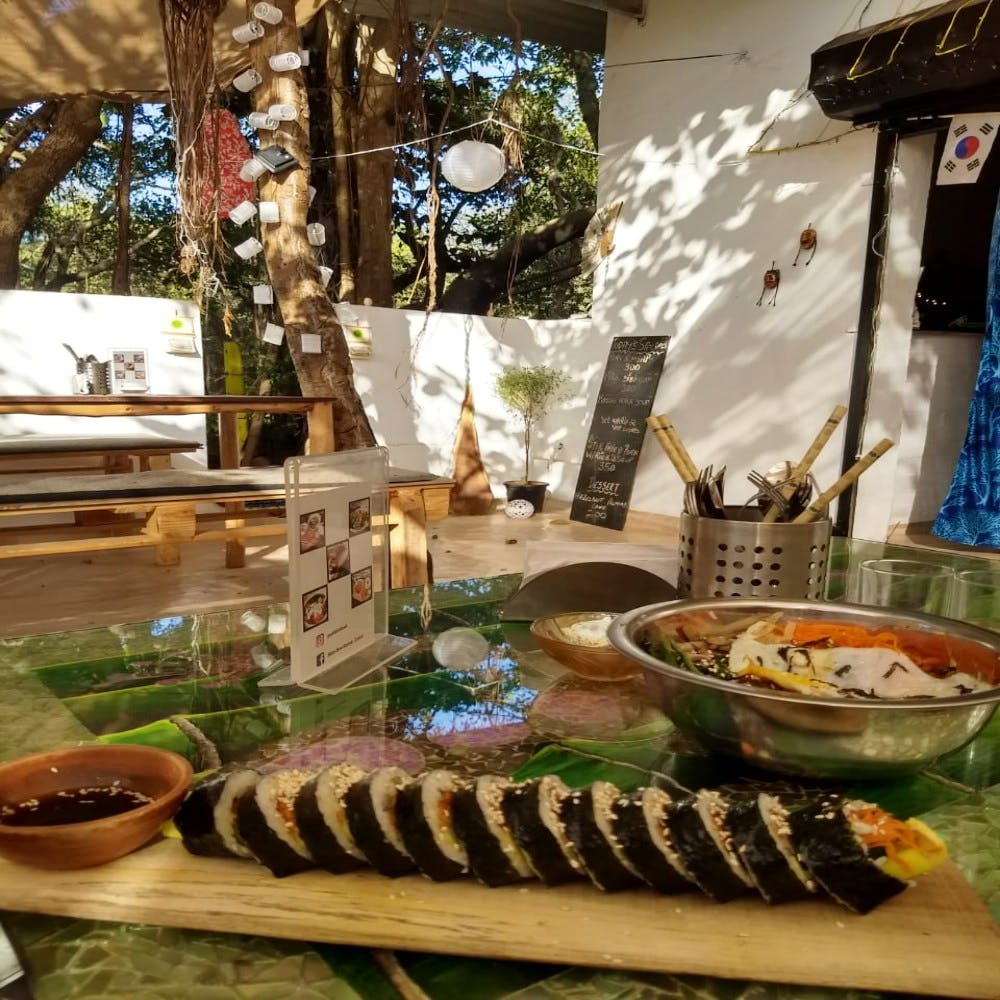 Hey, Bibimbap! There's A Korean Canteen In Vagator No One's Talking About
Shortcut
While the bigger beachfront resorts are all beautiful, it's really the smaller, more soulful cafes that tug at our heart strings. Bibim Bowl is a case in point. Barely a month-old, this one's doing authentic Korean food (the chef's Korean, so yes) and serving it in a jungle setting.
What Makes It Awesome
There's no fuss about this cafe that's run by two couples. The portions here are hearty, the music is chill and the menu doesn't try too hard either. We made ourselves comfortable on the floor seating and felt a sort of lull descend on us; blame the soft music and the gentle afternoon breeze. We were welcomed with rice tea and while it's an acquired taste, it was nice to see that they are staying true to their Korean roots.
We began our meal with watermelon juice that was just the thing we needed after a long walk. The carnivore overestimated his appetite and got a pork bibimbap and a tuna kimbap. When the dishes made it to the table, we were pleasantly surprised by the hearty helpings. The kimbap was refreshing with its rice and veggies and had a delicate tangy taste thanks to the vinegar. The pork bibimbap bowl was a perfectly wholesome meal with sticky rice, sweet-and-salty pork and spinach and mushrooms. The vegetarian was blown by the glass noodles with mushrooms, spinach and sweet potato. The dish wasn't on the menu but one of the owners suggested we try it and we're so glad we relented.
Other things on the menu include a rather intriguing (and a crowd favourite, may we add) kimchi pancake along with other pancake variations like seafood and pork kimchi pancakes. They also do soups, salads and stir-fried bowls and don't worry, there are vegetarian options for everything. Yay!
What Could Be Better
They're one of the rare places that don't serve alcohol. We're not sure they intend to anytime soon either. That said, they do have fresh juices and smoothies.
Pro-Tip
They open from 1–4pm for lunch and 7:30–11:30pm for dinner. If you want them cosy feels, with fairy lights and co. we'd suggest dinner at Bibim Bowl instead of lunch.
Comments