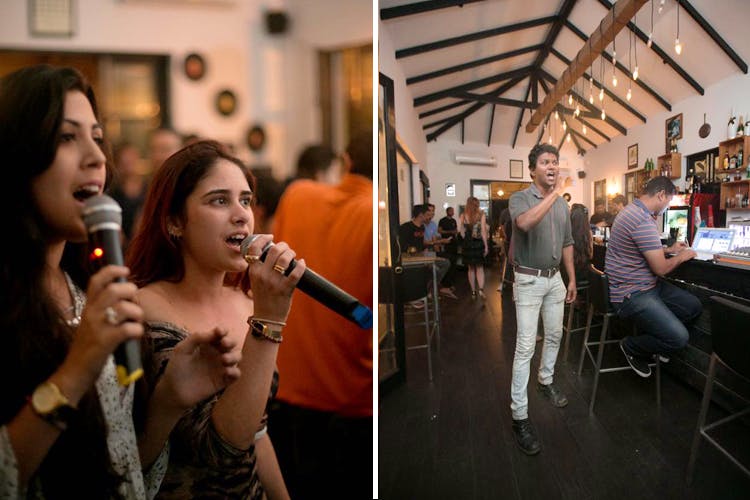 Sing Out: Karaoke Bars In Goa You Can Head To With Your Squad
Ten-Second Takeaway
Think you are the next singing sensation, or would just like to indulge in your drunken fantasies of singing in concert? Then check out these karaoke bars in Goa.
St Anthony's Shack
If you want to avoid the regular party spots in Goa on a Saturday and want to indulge in some singing, then head on down to Anthony's Shack on Baga beach. This is where every Saturday there are hoardes of aspiring singers gather to belt out some popular tunes. Mostly a mix of retro songs as well as a few new ones, the place stays open pretty late.
Karaoke Restaurant New Indian Kitchen
Well the name says it all, we are talking of the Karaoke Restaurant New Indian Kitchen in Arpora. And the best part, every night here is Karaoke night. Plus they have an extensive list of songs from Hindi to English and from old to new. So this is the place to go to if you are looking at sing Aa Bhi Ja or Akon.
The Riverhouse
The Riverhouse in Baga is a beautiful restobar on the banks of the Baga creek. Every Wednesday is when they have their karaoke night. This is a fun night for all that want to indulge in some singing along with their grills and steaks to keep you company. 
Cantares
Cantares in Saligao is the locals favourite village pub. It is where they head to on Wednesdays to get your karaoke on, which usually starts post the quiz some time around 1o.30 pm onwards. So go ahead and make a request to Savio who manages the Karaoke and request your favourite song and he sure will find it for you. And whilst you are waiting for your turn, order some of their Sangria or maybe their delectable Goan or Thai food.
Mojos
On Thursdays head to another local favourite, the Mojos Pub in Panjim, and get the beat going whilst you get your singing on. Mojos is the local pub with beer taps at each table and a place to find some of Goa's locals belting it out. Plus they have a foosball table and other games to indulge in if singing is not your thing.
#LBBTip
Have a few drinks maybe if you need some Dutch courage to pick up the mic.
Comments