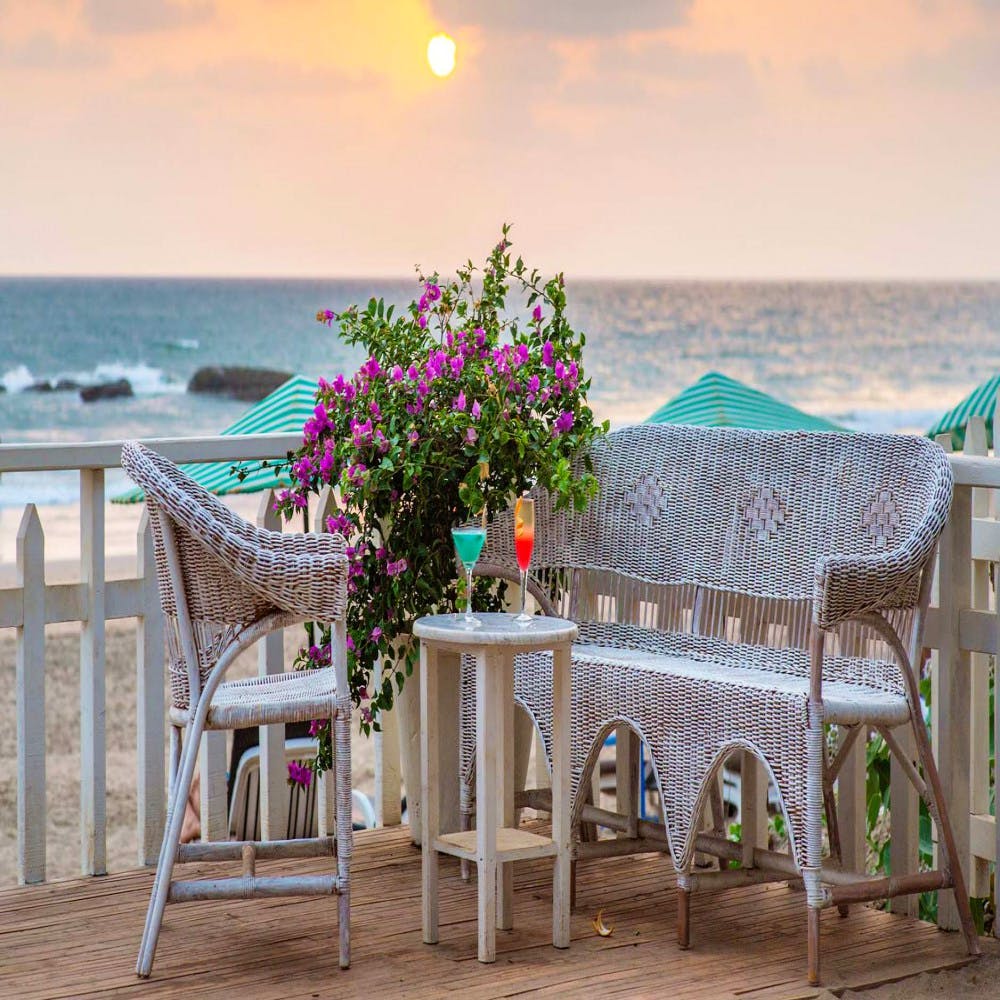 Move Over Greece! Agonda's New White Resort Has A Total Santorini Vibe
Shortcut
Pristine beach, white sands, waves crashing over big boulders, cute white cottages, outdoor showers and more, are all that you will find at The White, Agonda's newest resort.
What Makes It Awesome?
Agonda beach is crystal clear water, and is one of the best places to see the nesting sites of Oliver Ridley Turtles. Accommodation here is all about basic rustic cottages usually, but The White plans to change that. Now, one can have rustic and luxury come together at this new resort. Not to mention, they've got a swimming pool that happens to be the only one in this stretch.
As the name signifies, The White is all about celebrating that Santorini vibe. They have 14 wooden cottages and some of them have an outdoor shower. Every cottage enjoy air-conditioning and a cute little verandah for you to enjoy that morning cup of tea, or an evening glass of wine. And unlike most properties in Goa, these huts are comfortably spaced out to give you ample privacy. The rates start at INR 4,999 (with breakfast) and go upward in the summer months.
If a dip in the ocean is not your thing, then you can enjoy a swim or just sit in their built-in bench and enjoy the jacuzzi jets that will coax all the tension out of your body. And did we mention that they keep it open late till 9pm? And while you are there, gaze at the sea view whilst sipping on some amazing cocktails.
For a hot summer day their Botanist cocktail hit the right spot with its fusion of tequila with cucumber juice, served in a hollowed out bell pepper shell. Their signature cocktail, called White Signature, made for a lovely sundowner drink and even on much persistence, the recipe was kept secret.
Chef Satish will keep you going with the amazing spread of food, be it a simple Puri Bhaji or a full fledged continental breakfast. We loved the Watermelon Feta Salad for lunch with barbequed prawns. If you're still hungry, order some pork ribs, mini chicken steaks with mash or stir fried crispy vegetables (they all make for a hearty dinner).
The highlight of the meal for us was chef's perfectly made, soft and moist slice of carrot cake that had the right balance of carrots and lemon zest and a scoop of ice cream. We were so delighted that we were ready to raid the pantry to take more home. The meal was made better by the view because you're always looking at the beach.

What Could Be Better?
Pretty much nothing, except maybe getting refrigerators in the rooms, but they kindly offered us an ice bucket to keep our beers cool after the bar had shut for the night. Oh, and we wished they would stay open during the monsoons too. But Arati the wonderful owner of the place assures us that it's something they're still debating. So, fingers crossed.
Pro-Tip
Book the Fern, Citrus or Orchid rooms as they not only have outdoor showers, but also a pool or lawn facing view. Plus, they are also the closest to the beach.
Comments