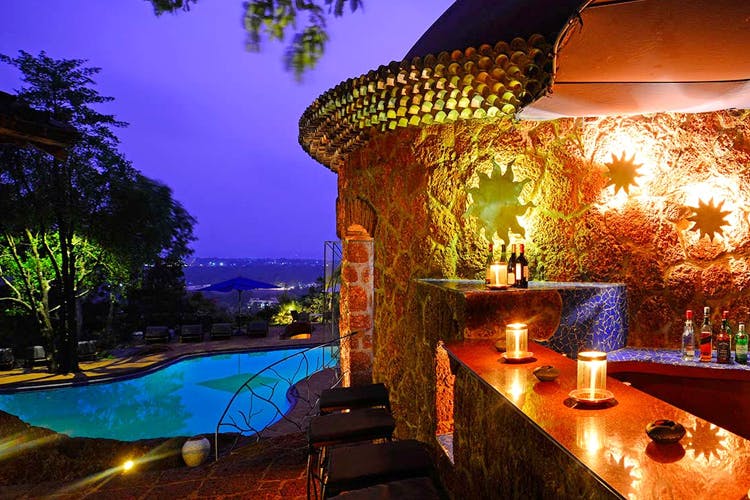 Wake Up To A Sea View & Live In Luxury At Nilaya Hermitage In Goa
What Is It?
We're always looking for fabulous getaways, and obviously we're ecstatic at the sound of Goa. But this time, we've decided to chuck the shacks and instead, opt for a quiet, beautiful and luxurious space called Nilaya Hermitage which is perfect to whisk away to with bae. Breathtakingly beautiful, at Nilaya we can be assured quietude, privacy and a harmonious time.
How Do I Get There?
Take a flight, train or bus to Goa, and from there on, hop into a cab to get to Nilaya. Located at Arpora, a village that's just 5kms from Baga beach, there's plenty to do around Nilaya from the time you get here.
What's Unique About It?
In the literal sense, Nilaya in Sanskrit means abode in the blue- heaven. This gorgeous boutique hotel is nestled in the Arpora-Bardez region, and is surrounded by lush greenery and wildlife. Beautifully designed, there are 11 guest rooms and two tents that are all unique and different from one another. The space promises solitude and harmony, and if you're thinking of doing a a romantic getaway with your partner, this place might be a fantastic option. Set in a 20 acre property, there's also a gorgeous swimming pool here for you to laze around by. With a stunning view of the sea, the day will just go by and the night sky will be out without you even realising.
Each room here is designed beautifully and decorated with a king-size bed and pleasing furniture. The rooms are large and spacious, and the many antique pieces in the room are certainly worth capturing. Even the bathrooms are stunning, with some natural opening to make you feel close to nature. You also get complimentary fresh fruits here. Interestingly, each of the rooms have names too. The rooms are all priced at INR 9,000 per night for two people. Additionally, they also have two tents. Awesome, right?
Anything Else?
There's no dearth of things to do in Goa. Nilaya is very close to many beaches, so be sure to go check out the amazing offerings around. You could either grab a meal out, or try their food which is very tasty too. They also have a lunch by the pool concept and a fully stocked bar, so let yourself loose at this resort.
Comments