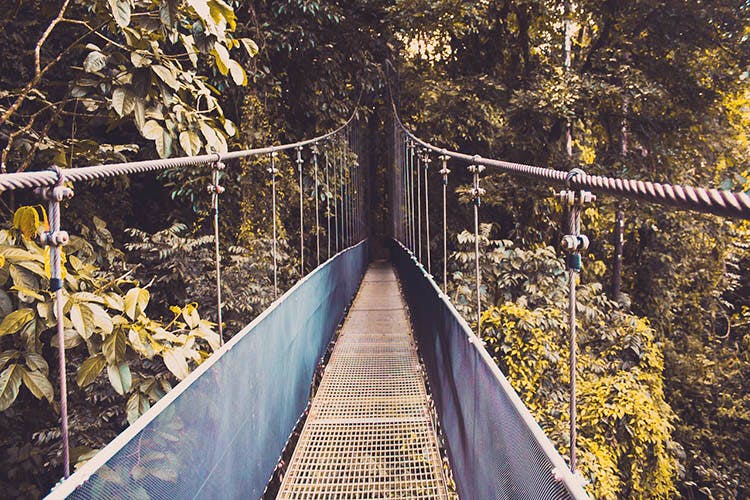 See The Forest In All Its Glory With This Jungle Walk That's 30 Feet Above The Ground
Shortcut
Feel like Tarzan or even Phantom, walking on India's first 'Jungle Canopy Walk' in the forests of Kuveshi near the Dudhsagar Falls. And the experience is totally amazing and life-affirming we say.
Where Is This?
Just some two hours from Goa, across the border into Karnataka lies the remote hamlet of Kuveshi near the Castle Rock village. And this is where Jungle Canopy Walk has been recently opened, which starts from Kuveshi and goes on close to Dudhsagar Falls. You might have seen them in Malaysia, Germany and many other countries, and now we have one in India too. Trust us, it is not an experience you will want to miss, as you can now be 30 feet above ground and feel like you are walking amongst the trees and soaking in the grandeur of the Western Ghats. This 240 meters long walk is close to experiencing a walk in the clouds we say.
Tell Us More
So the structure allows up to 10 people at a time on the walk and has multiple viewing areas where you could take a halt and just be amazed by the vastness of the jungle and all that it encompasses. There will be a nature guide at all times, who will tell you in detail about the creatures that inhabit this forest, both animals and the tree species, some of which are more than a century old. With the forest calling home to Malabar tamarind, cinnamon, bamboo, eucalyptus, teak & jamba trees to name a few, now you can see them up close in all their glory from a higher position. Plus with Malabar squirrels, lion-tailed macaque, hornbills, white-bellied treepies, bison & the oriental kingfisher amongst the many species that are visible in this part of the region, every nature, wildlife or bird enthusiast is going to be delighted and give you a whole new perspective on our forests.
Anything Else?
You could make a day trip out of it from Goa, or then even spend a few nights in the jungles there. The Eco Farm Off The Grid near Castle Rock or the Exalt Homestay in Dandeli are both great options. They offer rooms, log cabins or camping and can arrange trips to this Jungle Canopy Walk for amongst other activities like rafting, treks, bird walks etc. Or the next time you are taking a drive to Goa from Mumbai, Pune or Bangalore, take a few days' halt here and get adventurous.
#LBBTip
The walk has been inaugurated on February 18, and will be thrown open to the public soon. As of now no children under 13 years will be allowed, and they are contemplating a nominal fee of INR 50 per adult and INR 30 per child for children as an entry fee for the Jungle Canopy Walk, so check the Karnataka Tourism website for details.
Comments