The information in this post might be outdated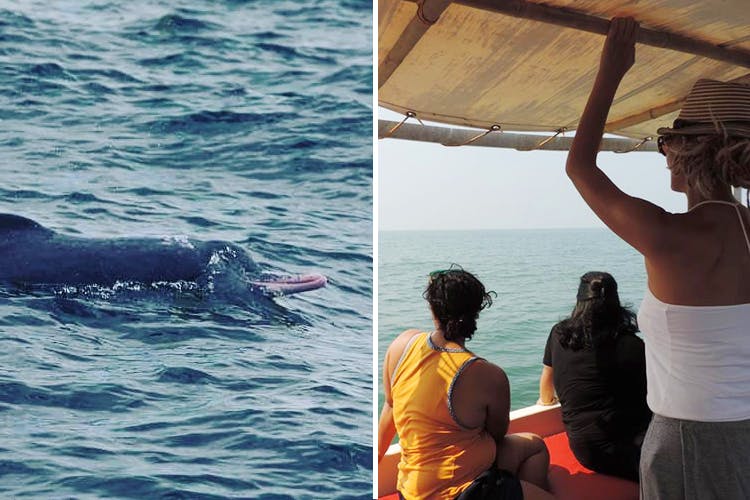 Ethical & Eco-Conscious Trips To Go Dolphin-Watching Are Being Organised In Goa!
Shortcut
Ethical and eco-conscious dolphin-watching trips are being organised for the first time in Goa!
What Is That About?
Terra Conscious is now organising ethical & eco-sensitive dolphin watching trips for the first time in Goa. This is run by Puja Mitra who was a senior programme coordinator with the WWF India and managing the Goa State Marine Programme for them.
Passionate about marine conservation and these beautiful mammals, she has set up this company to preserve Goa's fragile marine ecology and enable more dolphin conservation by educating other operators as well as tourists. The trip is conducted in accordance with International Whale & Dolphin watch guidelines and lasts for about 4 hours.
What this means is that, they ensure the boat engines are always switched off in the presence of the animals, they do not chase or corral them. They ensure that the boat is always parallel to the direction the dolphin is moving in, and keep a minimum distance of 50-100 metres at all times, and nor do they cut the dolphin's path of travel. This trip is for people who are really interested in watching these cuties show off their moves, with their back flips and riding of the waves, as they do not allow loud music, smoking or drinking. Basically anything that will disturb their habitat, and nothing beats being in the middle of the sea looking out at the beautiful coastline. Or breathing in the clean air, while eating a delicious breakfast of Poi, some cheese, hummus and veggies on the boat whilst watching the dolphins give you a private show.
Anything Else?
The meeting point is 8.00am at the Villa Blanche Restaurant in Assagaon, where one is shown a 30 minute presentation on dolphins that gives you loads of details about these beautiful creatures and how we can help in conserving them. After some refreshments, it is time to board their 16 seater fibreglass boat and head out to the open ocean. The minute one sights what could be a fin; the boat engine is turned off, for us to enjoy their antics.
After the dolphins have left, one could even take a nice cool dip in the ocean of course always wearing a life jacket. It costs about INR 2500 for adults and INR 1000 per child plus GST, making it a tad expensive compared to the other local trips, but totally worth it. Hurry up and book your seat here.
Please note that these trips are closed for the monsoon months.
#LBBTip
Wear light, comfortable clothes, carry a hat & sunglasses, do not carry any electronic items unless you have a waterproof bag for them, wear appropriate footwear like floaters or rubber slippers and get ready to be anchors away!