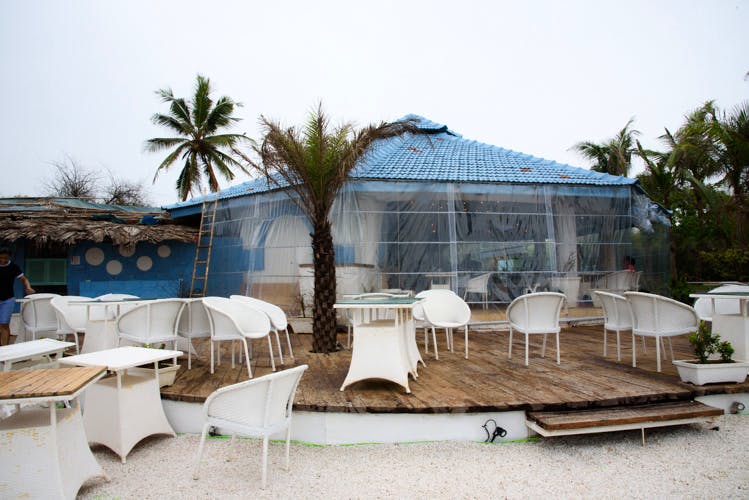 Why Go To Greece When You Now Have An Olive Bar & Kitchen In Goa?
What Is It?
It took them only about 15 years, but the popular Olive Bar & Kitchen has finally made landfall in Goa along with the monsoon storm to shake up the dining experience in Goa. The main promoter, A.D Singh, mentioned that they wanted the perfect location if they ever wanted to set up a Goan outpost, and we think they have found it. Perched on a cliff overlooking the Vagator beach, this one is definitely making a statement in Goa.
What Did We Like?
Walk in to the restaurant and the first thing that catches your eye is the tub filled with flip flops for all of those who wore heels and now can't wait to get rid of them. All done up in white, with trims of blue which is the traditional Olive décor, but this is the only one that actually comes with a beach view (so take that all the other cities that had Olive for years). Comfortable wicker furniture seating under a lovely covered roof or outdoors, with lounge beds & showers if you want to take a dip between your meals, makes it a perfect place to spend your whole day. We were fortunate to have Eric Lobo, their master mixologist for all their restaurants in house when we went. So under his watchful eye, he along with his team served us some of the most innovative & fabulous cocktails we have had in Goa in a long time. Their two-month-old aged sangria, or the Chorizo Mary (their take on the Bloody Mary with Goan flavour infusion of the popular chorizo sausage) are definite must tries, along with their range of Day After Series (hangover cures they say). They even make amazing mixes to add to their cocktails such as the Pink Ginger Jeu, Raspberry Sorbet, or the Spiderbite cocktail. They have an expansive menu, curated under the watchful eye of Chef Ewan, which also includes breakfast (post monsoon they will open at 9am) and some great fusion food that combines Greek & Goan flavours. We started of with a Mezze Platter that came with, among other things, a delicious Romesco dip and a warm poi (local Goan bread). Then came the Prawns Pil Pil which is a great combination of flavours made with prawns & chorizo sausages. The Beef Carpaccio, their pizzas, house made pastas and more will keep you busy at all times. Finish it all off with the delicious Caramellized White Chocolate Mousse, that came with a lovely raspberry sorbet (again made in house) or their Jaggery Cheescake. By the end of it, you will be ready to use one of those sunbeds to just flop there forever.
So We're Saying
The next time you are in Goa, we say skip your usual haunts and visit Olive instead for a memorable experience. They are open throughout the monsoon. With gentle and not too loud reggae, Latin or soft jazz music playing, it offers a great ambience for conversations as well as the perfect setting to enjoy the food and the view.
#LBBTip
Though they have a board saying that 'No Alcohol will be served to people under the age of 21', please go ahead and ignore it if you are over 18, as (thankfully) the legal drinking age in Goa is 18.
Also On Olive Bar & Kitchen
Comments