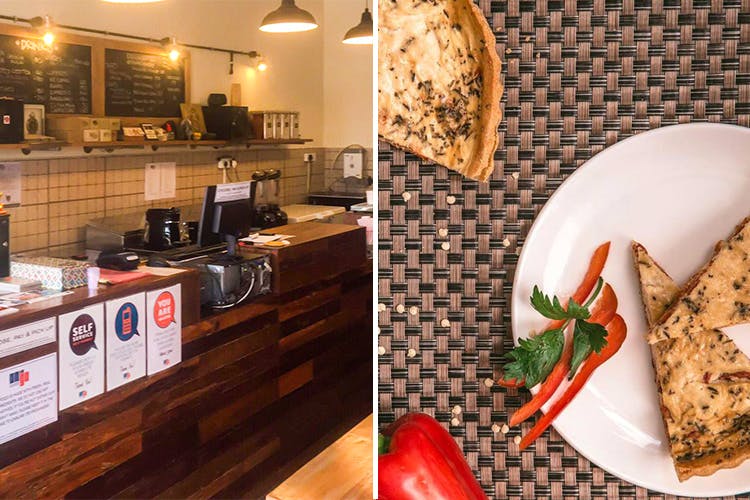 Bored Of Goan Cuisine? Check Out The Peruvian Grub At This Eatery
Shortcut
Goa has another country added to its list of delicacies now available here and we set off immediately to discover the Peruvian secrets at On The Go Café.
What Makes It Awesome
On The Go Café has been spearheaded by Marco, who himself is a Peruvian, living in Goa for the last few years. When you walk into the café, the clean, spacious, and cheerful interiors will make for a very warm and welcoming vibe. Add on free Wi-fi, great coffee, juices, desserts and food in an air-conditioned environment for those hot summer months. The Spinach pie that would normally have put us off, was a perfect mix of spinach & cheese and came in this crumbly, flaky and fresh pie crust. We decided to go for the beef empanada, which again had a delicious filling and came in a pastry shell that was baked to perfection. The Bufitara sandwich and the vegetarian option of a hummus sandwich that came with fresh veggies were some other great dishes. His wife makes the desserts and the Tres Leches & Suspiro Limenio, amongst the many Peruvian desserts, were our favourites. And because who doesn't love peanut butter, we thought the chocolate peanut butter pastry along with these caramel shortbread cookies was a must-have.
What Could Be Better?
The coconut flan and the bread pudding we tried were quite hard but the other few desserts we tried were very impressive. The chicken sandwich we thought was a tad dry and could use some more dressing and maybe less of the celery, but overall almost everything else that we tried was delicious, so we would definitely go back for more.
Pro-Tip
They even do catering for private parties and events, which means you could pack that picnic hamper and do a day out with your friends on some isolated beach or an island or even get some grub for a romantic picnic for two.