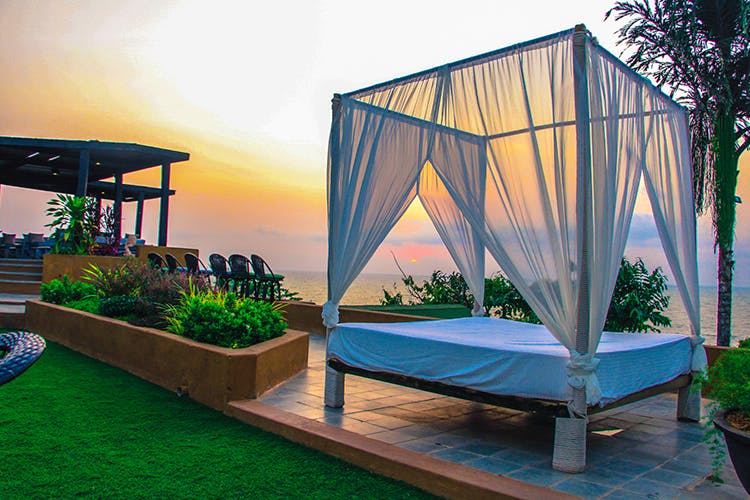 What A View: This Resort In Goa Is Giving Us All The Greece Vibes
Shortcut
Greece has always been on your bucket list, but not become a reality yet? Well, we have an alternative option that will let you believe that you are in Greece until you actually get there.
What Makes It Awesome?
There lies a dirt track road veering off left that heads in to this hidden resort called Shalai, The Cliff Resort. Enter the gate, and suddenly you see this Greek styled main building, which serves as the lobby. Walk through and you will see the most amazing sea view that is on offer in Goa.
What we really liked here was that every cottage or room is built keeping the view in mind, so each one offers you that glorious view. Even their restaurant is facing the sea, and offers every possible drink as well as food. All the rooms and cottages offer the usual luxuries of air-conditioning, attached bathrooms, WiFi with the super deluxe rooms even having a jacuzzi.
Room rates start from INR 9,000 per night and upward and they can arrange excursion trips or watersport activities for you. Anatares and Hilltop are all pretty much walking distance away, so no need to drink and drive or hire an expensive cab. Though we would advise to carry a torch for the way back in the night. The staff is really courteous, friendly and helpful so that is always great to have when on a relaxing holiday.
Pro-Tip
The bar rates are a little steep with INR 200 for a Kingfisher pint, but they do have a fridge in every room. And they don't have a pool, which would have been great to sit in whilst you watch that glorious ocean view. But these are just minor bumps in the road when you get to experience a slice of Greece.

Comments