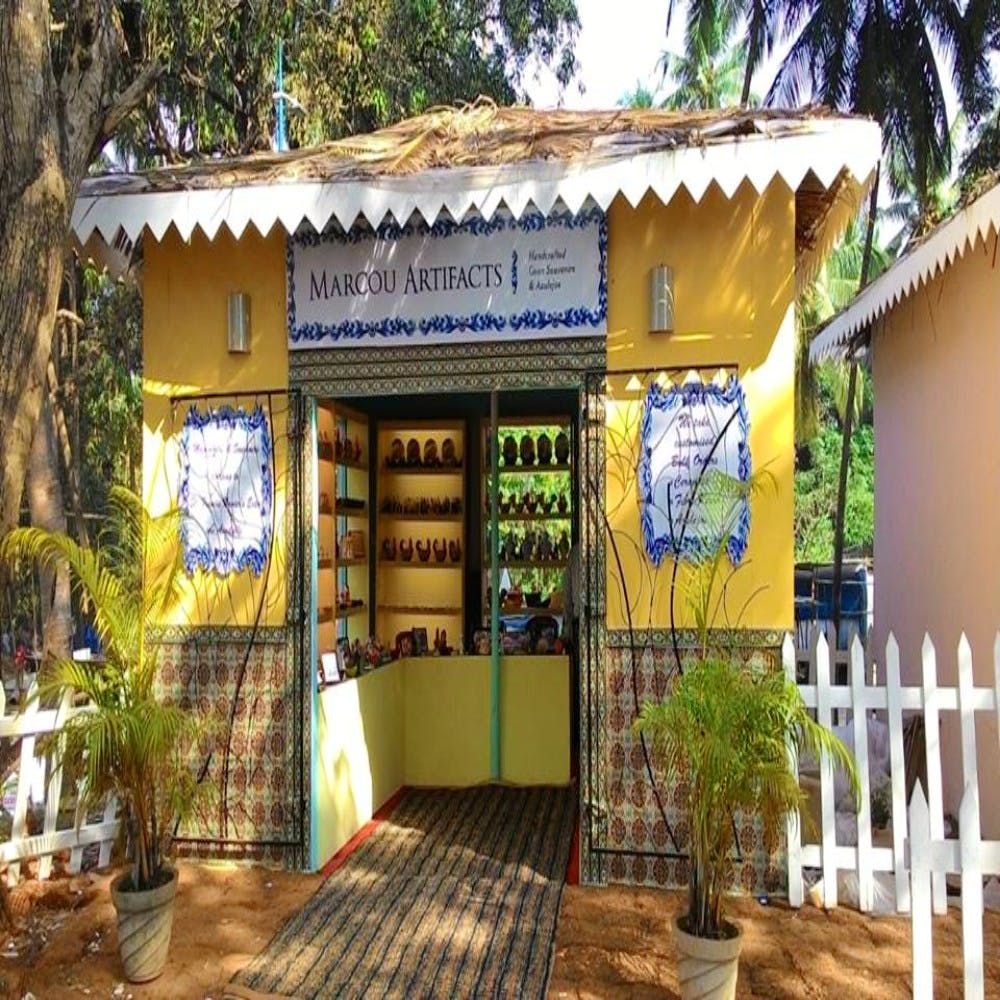 These Souvenir Stores In Goa Should Be On Your Radar
On your next trip to Goa, hit up these shops for some unique and beautiful souvenirs for friends – or to even for yourself.
Mario Miranda's Gallery
Mario Miranda is Goa, and everything about his work talks about the fun and colourful aspects of Goan life. Whether it is the cartoon of his 'Poder' the Goan breadwallah, or his everyday life sketches of feasts, chapels, carnivals, neighbourhood bars and the likes. Of course, buying any original Mario Miranda work is expensive, but now you can have a slice of his art by the way of cool, licensed merch. Mario Gallery sits pretty across Goa (including Calangute, Panjim and Porvorim) and each offer his sketches on fridge magnets, postcards, tiles, bags and many other products that make really cute souvenirs. Most products are priced between IINR 400-1,500.
Marcou Artifacts
Located in the Fontainhas or old Latin quarter of Goa, the Marcou Artifacts store is the place to go to for handcrafted Goan souvenirs. The most popular here would be the bright blue, white and other painted tiles, popularly called the Azulejos that are distinctly visible all across Goa, that originally came from the Portuguese. They also have ceramic decorative items, including miniature figurines of popular characters designed by Mario Miranda, planters, crockery, wall hangings and more that can be used to create a little Goa corner at home.
Tuk Tuk
With two stores, one in Margao and one in Benaulim, Tuk Tuk has become a famous outpost in South of Goa to go souvenir shopping. It sells quirky and interesting local Goan gifts. The owner Bharti Kumar is all about promoting young local talent and is a delight to interact with whilst she helps you choose the right gifts when you're confused. From handcrafted baskets, jewellery to bags, clothes, magnets and key rings, this shop is a must-visit.
Azulejos De Goa
Azulejos De Goa Gallery was established in 1988 in Panjim. It has the Portuguese style of painting tiles that are called Azulejos and taken it to a whole different level. They use the same style to design souvenirs, which could be the tiles as decorative name plaques or decorative plates depicting the Goan countryside. You can get one customised with your names and design and they'll happily ship it to wherever you are. Downstairs, they've got a small corner dedicated to Mario's merch. Along with all the cool finds like magnets, jewellery, posters, wall plates, mugs, coasters and the likes, the fact that it's housed in a 250-year-old Indo-Portuguese house, makes it a delight to explore.
People Tree
Sharing space with the popular restaurant Gunpowder, the People Tree store in Assagao is a cornucopia of handmade, unique and exquisite jewellery, clothes, artworks, crafts and so much more. Housed again in a lovely old mansion, the store is open every day except on Mondays. With everything here that has an ethical bent, it's a great place to pick up clothes, decor, accessories, trinkets, stationery and more for friends and fam.
Tailor Bird Studio
This hidden gem in Porvorim will probably fall on your way to Baga, Calangute, Anjuna and other North Goa beaches and if you're keen on getting someone typically Goan, handmade and offbeat, you have to make a pit stop at Tailor Bird Studio. While everything here is a tribute to the susegad life that best defines the local culture, we dig a certain corner that's dedicated to Amor De Goa's magnets, bags, jewellery, candles, coasters, scrubs and stationery. Gauri, the creative mind behind Amor is an old school Goenkar who makes everything by hand. The prices are between INR 150-1k. Love Amor De Goa's products? You can also find them at OMO and Calamari in Candolim.
Comments