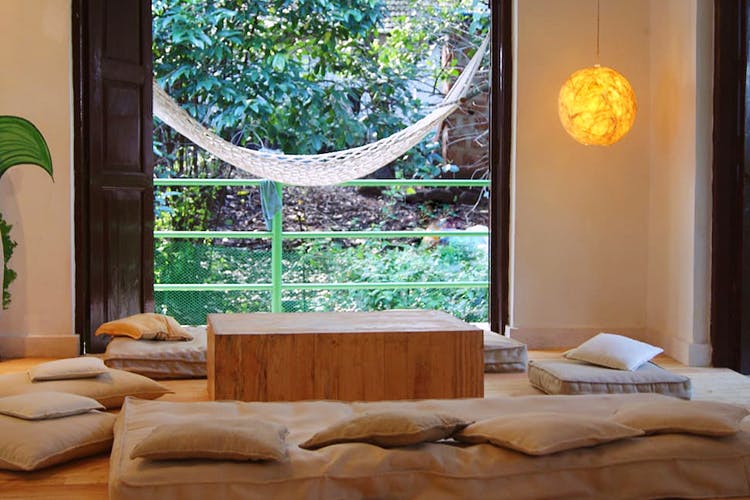 Backpackers, Meet New People & Relax At This Vagator Homestay For INR 1,200 Per Night
What Is It?
Goa is a backpacker's haven. The sea, salt and everything sandy makes Goa an enviable tourist destinations not just among the locals but foreigners as well. If you're travelling solo, we have the perfect place for you.
How Do I Get There?
The hostel is situated on the Vagator beach road, and just ten minutes away from the beach itself. Getting there from Bangalore is easy, either you can drive down to Goa or fly down to Goa, and then cab it from there to the hostel.
Once a booking has been made, exact directions will be shared with the patrons.
What's So Unique About It?
The Jungle Hostel was actually an old Portuguese house which was converted to provide accommodation to people looking for a quick and a comfortable stay.
The Jungle hostel is an ideal place for solo travellers and back packers. Surrounded by lush greenery, with umpteen terraces and hammocks hung in the garden, it's a place to meet other travellers interact with them.
They have WiFi and provide a very basic breakfast as well.
Why Should I Go?
To stay in a beautiful hostel, especially if you're travelling all by yourself. The hostel is an affordable one and the best is it is just ten minutes away from the Vagator beach. The guests will also have access to the common room as well as a fully equipped kitchen. If you're looking to cook something, you are more than welcome to do that.
For INR 1,231 you can book the place for a night.
So, We're Saying...
Since it's a traveller's hostel, it is mandatory to carry a passport during the check-in. Don't forget to carry it with you, and have a wonderful stay in beautiful Goa.
To book your stay, go here.
Comments