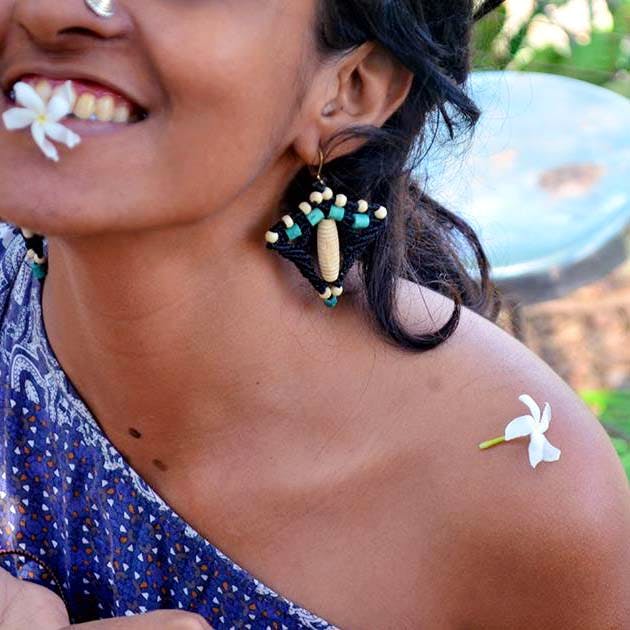 Oh Hello, Wearable Art! This Artist Sends A Poem With All Her Jewellery Pieces
Shortcut
A unique label that birthed the idea of 'poetry earrings', They / Wearable Art creates striking pieces of jewellery. The designs derive much of their inspiration from indigenous aesthetics and are woven in intricate macrame knots. The best part? Each piece comes with its own poem.
What Makes It Awesome
Goa is home to diverse creative energies. One manifestation of such, is the label — THEY / Wearable Art, which was born when resident artist and gypsy soul, Priyal Woodpecker, immersed her creative energies into the craft of macrame. Now all her exquisite pieces of art earrings come with a poem of their own — one that inspired their creation.
The pieces are both experiential and experimental, designed with premium macrame threads that the artist sources from Brazil, and accented with beads and bells she collects during her travels, resulting in these one-of-a-kind pieces of wearable art. Each piece is also an expression of her belief in a non-gendered existence, a thought which inspires the name of the label — They. It is the artist's way of breaking away from what she calls the 'G-demon', and is a long-standing vision and fulfillment of hers, to see her pieces donned by men.
She usually designs earrings but has also recently started creating what she calls the  bun-danglers. Most of Priyal's jewellery comes in striking colours, and can be customised on request. The earrings are priced at INR 1,000, and go upwards for the mode detailed and customised pieces. You can order them online through her Facebook or Instagram page, or connect with her on email.
Pro-Tip
If you're intrigued by Priyal's poetry and want to delve deeper, feel free to reach out to her on email or see her when you're in Goa, perhaps?
Comments