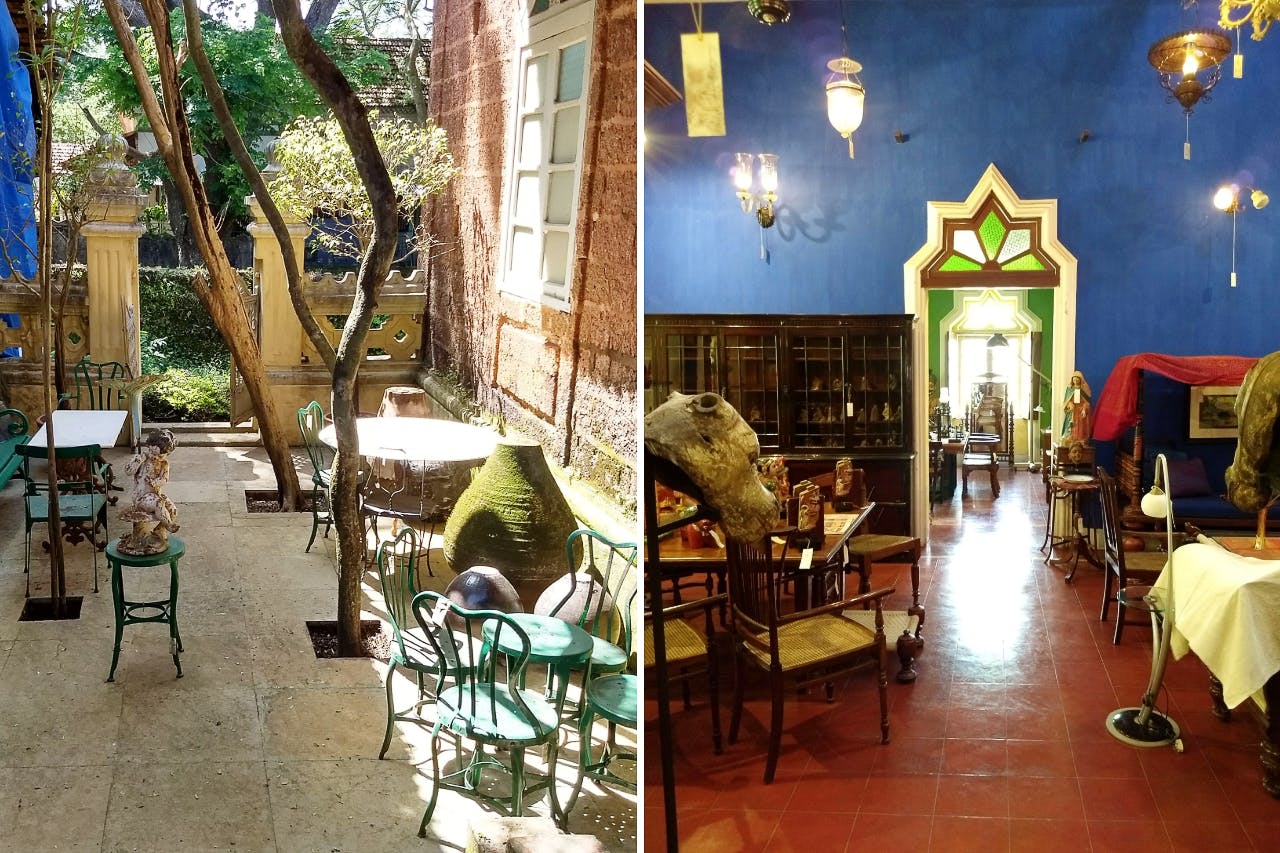 Find Vintage Furniture & Rare Colonial Era Artefacts At Saudades
Shortcut
Saudades is a one-of-a-kind store that stocks up on colonial furniture and ethnic artefacts sourced from all over the country. The treasures lay scattered through the many rooms of this 140-year-old Portuguese manor house that's as charming as the period home stuff it's got.
What Makes It Awesome
Years of telling genuine antiques from me-toos, is really what sets Saudades apart. The owners, Moorthy and Jacinta, who fell in love with this Goan space in Sangolda soon as they set their eyes on it, even have a warehouse-cum-showroom called Moorthy's in Bombay.
The Goan Saudades though, lovingly combines the comforting vibe of a grandparents' house with the mystery and grandeur of a collector's mansion. It's strange that these two worlds are literally hard to isolate here.
Take an unhurried walk around and you'll discover truckloads of Dutch, Portuguese, British and Indian colonial era finds. A lot of them are sourced from Rajasthan, Gujarat, Daman and Diu, Goa, Tamil Nadu and other places. The discovered furniture is all meticulously restored by keeping the old feel alive without compromising on modern day functionality.
Benches, four-poster beds, brass treasure chests, chandeliers, carved wooden mirrors, writing desks, dining tables, calendars, cabinets, candle stands, quaint colonial artefacts, cane recliners, library chairs… You name it and this house has it. You'll just need a keen eye and a lot of patience to sift through the wares (the store is 18 years worth of collections)  — every nook and cranny has got a little something you'll get distracted by.
Most of those who swear by Saudades are ones making their holiday homes in Goa, foreigners/expats and occasionally locals who take pride in doing up their house. In this sense, the brand has grown purely by word of mouth.

What Could Be Better
The prices are in keeping with the fact that you're getting the real deal, so the tiniest artefact can start at INR 1,200 but four poster beds and chairs can go up to 50k and a lac plus. This, you might argue, is all too high but hey, we didn't go in expecting throwaway prices for antiques so that helped readjust our expectations.
Pro-Tip
Check out their lawn furniture in the small courtyard and remember, even the chandeliers that line the hallways are for sale. They have a room on the side with a lot of odds and ends and furniture haphazardly arranged because the gallery manager tells us 'some people love the bazaar-type, chaotic feeling' when they shop.
Comments