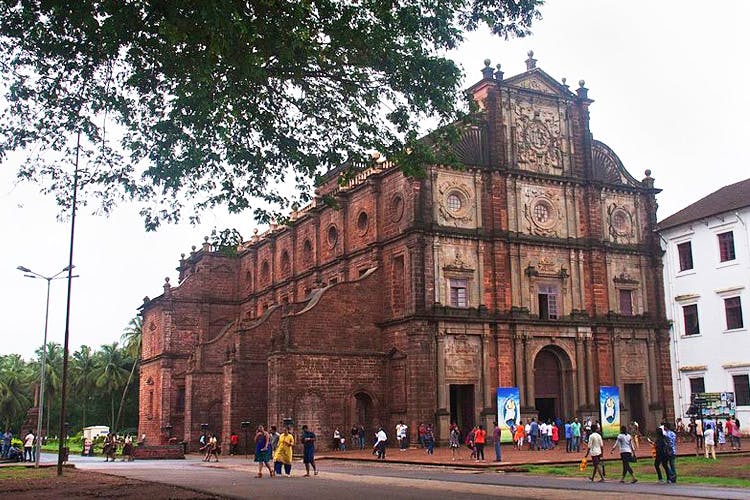 Tourist Must-Do: Why You Should Go To The Basilica Of Bom Jesus In Goa
Shortcut
Everyone and his maushi has told you about the Basilica of Bom Jesus or narrated their visit to this UNESCO World Heritage sight. And maybe you are going there to see what the fuss is all about or because you want to take some Instagra pictures or check in on FB to show you were there. We tell you why it is definitely a must-visit place in Goa.
What Is It?
Well with the INR 100 entry fee that freelance guides charge, if you want a guided tour. Or without the guides, just start by just looking at this beautiful and oldest chruch in Goa & India. Built with the beautiful laterite stones native to Goa, this some 408 year old Baroque style architecture is a marvel. Its name literally translates to the Basilica of the Good Jesus and is located in Old Goa which used to the the capital of the state in the early days of Portuguese rule. Construction first began in the year 1594, and was consecrated in May 1605 by the archbishop, Dom Fr. Alexio de Menzes.
Why Is It Famous?
As everyone knows, this is the final resting place of St Francis Xavier, one of the founding members of the Society of Jesuits. His body is said to have miraculous healing powers. Though he died on the Sancian Island whilst on the way to China in December 1552 and was taken to Portugal initially, his body was 2 years later brought here to Goa to this Basilica. He was called by some the Apostle of the Indies, due to his Legendary missionary voyages throughout the East. Born in Spain in 1506, he reached Goa in 1541 after baptising thousands along the coast of South India. He returned to Goa again in 1551. His remains lie encased in a glass-sided coffin in the mausoleum to the right inside the Basilica.
What Else?
Every year on December 3 they have a feast in his honour which is precede by a 9 day Novena. And once every 10 years, they have an exposition wherein his body is on display in Old Goa and attended by thousands of pilgrims from across the world. The last one was in 2014 so the next exposition will be in 2024. They have a Mass in Konkani and Konkani most days, but do check online for days and timings.
#LBBTip
The Basilica is open everyday of the year. Avoid wearing beachwear when visiting.