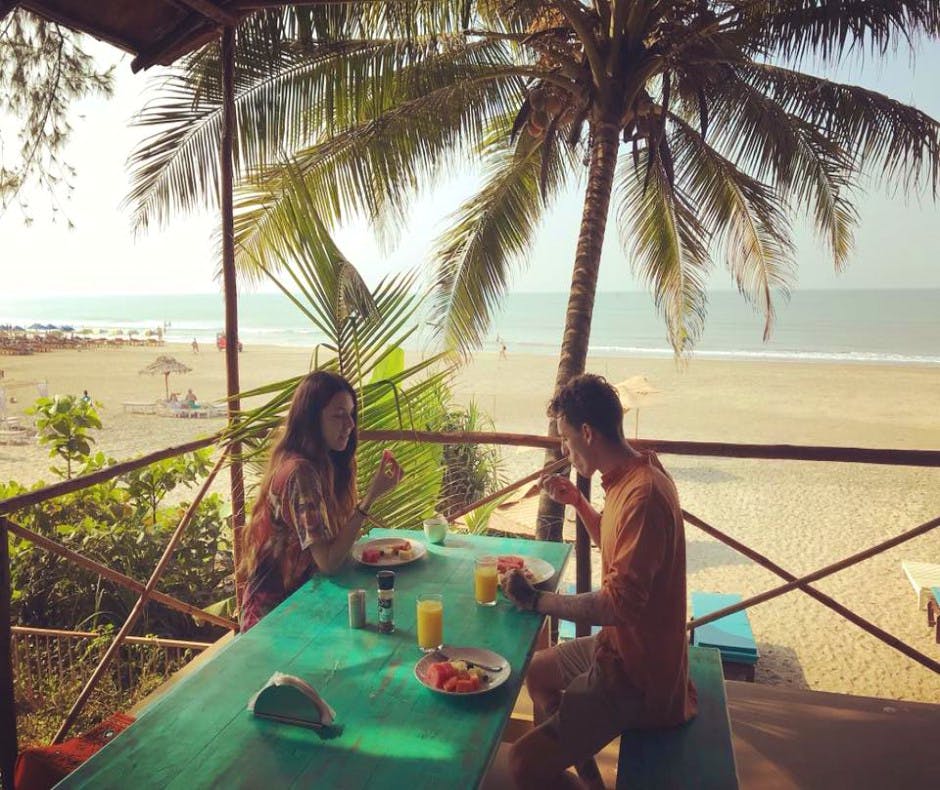 Lettuce Rejoice, These Are 11 Of Our Favourite Vegetarian Restaurants In Goa
Goa can be hard on a vegetarian and between the typical North Indian places near Baga and South Indian thali joints, options can get pretty limited. Off late though, the state's being kinder with a flurry of beautiful veggie cafes and vegan chill-out pads dishing out more than just good masala chai and pakoras. Here's are the 11 vegetarian cafes that get our vote.
Blue Planet
This is an award-winning restaurant, and is only a five-minute walk from Agonda beach. They use only organic and fresh produce. Located in a resort in Canacona, it offers a range of quality vegetarian food, with vegan alternatives. It's tucked inside an eco-resort, has a laid-back ambience and some yummy desserts and smoothies.
Saraya Cafe
Just off the main Chogm road in Sangolda, Saraya has a garden cafe that opens for a couple of hours in the morning and 7pm onwards for dinner. Everything is organic and fresh, and their wood-fired pizzas are the best thing to have in the evenings. The vegetarian thali, salads and coolers are also pretty popular. Oh, and if you feel like pairing that margherita pizza with some cheap wine, you can BYO.
Bean Me Up
Bean Me Up is famous for its vegan food, which is innovative and includes a lot of dishes from around the world. It is set in a lovely garden, on the Anjuna Vagator road. Their organic salads, daily specials and their guacomole with nachos are a hit with the regulars. They also do a mean tofu burger! In fact, one reason for the food tasting this good is because all their condiments and dips (and even tofu) are made in-house, from scratch.
Café Tato's
This is another affordable and really old café, now being run by the third generation of the Dhuri family. They serve a mix of Goan and South Indian food, and both are well-loved. Of course the must-try dish here is the Paatal Bhaaji, which also tends to get over soon due to its popularity, so get there fast? The service is quick and friendly.
Soul Booster Bar
Soul Booster is a newbie in Anjuna that's not just gorgeous but also vegetarian-friendly with its innovative smoothies, salads, homemade ice cream, healthy thali, fries and detox teas. Their coffee can be made from coconut, almond or other nut milks on request and their acoustic gigs and bar (with craft beer and wine) will be up and running soon. The fun bit? They've got a glitter bar to get shiny temporary body art after you're done eating all the yum food!
Artjuna
A tried-tested-and-loved option, we can't thank the heavens enough that it's open through the year. There are many reasons to hang at Artjuna including its coffee, breakfast, granola, mezze platter and cakes. Did we mention the store that we love exploring and the little library that always holds us back? And, if Anjuna is too mainstream for you, hit up its quieter cousin in Assagao that's a delight for the vegetarian who loves the rustic, quiet side of Goa.
P.S. Artjuna's sourdough, multigrain and other freshly-baked bread loaves go on discount every day after 5pm.
Zest
Zest has been our go-to brekkie and coffee spot in Agonda for years. Washed in sunlight and with trippy music playing, it's just the kind of place to enjoy your morning cuppa and a glorious fruit platter. They do yummy variations of eggs and their pasta, cheesecakes and chia seed pudding are our favourite. They've got a smaller outlet in Palolem but once you find Agonda, you're probably never leaving.
Chia Lounge
Devarya Wellness' in-house vegetarian cafe, Chia Lounge is for folks who love their meals with a view. It's all about nutritious, homemade Indian food (OMG rajma-chawal) and carefully-crafted mocktails (hey, nojito). The menu here is a bit of wholesome, yogi food like chia pudding and good ol' comfort food like pakoras, all added in equal measures to keep things interesting.
Eva Cafe
Some of the most stunning sunsets in Anjuna can be enjoyed from
Eva Cafe
. It's a bonus that it's also vegetarian and does bruschetta, pasta, fresh juices, salads and teas. Either plan a brunch date or head here for an early dinner (it shuts at 8pm) and we promise you that the food might not be up there in terms of the taste, but the views make up for everything.
Prana Cafe
This isn't a 'pure' vegetarian cafe but the cafe clearly loves the leaf eaters a little more. The feel-good vibe of the cafe coupled with its location and passion for art makes it one of our favourite places in Mandrem. Their smoothies and locally sourced pasta have our heart. Prana's salads and bowl meals aren't run-of-the-mill either.
Mandala Cafe
Between Zest and Mandala cafe, we always feel torn - so, we leave you to take a pick when you're in Agonda. What we can tell you, is that Mandala is more affordable and homely. Try their avo toast, raw cakes and ghar-type Indian khaana including palak paneer, chana masala and a certain stranger called shahi tofu! Their masala chai and pancakes are also quite the stars.
Comments