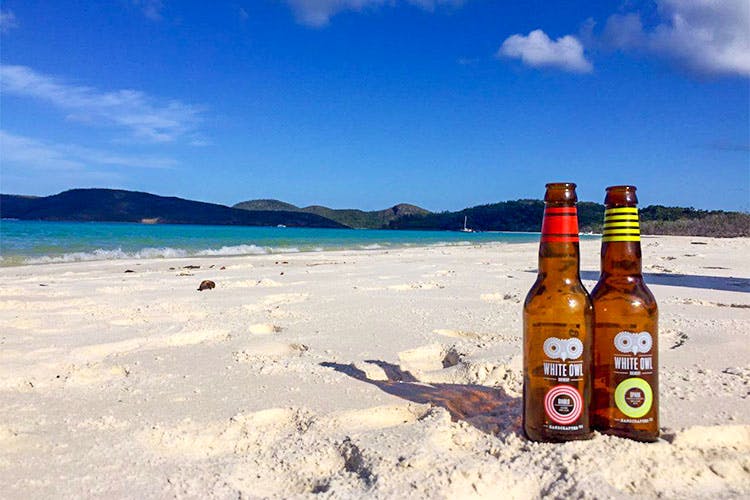 The White Owl Is Now Available In Goa & We're Chugging Away
Shortcut
It's always raining beer in Goa, and the newest brand to make its debut in Goa is The White Owl. The popular craft beer from Mumbai has landed on the Goan shores, and here's where you can get it and make merry.
Tell Us More
Mumbai-based craft brewery, White Owl Brewery, has kick-started its Goa party bus and we are definitely getting on it. Currently only available in pint bottles, this 'pint sized company' as their tag line reads, has been pretty popular in Mumbai. The White Owl beers are familiar, but still unique in their flavours, at least for the good folks in Mumbai & Pune, so we were thrilled to hear they are now in Goa too. No artificial flavours, synthetic colours, preservatives and brewed using only the best natural ingredients whilst allowing them to ferment and age naturally under constant supervision of their Brewmaster, is what makes their beers worth it. Let us tell you that these are the same folks who make beer popsicles at their flagship brewery in Lower Parel, Mumbai, and used to even sell you a 5 litre keg for your house parties in the past. Sadly, we will still have to wait for these to come to Goa, but we can at least try two of their most popular beers on a lovely beach holiday. Spark, priced at INR 65 per bottle is a great day drink. It's a Belgian Wit or wheat beer, is easy to drink and has a lovely lemony orange zest to it. The other beer that they have launched in Goa is the Diablo, their Irish Red Ale, which is a dark beer but unlike other stouts or dark beers, is very light in body. So if you like your dark beers and want to have one on the beach during the day, then maybe try the Diablo instead. Plus it gives hints of caramel, coffee and a slight bitter after taste which we totally love. Priced at INR 80 for a 330 ml bottle, this beer is perfect for day drinking even as dark one. Available across the North & South Goa at loads of bars and restaurants, some of the places we suggest ypu hit up for this drink are Sam's Beach Shack, De Baga Deck, Cavala Resort, Fisherman's Cove, Cycle Pub, Inferno, The Black Sheep Bistro, The Oak Barrel, Route 66, Barrels & Bones, Thalassa, W Hotel, Mango Tree, Curlies Beach Shack, The Tamarind Hotel, The Goan Hub, Guru Bar, Gopal Restaurant and Huts, Vaayu Waterman's Village, Rice Mills The Southern Deck, John Seagull's and 49ers Restaurant & Pub among others.
Anything Else?
The White Owl Brewery Beers are also available in retail across 200 wine shops in North & South Goa, including branches of the popular Delfino's, Magsons & Newton's supermarkets. Ladies and gents, we're just glad that when it comes to beer, we have one more option to choose from now.
Comments