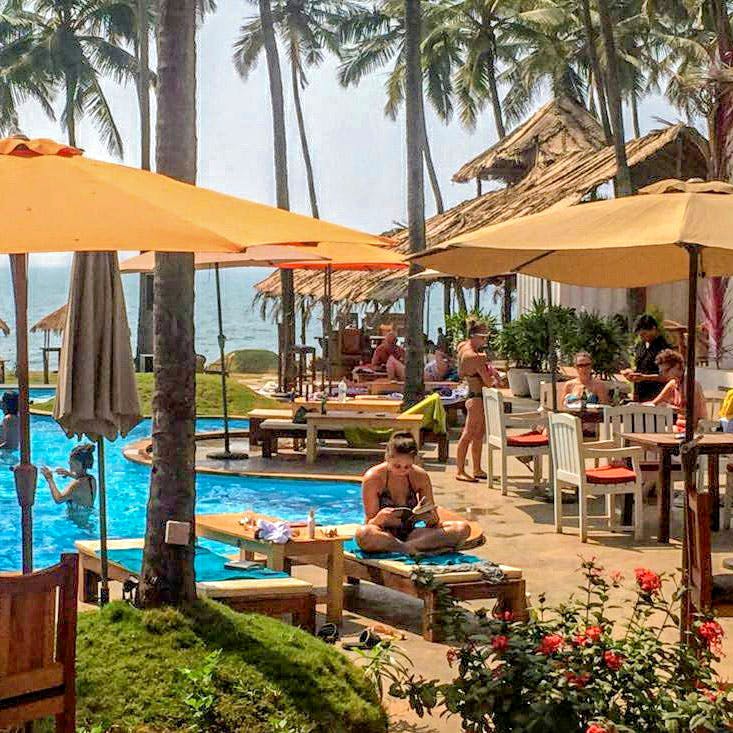 Who Needs Bali When You Can Party At This Beach Club From Dusk To Dawn?
Shortcut
If you have been wanting to go to the famous Potato Head beach club in Bali, you can find a similar setting and experience at Por Do Sol beach lounge on Ashwem beach.
What Makes It Awesome?
Por Do Sol means sunrise and sunset, and this one is the perfect location to enjoy both. Smack dab on the beach, the lounge is for everyone who wants to enjoy fab views or take a dip in the sea. What makes it even better is that they have a huge swimming pool for peeps like us who may not want to venture far out in the sea or just like their Sundays to be about lazing around with drinks and food. They have a good selection of rock and retro music playing through the day too.
To add to the location, the food is pretty spot on. We loved the tandoori prawns that were yummy and with that perfect spicy kick to go with chilled beer. We then moved on to beef carpaccio and enjoyed it till the last bite. Even the seafood salad is a great day dish if you want something that is healthy and light.
With an option of pizzas, pastas, tandoori fare, even some Chinese, we were clearly spoiled for choice.
What Could Be Better?
The only disappointment was the tiramisu, which came in a large glass but with too much artificial essence and flavouring. But there were loads of other dessert options that we just didn't have space to try out, so maybe we will give the dessert menu another shot.
Also, they currently have no accommodation to spend the night but we are hoping that will change soon.
Pro-Tip
This could be a great space to host that beach wedding, or that 50th birthday celebration.
Plus, they have no additional entry or pool fee, so you can dive right in.

Comments