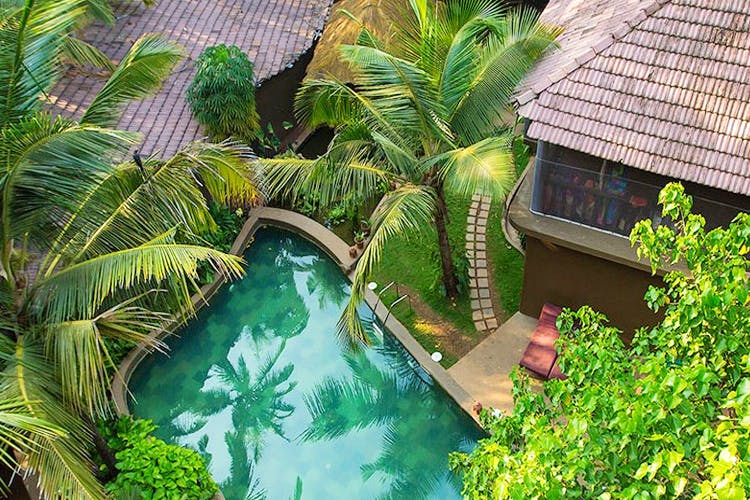 Feeling Run-Down? These 8 Yoga Retreats In Goa Will Have You Feeling Good
So you want to detox and recharge? Check out these yoga retreats in Goa which offer different packages, with everything from lessons to training for would-be yoga teachers.
Ashiyana Yoga Centre
This centre offers certification programmes for yoga instructors, various residential packages and daily classes. They offer activities like meditations, chanting, yoga nidra, karma yoga and workshops on Acro Yoga, Yoga for Digestion and more.
And they have one of the finest spas in Goa, with the only naturally self-cleaning, no-chemicals pool, a Turkish sauna and treatment rooms.
Bamboo Yoga Retreat
This centre offers yoga retreats and teacher training programmes. They offer two long yoga sessions a day and a variety of meditation and philosophy sessions. They have beach side dinners, boat trips and a spa which offers everything from Deep Tissue Massages to Reiki and Shiatsu.
Banyan Yoga Tress
This yoga resort has a pretty old school feel and has huts made from sustainable materials. It offers 7-day packages that combine Hatha Yoga, meditation and more. It also offers an optional 3-day detox program and massage therapy. The kitchen serves food grown in their vegetable garden, live music in the evenings and a resident Thai masseuse.
Little Cove Yoga Holiday Retreat
This yoga retreat is run by an Indian yogi with a diploma in Ashtanga Yoga as well as Naturopathy. Classes are offered on the beachfront, there are organic vegetarian meals, as well as complimentary cooking classes. With deluxe Bamboo beach cottages and Ayurveda facilities, this centre offers two yoga sessions daily. For more rigorous learning, they have various 10-15 day yoga retreats led by experts and well-known yoga teachers throughout the year.
Purple Valley
Though this yoga centre has some well-known Ashtanga teachers and has a reputation for being a very rigorous yoga centre, beginners are welcomed here too. So it is a great place to start learning Ashtanga yoga with Mysore style self-practice, with special classes for yogic living and pranayama.
It also offers detox juices, WiFi, landscaped gardens and accommodation spread across two Portuguese-styled villas. An international and an Ayurvedic chef prepare buffet meals which include healthy options like masala millet crepes and soy burgers.
Satsanga Retreat
This family-run retreat is an excellent place to relax with daily yoga classes, Chakra Balancing, vegetarian Ayurvedic meals, gem therapy and treatments.
With a swimming pool and a tropical garden to relax in, one can take a personal yoga holiday here or join in on the retreats they conduct throughout the season.
The Beach House
This boutique resort is in the secluded Sernabatim beach with luxurious rooms and a wide variety of programs. The Intensive Yoga Retreat focuses both on theoretical as well as practical aspects of Yoga. They also offer Pranayama, Meditation, Ayurvedic Consultations ad vegetarian yogic food. They have an in house team of doctors, nutritionists and hypnotherapists.
Swan Yoga Retreat
A zen-like space, this retreat is run by Sanyasins, trained at the Bihar school of Yoga, which is one of the top yoga centres in India. Based on the teachings of Pramhamsa Swami Satyananda Saraswati, they have sacred tantric fire rituals, pujas, and daily yoga classes mainly in the Hatha Yoga style. They also offer, 2-week yogic retreats with set schedules, and home style delicious food.
Pro-Tip
Most also offer classes that one can attend just for the day.
Comments