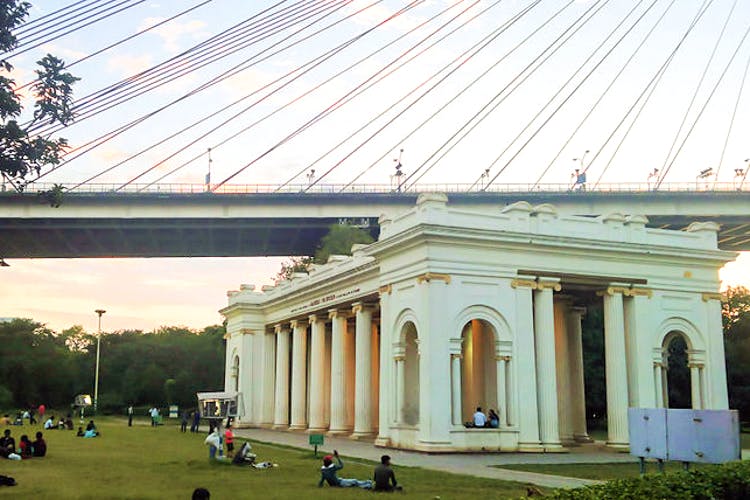 Old Buildings, Churches & Graffiti: Here Are 10 Most Colourful Insta-Worthy Spots In The City
Looking to light up your Instagram feed? Fret not. We are here to help. Check our guide to some of the best places in the city you must visit to win those extra likes and followers. From heritage buildings and crazy views to cafes and graffiti art, Kolkata has a lot to offer.
Princep Ghat
How can Princep Ghat not be on this list?! It's easily every Calcuttan's favourite and must-visit spot for beautiful photographs. The white pillars with the Vidyasagar Setu bridge in the background, lush greenery, railway tracks, riverfront, colourful noukos and a stunning sunset - what's not to love about this place? Take a boat ride along the river and capture breathtaking sunset views for your Instagram feed!
Graffiti On Walls
The city has a lot of graffiti art done on the walls. Take a stroll on Purna Das Road and walk down to Artsy Cafe or Oxford Bookstore, you'll find a lot of graffiti around. One of our favourites is the feminist artworks done in front of Mrs. Magpie and at Southern Avenue close to Bijoli Grill. Spot a funky and colourful one right outside Park Hotel that's all about youth, fun and music.
Sienna Store & Cafe
This pretty cafe in Hindustan Park is straight out of Pinterest with its fairy light decor, outdoor seating and relaxed vibes. It's the perfect place to go to if healthy food is what you are looking for. You can't leave without checking out their store that stocks their own brand of apparel, jewellery, ceramic bowls, crockery and stationery, motives and bags.
Kumartuli
Kumartuli is nothing short of paradise for photographers and a must-visit for city folks and travellers alike. Watch the brilliant local artisans make idols of gods and goddesses live in front of you while you click away on your phone. The best time to visit is about a month before Durga Puja. Watch the potters create masterpieces that will eventually be taken to pandals across the city, country and abroad!
Sovabazaar Rajbari
An iconic heritage building in north Kolkata, Sovabazar Rajbari will take you back to the zamindar era. If you are old-school, then this is the place for you. And, of course, it's totally Insta-worthy! The rajbari is known for its grand celebration of Durga Puja and also boasts of a large open area from where the thakur dalan can be seen clearly. It's open to the public during the day so drop in for that perfect Instagram picture!
Dalhousie Square
The area is filled with a lot of heritage and iconic buildings and monuments, most notably the Writer's Building. Revisit the city's colonial past by taking a walk along the area. It's full of British architecture - the GPO, Raj Bhavan, Royal Insurance building and statues of Benoy, Badal and Dinesh after whom the area BBD Bagh is named.
St. John's Church
Remember that visual from the 'Piyu Bole' song from Parineeta where Saif Ali Khan is seen playing the piano at the portico of a church and then dancing away with Vidya Balan in the compound? Well, that's St. John's Church for you. One of the oldest churches in the city, St. John's boasts a Neo-Classical style architecture. You'll find large windows, tall frames and a lot of statues inside while the compound comprises several tombs and memorials.
College Street
A paradise for bibliophiles, College Street also offers a lot of Insta-worthy frames for all you photographers and Insta-holics. The largest secondhand book market in the world is filled with stores and stalls selling every possible book known to mankind.
Mullick Ghat Flower Market
This 130-year-old flower market is one of the biggest in Asia and oh-so-Insta-worthy. It's all bright and colourful and the magnificence of Howrah Bridge in the backdrop just adds to the beauty of the place. Head to this place early morning and click away to add some colour to your Insta feed.
The City's Own Chinatown
The list cannot be complete without the mention of Kolkata's very own Chinatown. Walk down Tiretti Bazaar or explore Chinatown that consists of several iconic Chinese temples and churches, sure to add an aesthetic touch to your IG feed. You must visit the Toong On Church - an architectural marvel dedicated to the Chinese War God Kwang Ti.
Comments