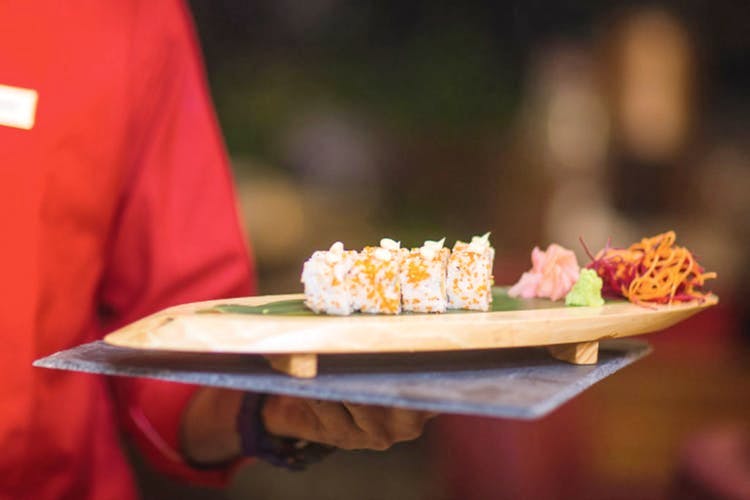 Visiting Kolkata? Put These 10 Restaurants On Park Street On Your Must-Visit List
Park Street is rife with some of the most iconic eateries, all within a few feet of each other. Here's our handy list of the top 10 restaurants in Park Street.
Peter Cat
Who hasn't heard of the iconic Peter Cat, right? Go there for their best-selling Chelo Kebabs, served with a generous portion of buttered rice and a hearty sunny side up. Their chicken steak sizzler is pure nostalgia.Don't forget to reserve a table before you go or you will have to wait for hours to get a seat inside.
Barbeque Nation
Pioneers of the live on-the-table grill concept in the country, they serve an assortment of veg and non-veg starters. Chicken kebabs, pahari fish kebabs, mutton seekh kebabs, prawn kebabs, chicken wings and whatnot. Even the corn, which non vegetarians tend to decline is delicious. You might end up eating more than you can stomach. There is a tiny flag on each table, which needs to be put down if you want them to stop bringing you more food.
Mocambo
Mocambo is one restaurant that is on everyone's wish list. The sizzlers served here are a class apart, as they call it, 'out of the fire, and into the pan'. Be it the Surf & Turf ( a combo of fresh prawn and tender chateaubriand beef steak with pepper sauce) or pork sirloin steak or mutton hamburger steak. Just reading the menu here will have you salivating.
Rajdhani
Get prepared to be welcomed by traditionally dressed servers, who will seat you by a table laden with a heavy Kansa (gun-metal) thaali with half-a-dozen katoris, which as soon as you settle will be filled in with several Gujarati and Rajasthani delicacies. There's no limit to the food you can eat here. Be careful though, the staff here will easily coax you into having more ghee than you had planned.
Marco Polo
One of Kolkata's oldest restaurants, Marco Polo is perfect for a laid-back dinner date. Try the jumbo prawns and lamb chops here. This place will wow you with their impressive service, spectacular ambience and a menu full of endless options.
Hakuna Matata
Quirky decor and a playful vibe. Hakuna Matata is a child-friendly restaurant that serves delectable Mexican food with an Indian twist. Offering healthy yet tasty options (think: beetroot infused puchkas!), the menu is full of fun and delish dishes.The highlight there, however, is the Wish Tree, which is beautiful concept by the restaurant to encourage you to dream. Pen down a wish, stick it on the tree and let the winds carry them to reality.
One Step Up
One Step Up is a resto-bar that serves a variety of North Indian, Continental, Italian, and seafood delicacies. Try the Deviled Crab and Fish Fingers for nibbles with a tipple of your choice. Love seafood? You should definitely try their Fish Steak with mushroom sauce or the delectable Fish Meuniere. The Tetrazzinni they serve here is to die for.
Bar-B-Q
Whether you're in the mood for some Mutton Roganjosh or Konjee Crispy Chicken, BarBQ has a delectable menu to offer you dishes from both North Indian as well as Indo-Chinese cuisines that taste far better than you can imagine. It's a spacious restaurant, always brimming with people, for all those who want to get a taste of good old Calcutta. So expect the service to be a little slow but we can assure you it will be worth the wait.
Mamagoto
Make Mamagoto your go-to restaurant for Oriental cuisine. Although salads, ramen, momos and noodles are the star dishes here, the desserts steal the show. Their home-made fusion drinks are highly recommended. Taking gin and tequila and infusing them with natural flavours to come up with something like Thyme and Elderflower Martini or Lychee Rose Martini. They serve a wide variety of wine too.
Pa Pa Ya
Sushi trees, jaw-dropping views, elaborate plating, layered desserts, and modern decor - Pa Pa Ya is the ultimate fine dining experience. Standing tall on the 11th floor of Magma House, it has huge windows with panoramic views of the city. Revolutionalising Pan-Asian culinary, their food is a piece-of-art. With crazy innovations, each dish is a masterpiece that will light up your Instagram feed! Try the totally drool-worthy Flaming Chocolate Ball. Pouring molten chocolate and cointreau over it, and watching it open is pure bliss!
Comments