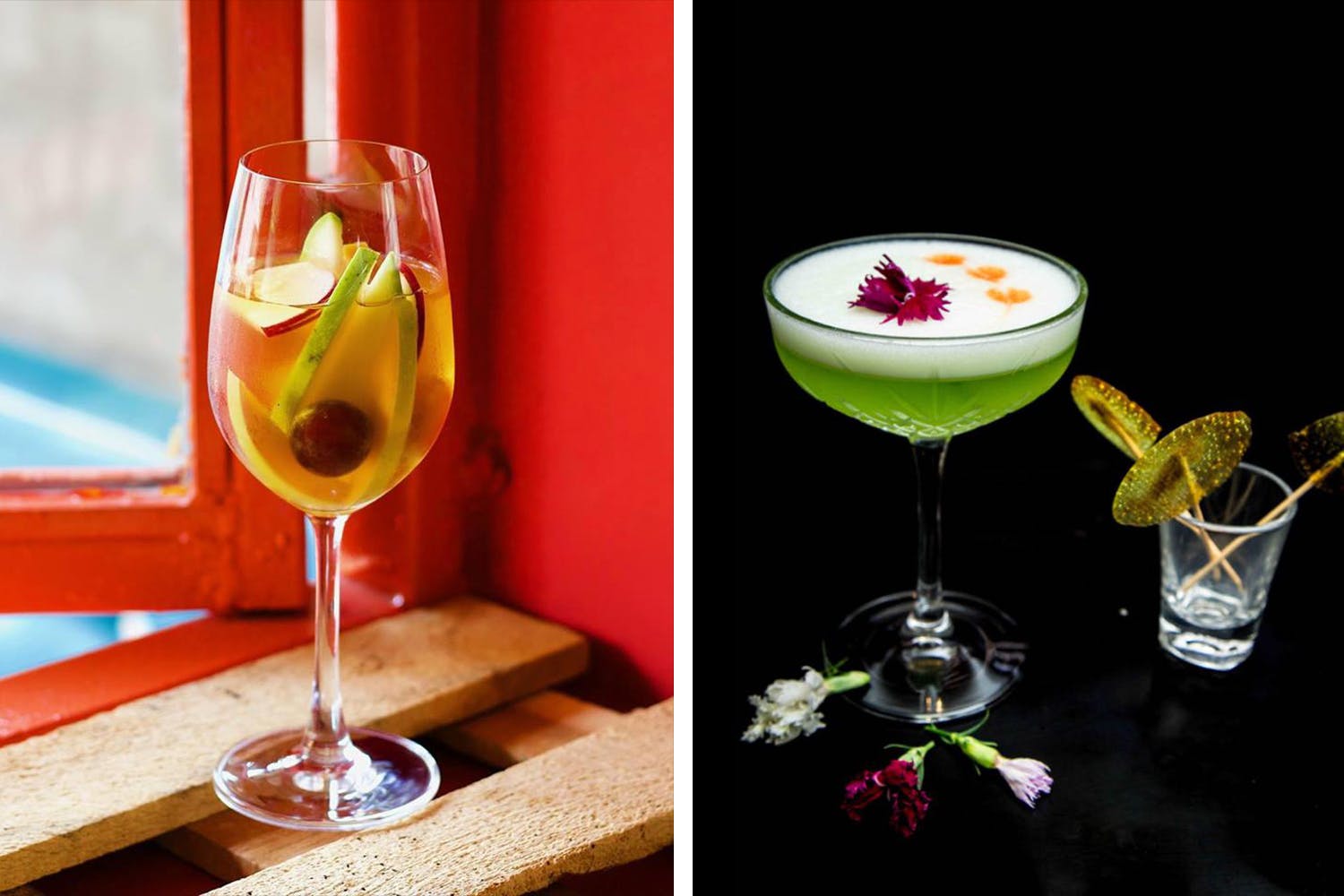 Get Tipsy: How Many Of These 13 Mango Cocktails Have You Tried?
Get tipsy on mangoes this summer! Yes mango mania is still on and guess what we have got for you now…mangolicious cocktails, sangria and also beer! Who said you couldn't get drunk on mangoes (quite literally)? Girls night out, chill and drink or Saturday hammer day – here are LBB's top picks for alcoholic drinks around the city that should be the source of all drunken happinessfor all mango maniacs out there.
Mango Mule @ Monkey Bar
Monkey Bar is going summer crazy with its mango unchained menu. Unchain your mango craving with a vodka-based cocktail, truly a summer dream. Imagine fresh mango puree, lime juice and ginger ale in a chilled glass (INR 350).
Fuku Sour @ Pa Pa Ya
Candies? In a cocktail? Yes please! This vibrant concoction is vodka based with touches of melon, egg-whites and served alongside candies that are made in-house from mango pulp  (INR 565). So who wants to relive those candy days while still adulting?
Mango Tequila Sunrise @ Hard Rock Cafe
Hola to you if you consider tequila as your patent poison! Aren't margaritas just the most sexy way of drinkin' it up with your girls? This summer special at Hard Rock infuses tequila, spiced rum and orange juice with the goodness of mangoes to stir up colours right out of a Spanish sunrise (INR 580).
King of Kings @ Whats in d name
They have specially crafted this cocktail as an ode to the King (as in king of fruits, mangoes). This beauty has fresh mango muddled with gin, soda and a dash of lime (INR 329).
Mirchi Munni & Rum Panna @ Gabbars Bar & Kitchen
Love Bollywood and everything desi? This quirky chammak chalo-inspired cocktail at Gabbars is made of mangoes, curry pata and of course hints of chilli (as teekha and as dramatic as it gets for INR 325). Too hot to handle? They also have a rum panna as part of their Santa Banta options (INR 245).
Breezy Mango @ What's Up Cafe
Rooftop lounge What's Up is stirring up their summer special Breezy Mango (INR 350) made of fresh mango juice, vodka and a pop of mint.
Mango Beer @ Raize The Bar
Are mango and beer two of your absolute loves too? We say give this home-brewed mango flavoured beer a sure shot! Nothing quite like this anywhere else, this just had to make the list. Freshly brewed in-house Mango Ale priced at INR 200 for 250ml and INR 340 for 500ml.
Mango Colada @ Monkey Bar
Monkey Bar is known for its quirky take on drinks and this summer, their cocktails are ever so yum and exciting (they're hosting a mango-centric festival for drinks and desserts). Try the Bacardi-based Mango Colada (INR 350) for that perfect beach-y tropical vibe.
Aam Kheera Crimson @ The Grid
Yes the city fav for that quintessential ham night is also adding to the summer spirits with a dessert wine cocktail which includes, vodka, mangoes, summery peaches and fresh mint leaves (INR 600). Sunday drunch must-have? Check.
Mango Sangria @ The Fatty Bao
Always a wine loyalist? The Mango Sangria (INR 450) at Fatty Bao is a concoction of white wine, mangoes, peach nectar and dark rum and will be your baby for hours of giggly chatter over drinks. They're hosting a colour me mango festival with tons of other mango specials too.
Caribbean Spirit @ Ping's Cafe Orient
This Bacardi-based creation is from their mixologist specials and has Triple Sec, lime juice and homemade green mango puree (INR 595). Ping in summer already!
Kairi Sangria @ Bombay Brasserie
This one is a tangy spin to your pitcher of sangria with green mango or kairi (INR 475 per glass or INR 1,800 for a pitcher). This is Sunday drunch goals.
Coconut Mango Daiquiri @ Burnt Garlic
Taste of California anyone? This signature cocktail is too summery and delicious to miss out on this season. The blend of Malibu, fresh mangoes and coconut milk shall transport you to the beach right away (vibrantly yellow and tropical at INR 325).
Comments