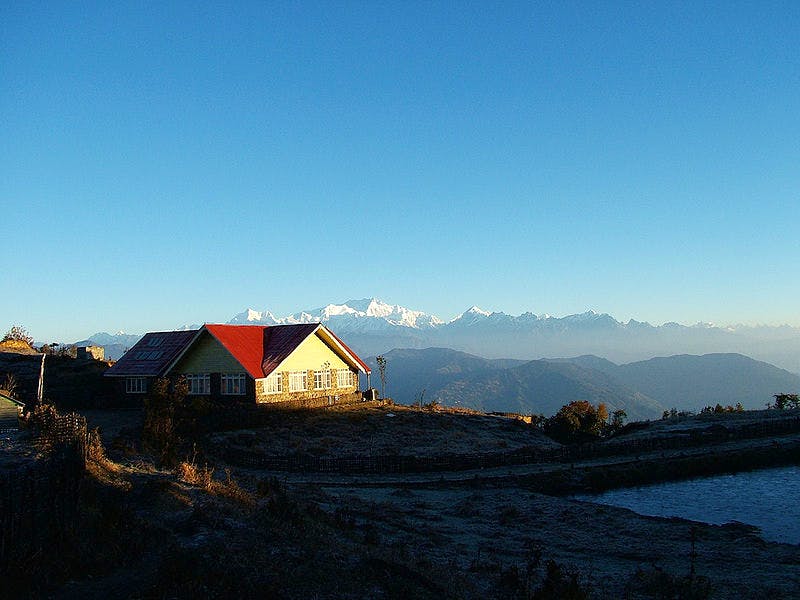 6 Offbeat Treks In North Bengal You Need to Check Out This Summer
North Bengal is vibrant, lively, blessed with just the right weather to beat the summer heat, and full of less-explored lands waiting to be discovered!
Jorpokhri
Located 19 kms from the Darjeeling town, Jorpokhri is situated at a height of 7,400 ft. and offers pretty AF views of the Kanchenjunga peak. It is the place of twin lakes – 'jor' means two, and 'pokhri' refers to a water body – and is the place to head to if you're in search of a flock of beautiful white swans.
Jorpokhri is also home to many a Himalayan Salamanders. Spot the Kanchenjunga on one side and enjoy the lush Darjeeling and Kurseong landscapes on the other. Also add Lepchajagat and Pashupati Market to your itinerary! You can begin this trek Manebhanjan, and enjoy Sukiapokhari along the way, or reach here from Siliguri. Check out this gorgeous heritage stay here.
National Parks & Wildlife Sanctuaries
Kolakham
Nested in the Kalimpong Hills, Kolakham offers craaaaazyy views of the Kanchenjunga. It is situated at an altitude of 6,100 feet, and is in reach of many more awesome places like the Lava Monastery and Charkol. A short trek of 5 kms will take you to the serene Changey Falls between the mountains. Your friends will be FOMO when they see your Insta full of activities such as rock climbing and rope traversing. Or go camping at the Neora Valley National Park.
Takdah-Tinchuley
Takdah is a small town 28 kms from Darjeeling, named so because of the clouds of fog and mist it is perennially under. It's at a 4,000 feet altitude. The quaint town has some of Darjeeling's finest tea plantations. Also visit the large Orchid Center here, one of the best in Asia. And do make a trip to Tinchuley, Darjeeling's hidden gem, only 3 kms from Takdah. Witness a sunrise here for an experience of a lifetime, and enjoy the coolness of the river Teesta and experience nature like never before.
Srikhola
Located at the foothills of the Singalila National Park, Srikhola is the place to visit if you want to enjoy the mountains. Pack your fishing gear and unwind by the mountain stream that flows through the village brimming with trout. Walk on the hanging wooden bridge or through the forest to spot birds like the blue magpie.
Your Insta feed will light up if you post pictures of the beautiful wooden cottages here. Visit the National Park and if you're lucky enough, you might come across a Black Himalayan Bear, a Barking Deer, or even a Red Panda!
Sillery Gaon
Imagine if you could spot up to 14 bends of a river from a single spot. And now imagine actually visiting such a spot. Only 8 kms from Pedong is Sillery Gaon, from where you can trek to Ramitey View Point 2 kms away to witness this dream. Sillery Gaon itself is land to the Reshi river, and offers a peaceful stay away from the hustle of the city. It is home to a rich wildlife and lush forests, and overlooks the mighty Kanchenjunga. We assure you, you haven't lived a happy life till you've seen the sun set here.
Phalut
One of the most popular treks in North Bengal is the Sundakhpu trail. But one of the lesser known gems is the town of Phalut, 20 kms away from Sundakhpu. It is located at an altitude of about 11,811 feet – one of the highest peaks of its range. The trek to Phalut is one that will connect you with nature. You can spot the mighty Everest peak on this journey, and experience the most awesome views of the Kanchenjunga. The forests you will pass through are full of silver firs, chestnut trees and magnolias.
Comments