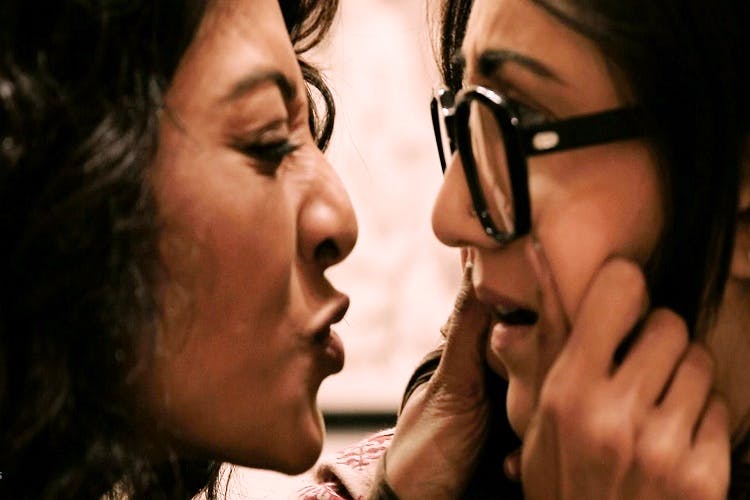 7 Essential LGBTQ Films Made In Kolkata That You Must Watch
The Bengali film industry has been producing queer films for quite some time now. While the representation/misrepresentation is debatable, it's definitely worth your time to pick up some of these films from your nearest Melody store and get a peek into the changes that's happened on screen over the years.
Neel Nirjone
Released in 2003, it's one of the first Bengali films to depict queer content. Although a large part of the film is doused in subtext, it also shows brief moments of intimacy and explores a relationship between two women.
Ushnatar Jonno
Starring Rupa and Churni Ganguly, Kaushik Ganguly's Ushnatar Jonno is a telefilm which shows a live-in relationship between two women. This is only the first in a series of queer films directed by him. This film is sensitive and doesn't sensationalise and conflate issues.
Arekti Premer Golpo
This film is known to most of us. Directed by Kaushik Ganguly, this stars the legendary Rituparno Ghosh and Chapal Bhaduri. It draws connections between gender non-conforming artist Chapal and a trans director who is making a documentary about them. The film revolves around abusive relationships both of them have formed with the men in their lives, and how as trans people they face exploitation and de-legitimisation from their lovers. It also beautifully discusses the conversations these individuals have with each other through art and identity.
Memories In March
Sanjoy Nag directs this wonderful film which is set from the perspective of a mother (Deepti Naval) who has lost her queer son. It deals with the friendship she forms with her late son's lover (Rituparno Ghosh) and how they support each other and find closure in their loss.
Chintrangada
Rituparno's final testimony to queer identities is a film that shatters binaries, depicts extreme emotion and the lengths to which one must go to find acceptance, within and beyond themselves. This semi-autobiographical film finds its roots in Tagore's famous play by the same name. Rituparno plays a director in love with an emotionally unstable man. Chitrangada and her sacrifice becomes a symbol for all that she must be in order to gain legitimacy in the face of law and love.
Achena Bondhutto
Achena Bondhutto received rather dismal reviews but as a film it had a cast that comprised entirely of queer and trans people which is very important in our present context.
Family Album
Directed by Moinak Bhowmik, Family Album starts off as an incredibly promising film. It is humorous, light and fun in ways most queer films aren't. Starring Swastika Mukherjee and Paoli Dam, the performances are well delivered. However the film falls prey to the usual trope of mainstream queer films and ends on a rather unnecessarily melodramatic note.
#LBBTip
You will find these films on YouTube, at The Melody store located on Rashbehari Avenue, and also with CD vendors on pavements across Gariahat.
Comments