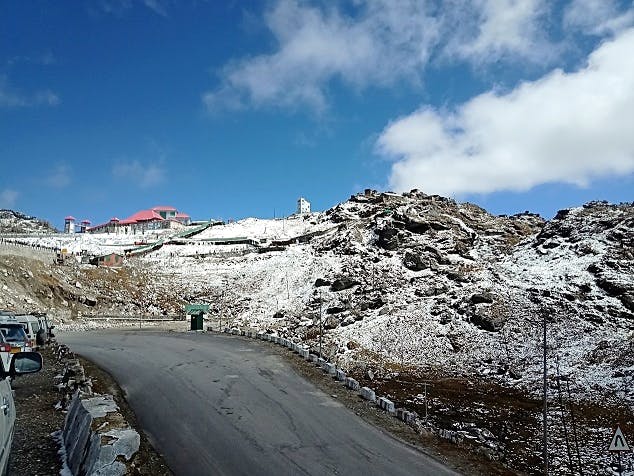 Visit This Mountain Pass In Sikkim That Houses The World's Highest ATM
Shortcut
Nathu La Pass was once an ancient silk route which connected Lhasa in Tibet to the plains of Bengal. Now a part of the international border between India and China, it was reopened in 2006, after a gap of 44 years. Touted as one of the highest motorable roads in the world it is one of Sikkim's most visited attractions.
What Makes It Awesome
The best part (which is also the worst part) about travelling to Nathu La Pass is the travel itself. Although the drive to Nathu La is rocky it is filled with astounding scenic beauty. You will witness snow capped mountains all along the way. Be sure to take lots of pictures during your drive to the place with the picturesque mountains in the backdrop because once you are at Nathu La, photography is strictly prohibited. On your way to the pass, stop by at an army canteen and dig in to some piping hot samosas with masala chai that will press all the right notes with the chill in the air getting stronger.

Soon after you get started, you will be at the Changu Lake. Home to the Brahmini ducks and several other migratory birds, this oval shaped lake, nearly 50 feet deep, is a sight you do not want to miss. Just nearby the lake is the sacred Baba Harbhajan Singh Mandir. Ask the locals to enlighten you with a fascinating legend that is associated with it (Baba Harbhajan Singh was an Indian army personnel who died near Nathu La in 1968).
After that take a quick halt at the Mandakini Waterfalls. Strongly recommended whether you choose to bathe in the waterfall or just stand aside letting the sounds of falling water and the cool breeze fill in your senses.
Don't miss the staircase leading to the fenced Indo-China border. Do ensure that you take adequate rest in between climbing as it is a steep slope and the lack of oxygen at an altitude makes it more difficult. However, the splendid view at the top will make it worth your while.
Best time to visit Nathu La, you ask? It is from May to October. The pass remains closed during winters since it becomes non-navigable due to heavy snowfall with the temperature dropping to as low as -250 C!
What Could Be Better
The roads from Gangtok to Nathula, although decently maintained, are super bumpy in quite a few places.
Pro-Tip
Only Indian nationals with a valid permit can visit the Nathu La Pass. You can obtain a permit by applying to the Tourism and Civil Aviation Department or get it through a registered travel agency. Also keep in mind that the pass is open for visit only from Wednesday to Sunday.