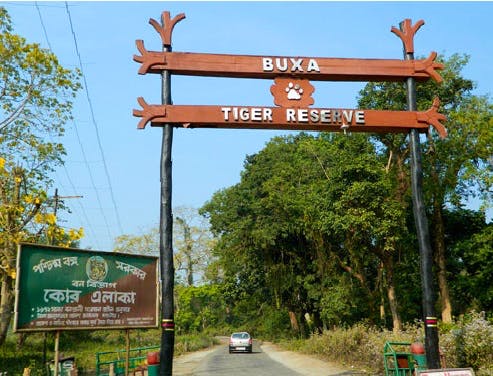 Indian Tigers To Endangered Birds & Asian Elephants: This Tiger Reserve Is The Largest After Sundarbans In Bengal
Shortcut
Here's something adventurous for a weekend gateway. Next time when you're friends rave about their visits to Ranthambore and Jim Corbett, don't sulk and say you're yet to make a trip that far. Just pack for a weekend gateway to Alipurduar and check out the Buxa Tiger Reserve that also happens to be the second largest tiger reserve in Bengal after the Sundarbans.
What Makes It Awesome
Far but not too far, Alipurduar could be the place to hit up if you're looking for some thrill and fun. Wondering what's so exciting about this place in North Bengal that sits between Coochbehar and Bhutan? Occupying a major portion of North Bengal's Doars region and of its dense forests, Alipurduar is home to the Buxa National Tiger Reserve. Set up in the year of 1982-83 at the north-eastern corner of West Bengal (bordering Bhutan and Assam), this forest was declared as a national reserve in January 1992.
The name Buxa Tiger Reserve comes from the nearby Buxa Fort. Spread out over more than 750 sq km, this picturesque reserve with its prodigious Terai - Bhabar landscape, is crisscrossed by numerous rivers and rivulets. Contiguous of the Phipsu Wildlife Sanctuary of Bhutan, the Buxa Reserve serves as an international corridor for elephant migration between India and Bhutan. The reserve is made up of as many as eight forest types.
Second to Sundarbans in the number of Indian tigers that make it their home, the Buxa reserve is incredibly rich in other floran and fauna, too! From the endangered Asiatic elephants to rhinos, rare birds like white-rumped vulture, slender-billed vulture, chestnut-breasted partridge, rufous-necked hornbill and others. Rare mammals like leopard cat, Bengal florican, regal python, Chinese pangolin, hispid hare and hog deer are also spotted here. Buxa's biodiversity is includes more than 450 species of trees and around 150 kinds of orchids.
Here at Buxa you can avail jungle safaris of the park with cars or jeeps. The nearest place to put up would be at the reserve's entry point of Rajabhatkhawa. Check into the State Government's Rajabhatkhawa's Buxa Jungle Lodge for an experiential stay amidst the woods and the forest surrounding you.
What Could Be Better
Entry to the park is only possible after getting permission from Forest Office at Rajabhatkhawa or at Jayanti.
Pro-Tip
The esiest way to reach Buxa would be to take an overnight train from Sealdah to Alipurduar. You'll reach there no later than 8 in the morning.
Comments