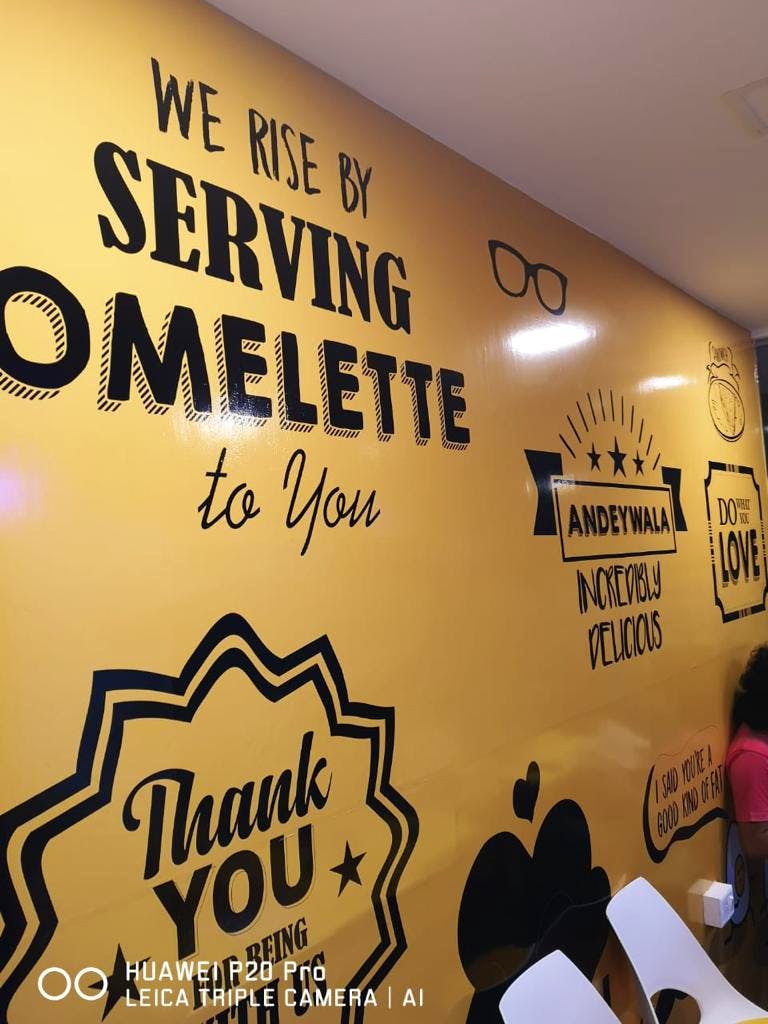 All You Egg Lovers! Hit Up This Eatery In Lord Sinha Road For Some Egglicious Delight
Shortcut
All you egg lovers out there! The city has a brand new 'egg' joint that serves innovative dishes sure to soothe your senses.
What Makes It Awesome
Situated adjacent to Shri Shikshayatan College on Lord Sinha Road, AndeyWala is all about eggs like the name suggests, of course. This small food joint done up in yellow and white serves some creative egglicious dishes sure to satisfy the eggetarian in you.
We tried the Sri Lankan Omelette, Egg Stacky Crepes and the Eggie Maggie. The Egg Stacky Crepes were really tasty - three layers of crepe with a spread of slices of boiled eggs, salad with a thousand island dressing and a dash of ketchup in between the layers served with salad and crisps. We weren't that impressed with the Sri Lankan Omelette - a normal omelette made with curry leaves served with 4 slices of bread, salad, a boiled egg, ketchup, green chutney and crisps. There were a tad too many leaves and maybe a dash of mustard seeds could really add to the overall taste of the dish.
But the standout dish for us was the Eggie Maggie - our favourite maggi made with vegetables served in a layer of cheese fondue with slices of boiled egg on top. That melted cheese took the taste of the dish several notches higher. You have to try this one when you visit AndeyWala. We sure loved it!
All you college-goers, now you know where to head to if you wanna grab a quick bit in-between classes. Your BFF is an egg lover but you're vegetarian? Worry not. AndeyWala has a few options for you guys too. Try the Veg Momos or the Veg Pilaf served with a salad raita. It is their go-to comfort food and filling too! Do not miss out on their salad, green chutney and garlic chutney. It tastes so good we're sure you won't be able to have enough of it.
What Could Be Better
They do not have a washroom due to some dispute. We hope that's sorted soon.
Pro-Tip
They also have a hookah section called S & P Lounge, where they serve a different menu that has more variety in terms of vegetarian dishes (fried rice, babycorn, nachos and stuff!). You'll also get mocktail options.
Comments